We are proud to be Viator Ambassadors – big thanks to Viator for providing this wondrous adventure! As always, all opinions are our own.
Ever since The Boy moved up to Alaska to pursue his flying career we have been planning our own adventure to The Last Frontier.
There were a few details to work through though; there was no way we were going during the never-ending dark and cold of the winter months, and the fact that it is a long, long way up there.
So for over a year we had not made the trek north to Alaska but finally, with Johnny Horton's classic ballad ringing in our ears for the entire ten hours of flight time, we reached the 49th state.
This was especially fitting, as it was also Veronica's 49th state to check off her bucket list.
We really shouldn't complain; the final five hours from Salt Lake City to Anchorage had some of the best views we have ever witnessed from an airplane window.
The sun was just setting over the Great Salt Lake as we took off and, due to the time of year, we chased the sunset as we jetted north and west.
This meant that we saw Mount Rainier and The Cascades bathed in colors we'd never experienced, as well as Vancouver Island, and the Inside Passage.
In fact, the daylight was increasing as we went toward the pole and by the time we flew over the massive glaciers in the Chugach Mountains on Alaska's southern coast it was broad daylight.
We knew our visit would include incredible mountain scenery, glaciers, and our best chance yet for Veronica to finally see a moose (she didn't believe in them), but we hardly expected two out of three before we even landed.
Still, being our travel-greedy selves, we wanted a closer look, and to put an end to the moose-cuses once and for all, so we booked Viator's Seward Highway Tour from Anchorage.
We met up with the tour in Anchorage and headed south on the Seward Highway along the Turnagain Arm of Cook Inlet.
The very same Chugach Mountains we had flown over now rose up from the water, and it was easy to see why the road has been designated a National Scenic Byway.
Captain James Cook sailed here in 1778 while searching for the Northwest Passage, but the Turnagain Arm that we were following was named by none other than William Bligh of HMS Bounty fame.
When Cook sent him to scout out the inlet he soon found that it was not a passage and had to turn around again.
The arm is also famous for having some of the biggest tidal changes in the world, up to forty feet at times, and while we drove along our guide, Chloe, noticed that the water beginning to recede.
We stopped at Beluga Point for a look at the mudflats that are left behind when the tide goes out.
The mud can act like quicksand and some people have been trapped in it, so Chloe impressed upon us that — no matter how cool it looked — we should avoid walking out on it.
At the very least, she explained, we'd have a shoe sucked off our foot for our misdeed. We certainly didn't want to spend the remainder of what looked like a splendid day ahead of us muddy and one-shoed.
Back in the bus, we drove to the small village of Girdwood for a chance to stand on — and look down from — the peaks we had been passing all morning.
The tiny town is home to Alaska's largest ski resort, Alyeska, but in the summer becomes an alpine playground for climbers, cyclists, and parasail jumpers.
We were more than content to confine our adventure to riding up the mountain on the Alyeska Aerial Tram.
The tram was built as a ski lift, climbing twenty-three-hundred feet above the valley below, but this time of year it carries sightseers like us, as well as daredevils with their bicycles and parachutes who either jump or free-wheel back down again.
From the top we could see several hanging glaciers on the nearby peaks, and had a bird's eye view of the cyclists and parachutists.
It's not every day that we get to watch skydivers from above.
Back down at the base of the slopes we settled in at outside tables to bask in the summer sunshine and enjoy lunch at The Bake Shop.
This gave us a chance to break (Alyesca sourdough) bread and converse with the members of our group who had come from all over the world, as far away as Australia and Japan.
We even had a Russian with us, perhaps returning to visit his country's former territory.
Fortified with bottomless gourmet soups and fresh baked breads, we were rarin' to go onward and visit the animals at the Alaska Wildlife Conservation Center.
The Center's primary function is as a refuge for orphaned or injured wildlife until they can be returned to the wild.
They also provide temporary accommodation for species that have become rare in Alaska and are being reintroduced into their native habitat, such as elk, wood bison, and musk ox.
We had also heard the rumor that they had some real, live moose in attendance.
Hopefully we could not only see them, but get close enough to convince Veronica that they were not actually two men in a moose suit.
When we arrived at the Center, the first animals we saw were some shaggy brown and black critters that looked like Cousin Itt with four legs.
Like many visitors to Alaska, this was our first time seeing musk ox and we didn't know what to expect.
We were surprised to find them considerably smaller than we imagined.
From the name we envisioned massive oxen roaming as giants of the tundra, but these guys are actually members of the goat family and their stature reflected that.
One hundred years ago there were none left in Alaska, due to over hunting, but now, since being reestablished, their numbers are increasing in the wild.
Without a doubt the cutest critters award went to three tiny Sitka black-tailed deer.
These little orphaned fawns were only a month old and still sporting their baby spots.
Their mother was hit by a car, so they will be raised and either remain safely at the Center or be released back into the wild, depending on their progress.
The Center is also active in breeding programs for several species, and the next two pastures were home to elk and wood bison.
Both have been successfully bred and herds have been reestablished in the wild thanks to programs like the Alaska Wildlife Conservation Center.
Next we stopped briefly to see the bears.
The Center keeps several that were brought in as orphaned cubs, as well as one huge grizzly, Hugo, that arrived wounded and near death fifteen years ago.
After living with assistance, none of these bears have the proper skills to be on their own, so Hugo and his buddies they have a permanent home now.
We had covered nearly the entire grounds without any sign of a moose and we were beginning to wonder if some more moose-cuses were about to be thrown out at us.
But then we noticed a sign on a barn that claimed there was a baby moose inside.
Deep down, David knew that a calf was not really going to do the trick when it came to convincing Veronica about moose.
Just as he'd thought, after close inspection she declared that it was probably just an ugly cow; a cute, ugly cow.
We needed to see a big one, antlers and all, up close.
Luck was on our side, because just as we exited the barn we spotted two big fellahs lounging in the field by a pond.
The Wildlife Center took in Nelson and Teddy after they were orphaned and they have become one of the main attractions.
We walked over to the fence to say howdy, but they were not impressed with our presence.
Then one (we are certainly not skilled enough in moose identification to know which) decided to go for a swim.
Wait. Moose can swim?!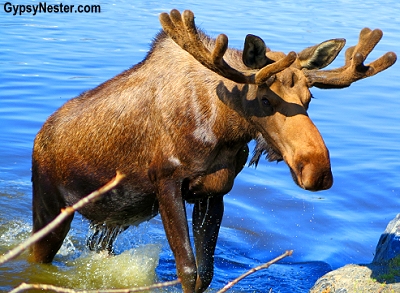 After climbing out of the water, he walked right up to us and stood only a few feet away for quite some time, casually munching on some tree limbs that had been left there.
We easily could have reached out and touched him, but that didn't seem like a very good idea.
So that was that, no way to deny the existence of moose anymore.
We got the chance to see a bull as up close as any human could ever hope to.
And there were no zippers anywhere in sight.
David & Veronica, GypsyNester.com
See all of our adventures in Alaska!
Find out all about the town of Seward!
We are proud to be Viator Ambassadors – big thanks to Viator for providing this wondrous adventure! As always, all opinions are our own. To see more about this tour, click here.
YOUR TURN: This HAS to be one of America's greatest roadtrips! Do you agree?