If the rugged coastline, brightly-painted fishing villages and historic outposts of Atlantic Canada are tugging at your heartstrings – there's no better time to plan a trip.
The best way to experience this remote and beautiful region? Take the train through Eastern Canada.
Rail travel in Canada offers a unique perspective on this destination and an unforgettable travel experience. From French-Canadian chateaus to historic harbours to pristine national parks, there's so much to discover.
Travel Through Serene Scenery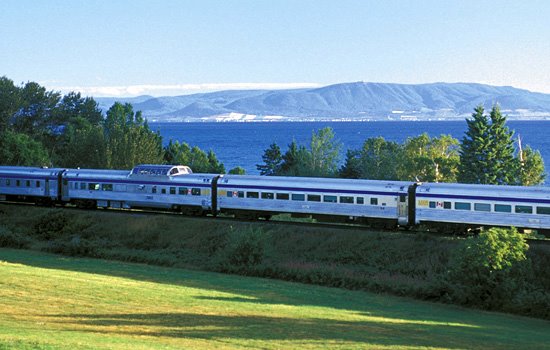 From the peaceful rural communities on the south shores of Quebec to the brightly painted clapboard houses of New Brunswick and Nova Scotia, it's hard to take your eyes off the scenery here. The train cars often fall silent, as passengers stare out the window in awe at the unfolding views.
Train travel means you'll see eastern Canada from a different vantage point. The train route is older and cuts through remote swathes of the countryside where the roads don't.
Via Rail's "Corridor Train" travels from Windsor to Quebec City, bringing you to the heart of some of Canada's most exciting cities in between stretches of pretty countryside. Via Rail's "The Ocean" is a 24 hour sleeper train between Montreal to Halifax, through the rolling farmland and coastal communities of the Maritimes.
When you reach the endless sparkling expanse of the Atlantic, you'll travel along the coast through quiet seaside towns perched on the rocky coastline. Sip your morning coffee as the sunrise gives the waters of Chaleur Bay a warm, pink glow.
Taste The Best of Eastern Canadian Cuisine
Melt-in-your-mouth Nova Scotia lobster. A juicy Montreal smoked meat sandwich on rye. Poutine with fresh cheese curds and hearty brown gravy poured over thick-cut fries. Fluffy pancakes smothered in pure Quebec maple syrup. Flaky French Canadian tourtiere, a ground beef, pork and game pie infused with herbs and spices.
A trip across Eastern Canada will allow you to enjoy these unique flavors. Plus, when you travel via train you'll be served meals on board so you can dine while you watch the landscapes roll by.
Learn About Canada's History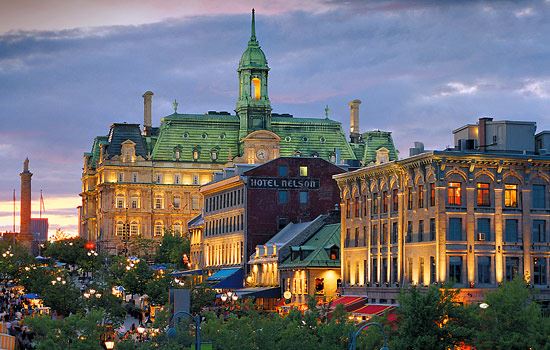 Eastern Canada is home to the earliest settlements in Canada and it has centuries of fascinating history to explore.
Travel through the Acadian Peninsula in New Brunswick, where most of the locals are descended from the first French families who settled Canada in the 17th century. Take a tour of Quebec City to hear over 400 years of historic tales. Learn the stories of several generations of Canadian immigrants at the Pier 21 museum in Halifax.
The past really comes to life when you travel by train, as the on-board hosts weave stories about local history throughout your trip. Many of the staff on The Ocean train are Arcadian and are passionate about their heritage.
Sit Back and Enjoy  
One of the nice things about traveling Eastern Canada by train is that you won't have to worry about finding your way from point A to point B. Unlike a road trip, you don't have to look at a map to pay attention to your route. You can simply sit back on the train and relax, concentrating fully on the scenery.
While you watch the lakes, rivers and forests go by, you'll be pampered by Via Rail staff with everything from wine tastings to live music. Train travel is so much more enjoyable than a self-drive vacation.
Plus, your train trip will be more social as well. During the journey you'll get to know your fellow travelers and bond over card games and conversation.
See These Unforgettable Highlights
An eastern Canada train will take you through some of the best cities in Canada.
Montreal
A city with one of the best food scenes in North America, a year-round calendar packed with festivals and a fantastic art community, Montreal really knows how to enjoy the good things in life. While Toronto is the economic capital of the country, Montreal is undeniably the cultural capital. As well as its cultural offerings, it boasts a wealth of stunning historic architecture, such as the glittering Basilique Notre-Dame.
Quebec City
Founded in 1608 by Samuel de Champlain, Quebec City is the only fortified city north of Mexico. It's narrow, winding cobblestone streets and 17th-century buildings are a living museum of early French Canadian settlement. With the ornate facade of the Chateau Frontenac standing proudly above it all, when you take the train from Montreal to Quebec City you'll feel like you've been transported back in time.
Halifax
Wander into any cozy Celtic-inspired pub in Halifax and you'll find lively tunes and plenty of friendly smiles. This breezy seaside city has a bright happy vibe, especially along the busy historic waterfront. One of the most important cities in Canada's history and a common point of first arrival for many new Canadians, it boasts impressive museums such as the Citadel Hill National Historic Site and the Canadian Museum of Immigration at Pier 21.
Tips for The Perfect Eastern Canada Train Trip
• Bring card games or good old fashioned paper books to entertain yourself while on the journey – there may be remote sections of the route where WiFi is not available.
• The best time to visit Eastern Canada, hands down, is the early autumn. In September/October the weather will still be warm and the changing foliage will be at its most spectacular.
• However, be sure to avoid Labour Day weekend (held on the same weekend as the equivalent holiday in the USA). This is a popular travel weekend and you'll be faced with heavier crowds and higher prices.
• Customize your train travel experience to suit your interests. For example, if you love history be sure to leave extra time for museum visits and architectural walking tours. You can also add on day trips, wine tasting tours, whale watching and other experiences to create your dream trip.
We are happy to present this collaborative post to offer valuable information to our readers.