With the children raised and off on their own, many of the obstacles that hindered our ability to travel extensively have disappeared, but there may be some new challenges.
The key for us empty nesters is to decide what we are seeking when we travel, then match the destination to our desires.
If we plan ahead for our levels of comfort, cost, and activity level, checking most anything off the old bucket list becomes possible.
Roughing It – Without Roughing It
Just because we might not get excited at the prospect of roughing it like a Boy Scout anymore doesn't mean nature's wonders have to be off our list.
There are plenty of spectacular offerings in the great outdoors that are easy to visit.
At the top of that list are many of our National Parks.
We aren't talking about sleeping on the ground in a pup tent either, a number of our most famous parks have fantastic lodges. Yellowstone, Yosemite, The Grand Canyon, and Glacier National Park all have incredible historic hotels set right in the heart of breathtaking scenery.
These offer all the modern amenities in a perfect combination of rustic and elegant.
Most also offer shuttle bus service to all of the iconic attractions that are as reliable as Old Faithful.
The Grand Canyon, and Glacier National Park can even be reached by train. After all, Mother Nature prefers her visitors bright eyed and bushy tailed, not worn out from driving.
Quite a few State Parks also offer accommodations, some on a par with their national big brothers, such as Starved Rock in Illinois, or Fall Creek Falls in Tennessee.
Cruuuuuisin'
Cruises can be another great way to travel in style and see places you've always dreamed about.
It's like bringing your hotel with you while seeing a glacier in Alaska, sailing the Mediterranean, visiting The Great Wall of China, or cruising the great rivers of Europe.
If it's near the water you can see it on a boat, and avoid all of the hassles of packing and unpacking along the way.
Safety at Sea: What the newest ships are implementing
Hint: It is best to avoid booking during Spring Break if you want a little peace and quiet by the pool. We made that mistake a few years ago. But the libation-soaked scholars turned out to be good for a little comic relief from time to time!
Size DOES Matter
Smaller cities that have a ton of attractions within a central location make for great getaways.
Two of the oldest settlements in America fall into that category, Santa Fe, New Mexico and St. Augustine, Florida.
Both have restored historic downtown areas that are easy to walk around and packed with great shopping, eating, and some of the oldest structures in the country.
For Southern charm, the Lowcountry cities of Savannah, Georgia and Charleston, South Carolina are unmatched.
The Spanish moss-draped trees along the boulevards and squares, restored waterfronts, and classic colonial homes can be magical, with much of the allure of New Orleans… minus the happy hedonistic insanity.
For northern exposure, give Corning, New York or Newport, Rhode Island a visit.
With its easy walk-through old town, Salzburg in Austria is heralded as one of the best-preserved city centers in Europe.
Once inside the walls the baroque architecture and ornate guild signs are mesmerizing, and The Sound of Music is all around… in more ways than one.
Be sure to ride the cable car up to Hohensalzburg Castle for the best possible view overlooking Mozart's hometown.
An hour south of the U.S. border and a million mental miles away is Puerto Peñasco, Mexico.  No wonder this quaint fishing village has become so popular with snow birds. Relax on the shores of the Sea of Cortez for a fraction of the cost of most Mexican resorts.
All of these small-ish burgs have a full spectrum of food and lodging choices and best of all, because they are not big metropolitan centers, these towns can be pretty easy on the savings account.
Need a Bigger Adventure?
Prague
Prague in the Czech Republic is the former capital of the Holy Roman Empire and one of the world's great cities, yet the old center is small enough to easily navigate on foot.
Rounding every corner is like stepping into a new page of a classic story book.
We almost expected a damsel in distress or a knight in shining armor at every turn. To ensure a return visit (and you'll want one), rub the statue of St. John on the Charles Bridge.
Newfoundland
We thought we might just spend a few days in Newfoundland.
Good thing we asked around before we went, because everyone who had been there said it takes at least two weeks to even scratch the surface.
Luckily we are empty nesters and had the time to truly explore the natural beauty and fantastic people of the island. Don't forget to ask a local about getting "Screeched In" to become an honorary Newfoundlander.
Queensland
If Australia is on your bucket list, look no further than Queensland. Beautiful beaches, glamorous seaside foodie towns and all the fabulous marsupials you could ever want to see are there for the experiencing!
Oh, and Great. Barrier Reef. It doesn't get more bucket list than that!
The laidback, "no worries" atmosphere of Queensland allows us empty nesters to relax — or adventure — at our own pace.
Costa Rica
If you are a nature lover and appreciate ecotourism, Costa Rica is your ultimate destination.
Costa Rica has embraced ecotourism, understanding the need to keep their beautiful beaches, national parks and treasured wildlife as pristine as possible. Plus they have tons of monkeys, and we love monkeys.
If all the ecotourism talk conjures up visions of carrying a backpack through the jungle, sleeping in tents, and living off of nuts and wild papayas, we can relate.
But there's luxury to be found, too. We soaked in hot springs on the slopes of an active volcano, and even had a massage while watching monkeys swing through the trees at the most eco-friendly hotel we've ever stayed. Can't do that in many places!
The Wild Atlantic Way, Ireland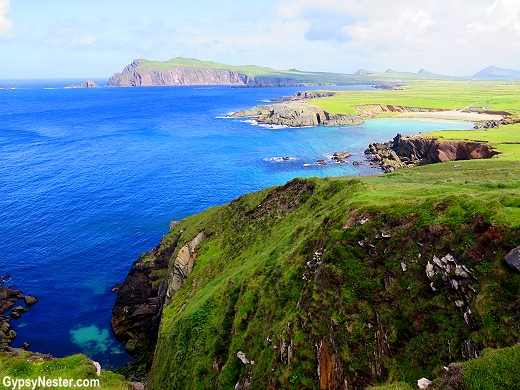 The Wild Atlantic Way in Ireland will create memories that will stay in your heart forever – the views from the edge of the world are spectacular!
Headquarter in the little town of Dingle – for Victorian quaintness, and a foodie experience you'll never forget!


A Nod to Voluntourism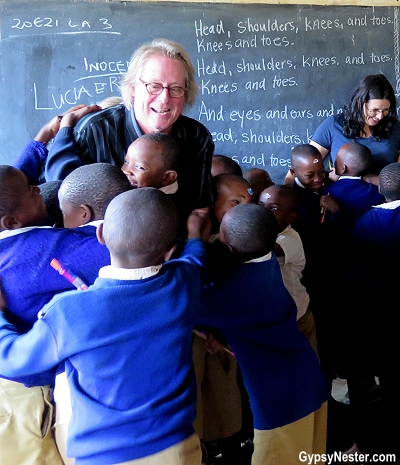 Volunteer vacations are a great way to see the world, help others, and grow together as a couple.
Many US National Parks have volunteer programs that offer fabulous benefits, like free lodging.
There are also opportunities abroad, like teaching English to schoolchildren in Africa, that many empty nesters find very fulfilling – including us!
By combining volunteering and tourism, you get a unique, hands-on experience that connects you to the places you visit in very powerful ways.
With the offspring grown and flown, it's the perfect time to spread our wings, pick a place, pack those bags, and leave the nest completely empty for a while.
David & Veronica, GypsyNester.com
YOUR TURN: Have we inspired you to take an empty nest vacation? Which of these are on your bucket list? Do you have destinations to share?