We had an amazing time! Click here to see photos of the big fun at Southern Festival of Books!
We joined Nashville's WSMV Channel 4 More at Midday gang!
Did you miss this event? Find out where your GypsyNesters are headed and how you can meet us!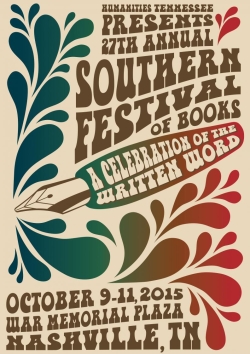 Big, big news!
We (and our book, Going Gypsy) have been accepted into one of our favorite book events – The Southern Festival of Books in Nashville!
Humanities Tennessee has been throwing this great event for twenty-seven years, and its popularity has inspired hundreds of similar book festivals.
Because of their dedication to the written word, the festival is free to all who want to celebrate the joy of reading!
Join us and two hundred of the nation's most prominent authors for three days of fun, interaction, and — because it's Nashville — music!
The festival runs from October 9th through 11 (just be sure to block off Saturday the 10th at noon for our session!) and is held in the heart of Nashville's dynamic downtown.
We'll be teaming up with Alex Sheshunoff and Scott Dannemiller to regale you with our tales of "Ditching the Daily: Chronicles of Simple Living, Finding Joy, and Letting Go." 
For us, that meant selling the house and hitting the highway – it's been over seven years now, can you believe it?
We will be expounding our adventure and the journey from empty nest to no nest at all (and the crazy antics that pop up when a decision like that is made!).
Alex's book (which has a real mouthful of a title, soooo, deep breath)…
A Beginner's Guide to Paradise: 9 Steps to Giving Up Everything So You Too Can: Move to the South Pacific, Wear a Loincloth, Read a Hundred Books, Diaper a Baby Monkey, Build a Bungalow and Maybe, Just Maybe, Fall in Love!
…is a hilarious account of, well, the subtitle pretty much tells it all. If diapering a baby monkey while wearing a loin cloth doesn't pique your interest, something may be very, very wrong with you. 😉
Scott's book…
The Year without a Purchase: One Family's Quest to Stop Shopping and Start Connecting
… shares the wit and wisdom of a couple (and their kids!) who gave up buying all the stuff they really didn't need and gained… hold on, we don't want to spoil the fun, so we'll let Scott fill you in on that at the Festival!
Here's all the details you need to meet up with us at the Southern Festival of Books in Nashville!
Our session is Saturday, Oct. 10 at noon, in the Legislative Plaza, Room 12 (enter the building at the corner of 6th and Union), and we'll be signing books at 1:30 in the Signing Colonnade
Southern Festival of Books website
Get directions and a map of the festival
See the full schedule of the weekend's events here (don't forget to check out the music too!)
Drool over the list of participating authors
See you there!
David & Veronica, GypsyNester.com