When we were making plans for our big South American adventure Lima wasn't even on our radar.
Just a transfer point between our visit to two of the world's most amazing places, The Galapagos and Machu Picchu, with a group from Road Scholar, and setting out on our own to tango our way around Buenos Aires.
A quirk in flight schedules stuck us an extra day in the Peruvian capital, but as fate would have it, what seemed likely to be a let down instead found us soaring through the sky.
On our final day with our fellow Road Scholars, just before most of the group would catch their planes back to The States, the tour had planned a whirlwind visit to the downtown area and a farewell supper.
After a ride through the city we got off the bus at the main square, Plaza Mayor, for a walk around and a brief history lesson.
The plaza is flanked on one side by The Government Palace, and on another the Cathedral.
Both owe their existence to the conquistador Francisco Pizarro, who founded Lima in 1535 as Ciudad de los Reyes (City of the Kings). That same year he laid the first stone of the church and began work on the palace, where he lived until his assassination in 1541.
He was laid to rest in the Cathedral, and the palace, aka House of Pizarro, is still the official residence of the President of the Republic.
As interesting as all of this may have been, we had to admit that we were more excited about the meal.
Learning to Cook like a Peruvian
Not only were we going to sample several of Peru's most famous dishes, we were going to learn how to make them. Lima is sometimes called the Gastronomical Capital of the Americas, due to the wide variety of influences from Europe and Asia, so we were more than ready for our instruction and ingestion.
From the plaza we made our way to Señorio de Sulco Restaurant for a lesson in Peruvian cuisine. First up, Ceviche Pescado. It is commonly held that ceviche originated in Peru and it is somewhat of the national dish.
Our chef and teacher, Ricardo, marinated filet of sole in lime juice, onion, chili peppers, salt & pepper, cilantro and leche de trigre, or tiger's milk, which is made from fish sauce and more citrus juice. Served with boiled sweet potatoes (camote) and toasted corn known as cancha, we were off to an amazing start.
The next dish was Causa Limeña, delicious mashed potatoes prepared with lime, onion, chili and a little oil, layered with avocado and chicken salad, then formed in a round mold. Ricardo constructed this like an artist working on a masterpiece, after which we destructed it like hungry children.
WATCH: Chef Ricardo makes Causa Limeña – Oh. Yum.

For the main event chef Ricardo broke out a wok and fired up some Lomo Saltado. This is a marinated, sliced beef stir fried very fast at high temperature with onions, garlic, tomato and soy sauce, then served with rice and french fries. Simple and crazy delicious.
Do you love cooking classes like we do? Click here to see our classes from around the world!
Fetching Flowers
Because we couldn't fly out until the next evening, we found a hotel in the area called Miraflores and explored some ideas for our extra day.
Originally founded as San Miguel de Miraflores, the district is known for shopping, not really a way either of us wanted to spend a day, and beaches, but mostly for flowers, as in flores.
Gee, that must be how it got its name.
Even though the weather was wonderful, it wasn't warm enough for the beach, so we asked at the desk about the flower parks and got the scoop along with a map.
There are about a dozen of the gardens that line the coastal cliffs in Miraflores, but one in particular caught our attention when we heard about it, the one with miniature versions of the Nazca Lines drawn out in flowers.
We knew where we were headed in the morning.
We walked about a half an hour from our hotel to Parque Maria Reiche, which is named for the German archaeologist who dedicated her life to studying the mysterious pre-Columbian geoglyphs carved into the desert south of Lima.
As a tribute, several of the famous figures have been recreated using flowers and plants.
The view from ground level as we wandered through the park made the garden look like random large flower beds, but when we climbed up to the walkway above, the figures were revealed.
The whole scene was stunning, perched high on a cliff overlooking The Pacific.
Getting our Heads in the Clouds
Following the seacliff walkway south along the coast, we visited park after fabulous park.
Many were named for famous local and world leaders like the renowned Peruvian naval officer Miguel Grau, and the Nobel Prize Winning Israeli Prime Minister Yitzhak Rabbin.
Then, as we approached Parque El Faro — the lighthouse park — we saw something that changed our day completely.
We had noticed the paragliders soaring overhead all morning and now we had stumbled upon the launching area.
Veronica was unstoppable, breaking into a run to find out if it was possible to try it.
For those of us who feel there is no sensible reason to jump out of a perfectly good airplane, there is no way jumping off a two hundred-foot cliff can be justified.
I would have been perfectly happy to watch, but as soon as Veronica found out that passengers could be strapped on with an experienced glider, our fate was sealed.
We were both going over that cliff. Mostly because I would never live it down if I chickened out.
She could hardly be contained and volunteered to go first, but somehow my pilot got me lashed onto the contraption quicker, so Veronica got to watch as the wind dragged me along the ground and over the edge.
Granted, I was pretty busy trying to scramble to my feet each time the wind slammed me to, or lifted me off the ground, and all I could hear was my pilot yelling "run, run!" even though my feet were seldom touching anything, but I was reasonably certain it was not a textbook takeoff.
All of the people I watched before me were lifted gracefully into the sky. I went careening over the cliff dropping like a rock.
Then, just as I was visualizing multiple fractures, a current grabbed us and hurled us high into the sky. With the impending disaster averted the situation became incredibly cool, unbelievable even.
Click here for more photos of Lima from a paraglider – and hear Veronica's side of the story!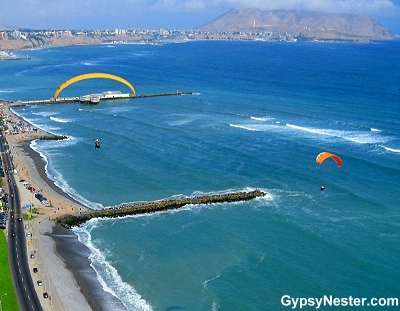 We made several passes along the shore, drifting out over the ocean and then grabbing a gust and soaring high above the city.
I was actually beginning to relax when a realization hit me, I had no idea how we were supposed to land.
The language barrier between pilot and passenger was something akin to China's Great Wall, so as we plummeted back down to earth my only instructions were to "stand up."
Turns out that was a perfectly good plan, I stood up and that was that. Safe and sound back on good old terra firma.
As much as I enjoyed my flight, it was nothing compared to the excitement Veronica experienced. She was practically babbling incoherently with jubilation after touching down.
WATCH: Veronica's incredible flight!

I don't think her feet had made it back to the ground yet as we walked on to the next park, Parque del Amor, The Love Park. We entered the park through a wall that features some of Peru's most famous poet's love verses written in mosaic.
It struck me as reminiscent of Antoni Gaudí's Park Güell in Barcelona, but Veronica was focused on something ahead.
The sight of a giant sculpture depicting a couple in full make-out mode seemed to bring her back to the present. This center piece of the park is called El Beso, The Kiss, by Victor Delfín, and has become a favorite meeting place for Lima's lovers.
It was dedicated on February 14, 1993, and on every Valentine's Day lovers gather around it for a longest kiss competition.
Seemed like the perfect place to plant a big one on my lover. Might not have thrilled her quite like flying through the sky, but hey, a guy's got to try.
David & Veronica, GypsyNester.com
Click here to see our full adventure with Road Scholar – a not-for-profit organization – through Ecuador, Peru, The Galapagos Islands, Machu Picchu and much, much more!