For many looking to go on a European holiday, a Paris trip is highly valued among the tourists. And there are valid reasons for this.
First, when you reach one of the airport of the "city of light", the shuttle bus company Le Bus Direct (https://www.lebusdirect.com/en/) can directly drive you from the airport to strategic areas of Paris.
You'll hear everywhere that the world is full of many cities with their own unique history, culture and beauty. Some cities, however, can be considered even more unique than any other. You surely guessed, Paris is like that. Some say that it is the most beautiful city in the world. Of course, beauty is subjective, but try to find someone who'll say after he comes back from his trip to Paris, that the city is ugly and that there are nothing to do there. The richness of the background with this impressive number of famous monuments and buildings (Eiffel Tower, Arc de Triomphe, The Louvre, The Catacombs…) combined with all the cultural particularities creates a wonderful environment.
Group sightseeing
Before deciding on what to do during a Paris trip, you can join an organized group sightseeing trip (which is very common in Asia), especially if you go there for the very first time and you didn't have time to prepare. Also, if your trip is very short, like a few days long, and you're lost in the ocean of things you can visit, it's good to have a program already scheduled.
Moreover, if you have arranged your trip with a group, you will probably also be able to reduce costs on souvenirs, food and visits as such group trips are often designed with the idea of avoiding high price ranges.
Nightfall Activities to take part on a Paris trip
Palace of Versailles – This is known as the French kings' palace, from Louis XIV to Louis XVI. It's certainly the most luxurious palace in Europe and one of the most famous in the world. During the renaissance, over 1000 nobles resided at Versailles, participating in its public gatherings and playing games of political interest. In addition to the castle you'll have the chance to walk in the huge gardens of Versailles, designed in the early 17th century by Louis XIV architect André Le Nôtre.
The Louvre – This is the most famous art gallery in the world, known for the Mona Lisa and many other precious fine art pieces like the Venus of Milo or the Egyptian mummies. If you want to see the whole museum, you'll have to spend more than a complete day there. The size of the collection is highly impressive. You'll find there all forms of arts, from almost every part of the world.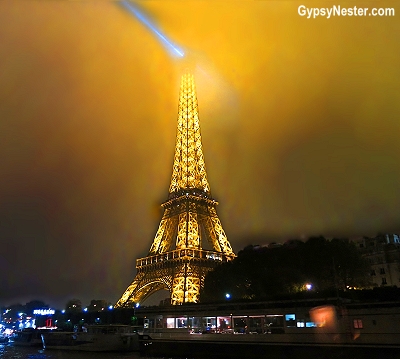 The Eiffel Tower – You won't miss it, of course, we don't even have to tell you anything on that. It's of course possible to enjoy the amazing view from the top of the tower (by day or night), or even to go to the restaurant inside.
Walk along the Champs-Elysées – The Champs-Elysées is not more than the Biggest Avenue in the World, as it was immortalized in nightlife by the French filmmaker Jean Luc Godard. The Champs Elysees is almost a city by itself, because you really can find anything you want there. From fast foods to gastronomic restaurants, from expensive branded clothes to cheap stores, from teahouses to nightclubs, from classy cars to bicycles… And like everywhere in Paris, famous monuments. The "Arc de triomphe" symbol of the French power of France and its emperor Napoleon in the early 19th century, is located on a wide square in the middle of the avenue. The Elysee Palace, official residence of the French president, is also pretty close to the Camps Elysées.
"Place des Victoires" and "Place de l'opera" – There are so many famous squares in Paris that you surely won't be able to go to each one. Limit your particular purchasing to 2 specific squares: Place des Victoires and Place de l'Opera. The first is recognizable for its statue of the French king Louis XIV in the middle of the square. You'll also find some luxurious clothes, jewelries and perfume stores on it, inside beautiful buildings.
You surely guessed what you can see on "Place de l'Opera". The magnificent Opera Garnier is one of the numerous wonders of Paris. Even if you don't succeed to enter the Opera, just observing the beauty of this huge building might be sufficient for you.
Visit a VIP Night club – Paris has some of the unique nightclubs in the world. While a night out can be very costly, it can also be fulfilling. Nightclubs along the Champs-Elysées can be hard to get into. So if going to a classy Parisian night club is a big dream for you, the best technique is to go to a great stylish mixture bar, try to consult the French individuals there and ask them where the best spot for you to go this night is. They will understand the message and tell you where the easy access or encourage you to come along with them. The main points include Le Cab, Queen, Sens, VIP Lounge, Le Baron, l'Etoile.
A few more tips
Yes! You can find cheap things in Paris – Just like other famous cities, Paris also has its share of pricy stuff. However, this does not imply that you will go under doing shopping over there. You can use a few guidelines to reduce costs and save your precious money if you are travelling on tight budget. For example, you'll find a lot of cheap restaurants in Paris where you can eat a good lunch and dinner for 10-15€. Furthermore, you can get special prices for transports.
Therefore, these are six guidelines, you may want to consider when planning your trip of Paris. I hope that these guidelines will make your tour more enjoyable to have fun with your trip while saving much cash. Keep in mind that Paris is filled with enchanting sites but you don't want to be overcharged due to your unawareness.
Don't worry, Parisians are not rude – You may come across some impolite or rude Parisians during your stay in the city, but this does not imply that all Parisians are impolite and rude. Many people think that they will not be treated well in Paris, but the reality is different. Most Parisians have no abhorrence for strangers. On the contrary, Parisians and especially young people, students, like to talk to foreigners, because they face tourism every day, they are open-minded and they know they have a chance to observe a wide community of nationalities like almost nowhere else. Moreover, Parisians are proud of their city, of the beauty of it, and they enjoy advising tourists on which places are the best, which restaurants or stores they should go to first. So if you want to really discover beautiful and unknown places in Paris, ask them! They are the one who live there all the time.
We are happy to present this collaborative post to offer valuable information to our readers.