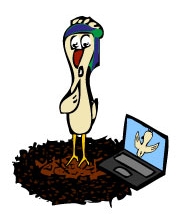 I'm constantly searching for material that dispels my internal anti-mantra, "You are a bad mommy. You shouldn't be so happy that your children have left the nest. You are a bad…"
What keeps that inner nag going? Guilt? Self reflection? Stupidity? I suppose it doesn't really matter, it is what it is.
In my latest frantic search, I came across a theory that I love. Un-nesting.
Suzanne Koven, M.D. writes in her story for Psychology Today entitled "The Un-Nesting Instinct":
"Celia's story started out sounding pretty familiar-a cliché almost. She was fiftyish and going through menopause and, in addition to the weight gain and hot flashes, she found herself irritable and sad. Her children, she told me, were a particular source of sadness. "You mean because they're growing up, moving away?" I asked. 'No,' answered Celia, 'Because they're not.''"
WOW! You bet my interest was piqued – could I finally have an answer, and from a doctor, no less?
Dr. Koven continues: "This 'un-nesting instinct' is the opposite of what some women experience at the end of pregnancy when they find themselves scrubbing floors, straightening drawers and otherwise 'feathering the nest'"
Could it be that my un-nesting instinct is just as potent as the nesting instinct? Are my feelings just as valid now as when I was pregnant and wanting to feather our little home with love?
She goes on to add: "At menopause a woman may find herself with a very different urge: to get rid of stuff instead of cleaning and rearranging it, to downsize."
THAT'S IT! The validation I needed! Of course, Dr. Koven insists that her observation with Celia is just a theory, but WHAT A THEORY! I'm taking it as fact and going on with my bad self. And this Celia chick? My kind of gal.
Then there is this survey that further bolsters my mood:
According to a Del Webb survey (tip o' the GN hat to Grace Curtis who found these stats for us!):
58 percent (of the Baby Boom Generation) say they are or were emotionally ready to get the kids out of the house. Males (70 percent) are significantly more likely to be emotionally prepared than females (55 percent.)

The older the Boomers become the more ready they are to clear the Nest. In fact 71 percent of the Boomers between 53-58 years old are emotionally ready to be Empty Nesters.
I am not alone.
And, best of all, I have some anti-venom for the "bad mommy" anti-mantra.
Veronica, GypsyNester.com
YOUR TURN: Do you find validity in the un-nesting theory? Are you one of the 58% that are or were ready for the empty nest? Is my "bad mommy" mantra correct?