Thanks to Paris je t'aime for this adventure that made us exclaim Ooh la la! As always, all opinions are our own.
Next to the Eiffel Tower, the Arc de Triomphe must be the most recognizable monument in Paris.
Built in 1806 by Emperor Napoleon to commemorate the victory at Austerlitz, the massive arch has gained significance as a memorial for all of the wars since that time and houses the tomb of the Unknown Soldier.
We headed back to the Underground, hoping to make it to the Arc in time for a sunset climb to the top.

The Charles de Gaulle metro stop put us outside of the insane traffic clogging the roundabout that encircles the arch, making it look as though it might be impossible to get to.

<–10 Second video: Click the pic – and the crazy traffic comes
to life!
Luckily, there is a tunnel underneath the street that made passage possible without risking our lives, and we exited the tunnel just in time to see the changing of the guard at the tomb.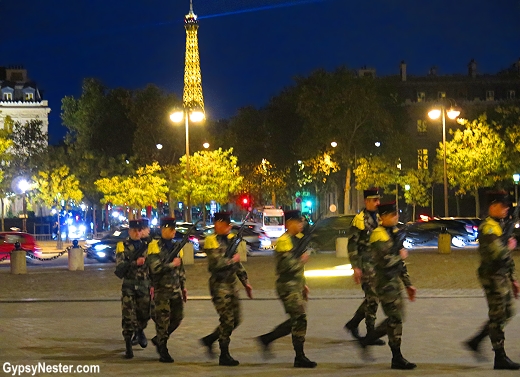 Impressive as the perspective was from the ground, we were more excited to enter the Arc and climb to the top for an ultimate view of the city.
A few hundred steps later and a full 360 degree panorama of Paris spread out before us just as darkness was falling.
The vantage point was unbeatable, not only for photographing Gustave Eiffel's handiwork, but observing the continuous chaos on the roads below.
A dozen roads converge at the circle, making the flow of vehicles look as if it was a living organism coursing through the arteries of the city.
For a final treat before we descended, the moon peeked out of the clouds just as the twinkling lights came to life on the Tour Eiffel.
See our antics at the Eiffel Tower and learn a few things about her that you didn't know!
Thanks to Paris je t'aime and Hotel Vic Eiffel for this adventure that made us exclaim Ooh la la! As always, all opinions are our own.
David & Veronica, GypsyNester.com
DELVE DEEPER:
See where we stayed in Paris
Want to see our full collection of odd art at the Louvre?
Head deep inside the Catacombes de Paris
Check out more about Notre Dame Cathedral
See more of our antics at the Eiffel Tower
Follow us to Versailles – there's so much over-the-top royal stuff to share!
Want more Paris? Click here!
Check out all of our adventures in France!
YOUR TURN: Is Paris at the top of your must-see list? Or have you already checked it off? What would be YOUR first stop in Paris?