Where Indiana meets Michigan, Michiana as it's known, time travel is possible.
Here in the Land o' Goshen, the Amish have settled and continue a lifestyle reminiscent of hundreds of years ago, placing merit on humility and hard work.
Elkhart County, Indiana has the second largest population of Amish in America and Goshen is the county seat. Having met several wonderful Amish people aboard the trains on our rail pass adventure, we wanted to get a closer look at the ways of these meek, peaceful people in what is known as Amish Country.
More than a religion, this is a way of life. Their history dates back to 1693 in Switzerland when a group of Anabaptists led by Jakob Ammann broke off from the church to form a new sect.
To this day, they still speak a dialect of Swiss German at home and a more formal German in their religious services. Most are trilingual, also speaking English for business purposes.
The shunning of technology is not from an idea that new things are inherently bad, it comes from the drive to always remain humble.
Cars, TVs, or the latest new gadget can lead to one-upsmanship – pride – and that is to be avoided at all costs. In that same vein, the Amish refrain from ever being photographed. We respected their wishes and didn't click our cameras in our usual maniacal way.
Our days in this peaceful area were spent mostly on bike, exploring country lanes and a quieter way of life. We did, however, see things that surprised us – always a good thing.
On the edge of a lake we found a horse-drawn buggy pulling a little motorboat. We had been made aware that each Amish community has their own set of rules, but this seemed comically out of place. Gave us a fun little giggle.
Tourist diversions are not your standard fare in Amish Country. The tourist town crap shops (a.k.a purveyors of fine souvenirs) are not to be found.
Too bad, because we were in the market for a tiny wooden outhouse with some kind of catchy saying on it. Shops instead lean toward the handmade and farm-raised.
We began to wonder how folks in the region tame a wild hair and, after following a few leads, enrolled ourselves in a Dutch oven cooking class. It turned out to be quite the gathering.
Old-fashioned ovens were set in different scenarios, hanging on hooks, stacked on top of each other or alone over beds of coals. We were given the scoop on all the secrets of Dutch oven cookery from some of the area's finest outdoor chefs.
Offerings varied, from an award-winning sloppy joe, to organic breads and a crazy, yet delicious, "reuben sandwich casserole." An amazingly simplistic "dump cake" – boxed cake mix thrown in an oven with canned fruit and a stick of butter, unbeaten – was countered with a bread pudding with homemade bourbon sauce.
Each friendly chef was happy to lead us through every step of the way, from the heating of the ovens to the preparation of their creations.
Picnic tables were set nearby for tasting and fellowship.
The evening ended with a giant vat of kettle corn popped over a propane fire. The smell of crazy amounts of oil, sugar and corn filled the air as we playfully dodged the white nuggets of goodness as they flew around us.
A good, wholesome Midwestern time was had by all. It had all the feel of a gentle childhood summer.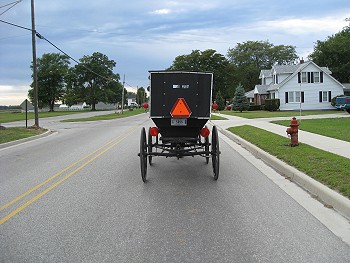 Leaving the shindig, we were overtaken by a speeding buggy full of giddy teenagers. The laughter was kicked up a notch when a boy was expelled from the driver's seat and the reins taken up by a bonneted girl.
Chaos ensued as a chase was taken up, the boy on foot in hot pursuit of a buggy with bobbing heads poking out of every window.
Kids'll be kids – gotta love it.
David & Veronica, GypsyNester.com