NEXT DISPATCH: WEEK TWO OF AMTRAK LIVE-BLOG
Getting Ready!
How we packed
Cooler/Day Pack full of delicious snacks (we did learn later that there are extensive snack choices aboard!)
Briefcases with essentials. Stuff we carry with us at all times.
Canvas tote with neck and regular pillows, blanket, eye masks, ear plugs, playing cards, books — and sleep stuff.
Everything attaches to: Rolling carry-on bags packed with "replaceable items" like clothes, toiletries, etc.
You can travel lighter with internet access and Cloud products from CloudDesktopOnline.com and CloudAppsPortal.com . Access your Windows apps and files from anywhere with mobile devices.
Learn more about how we pack and our always-adhered-to "One Trip Rule"!

1:40 PM They still have lockers at train stations! For three dollars an hour we purchased some peace of mind and were able to walk around downtown Chicago without dragging our luggage behind us.
Weird fact: You have to provide your fingerprints to use.

1:45 PM We popped out of the train station and this is what we saw!
Chicago
The Windy City, the one with the broad shoulders, Second City baby. We were right on the Chicago River across from the Sears — uh, Willis — Tower.
Romped around, pointed, oohed and awed, had lunch and headed back in to catch our overnight train.
Want to see more to do in Chicago? Click here!
Take Off
2:45 PM On the train! We snagged the ONLY seat in our train car with a power outlet! Shhhh…don't tell anyone, the conductor just announced that the ONLY outlets were downstairs in the lounge. We don't want to start a riot!
3:10 PM Left Chicago on time!
3:15 PM No Wifi from Amtrak, but we have an at&t laptop connect wireless card and so far it's GREAT (of course we're still basically in Chicago). VERY civilized!
Day One: Chicago to Kansas City
Out the Window
5:00 PM Beautiful pastoral scenery. Blue skies, rolling green fields — Illinois out the window.
Americana at its best.
6:00 PM Galesburg, Illinois — Birthplace of poet Carl Sandburg and the site of the Lincoln-Douglas 1858 debate… but most of all, Railroad Days. Would have loved to stop to take this place in, but alas, only 14 more days to make it to the West Coast and back and so far we are sticking right to the timetable.
Out the Window
6:45 PM Outside of Fort Madison, Iowa In the dome car for a cocktail and some fabulous vista watching, when BAM!, all heck started breaking loose! The train was halted due to high wind and flash floods… so much for the old timetable.
The Amtrak staff was wonderful and kept us safe and up-to-date on the situation.
WATCH: Just how hard does the wind need to blow to stop a train?
Pretty dad-blame hard is the correct answer.

Out the Window
We neglected to mention the name of this train yesterday. We are on Amtrak's train #3, the west bound Southwest Chief. The name dates back to the golden era of train travel when the luxury long haul routes all had groovy names.
This route was the Atchison, Topeka & Santa Fe Railroad's Super Chief. I took it a few times as a kid and the main thing that stuck in my brothers and my mind was how cool it was that you could stick your shoes in this little box outside your sleeper and they would magically be shined in the morning. I'll have to look into whether that still happens.
Day Two: Kansas City to Santa Fe
6:10 AM Get out of Dodge. Woke up looking out the window at Wyatt Earp Street in Dodge City Kansas.
7:50 AM Going for the second cup of joe as we cross the Kansas – Colorado state line. What happened to all the trees?
8:25 AM Rainbow with wind generators as the pot 'o gold in eastern Colorado. Mountains are just coming into view.
12:00 PM Opted to eat in the dining car. Passengers make reservations a few hours in advance for lunch and dinner. Breakfast is first come, first serve.
Lunch options included a Chipotle Black Bean and Corn Veggie Burger, an Angus Steak Burger, regional sandwich and entree specials and a veggie salad. Beer, wine and cocktails are served and lunch runs between $6 and $9, including coffee, tea or milk. Served on linen, quite civilized!
Folks on the Train
We learned very quickly that train travel is a very social experience — trains have club cars, dining cars and dome lounges, all very conducive to socializing! In our coach seats, we met everyone around us, shared tourist info, train riding tips and tales, even books and snacks. We will interview some of the wonderful folks along the way and share them here.
WATCH: This wonderful gentleman explains to us why he travels ONLY by train!

A cafe car is available throughout the day with the usual downscale microwave cuisine, cereal, chips and drinks.
Out the Window
12:10 PM Antelope! It's a meal and a show! They are everywhere! We were starting to wonder if they really did play out here, not hearing many discouraging words, either.
WATCH: Veronica sneak attacks a sleeping David to get a video of the coach seating situation. He was an awfully good sport as we had been on the train for 24 hours straight!

We have decided to do coach all the way (if our backs hold out!) as a 15-day rail pass cost us $389 and would be significantly more if we add on a sleeping cabin. (In case you're curious, here's a a sleeping car tour on The Empire Builder)
Days Three and Four: Santa Fe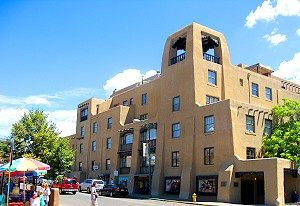 2:20 PM Arrive Lamy, New Mexico — on time! We must have made up the time that we lost in the storm overnight. Catching the shuttle van into Santa Fe.
Santa Fe is our longest layover — we will be on the train with just a few overnights after this!
What a great town! Jam-packed with galleries, adobe and amazing southwestern food!
"The Inexplicable Stairs" is a must see in Santa Fe! The staircase has no supporting pole, has three hundred steps and makes two full 360-degree turns stumping architects and engineers to this day.
In 1873 a gothic chapel was built for the nuns of the local parish. Beautiful as it was, it was stupidly built without access to the choir loft. The only solution was to either install ladders (not a great choice for the singing nuns!) or tear the chapel down and start from scratch.
So the Sisters did what they do best — they prayed for a miracle.
The legend says that a unknown man showed up on a donkey and offered to build a staircase with the only tools he had — a hammer, a saw and a T-square.
Six months later, the staircase was finished and the man disappeared, never to be heard from again. Much more on Santa Fe and this staircase (with video)
Day Five: Santa Fe
Hoofing around The Plaza in Santa Fe.
Intrigued by the Native American wares hawked on blankets in front of the Palace of the Governors – the oldest public building in the US, built in 1610.
Day Six: Albuquerque to Los Angeles
11:20 AM Leaving Santa Fe (on time!) on the New Mexico Rail Runner to rejoin the Southwest Chief to Los Angeles. It adds $7 each to our trip, but well worth it!
The train itself is very whimsical with a speedy looking roadrunner emblazoned on its cars in the colors of the sun. Instead of an alarm sounding when the doors close, a fanciful "beep, beep" is heard. Yes, Santa Fe is where Chuck Jones got the inspiration for the Road Runner cartoons.
Ironically, even though the classic AT&SF railroad was commonly referred to as "The Santa Fe," the mainline never came to the city because the terrain was too forbidding. That's why Amtrak doesn't actually come into Santa Fe and a shuttle or Rail Runner ride is required.
12:03 AM Passing through the Native American pueblo community of the Kewa tribe. Adobe villages, farms and ranches are nestled into a beautiful valley. We'd love to post a picture, but the residents respectfully ask that photos not be taken, as their land is sacred.
12:50 PM Albuquerque! We didn't make a wrong turn. Tossed our stuff into a locker at the depot and took a walk down Route 66 toward the historical Old Town Plaza.
The quirky mixture of the adobe and faux-dobe buildings with retro 66 signs made for a fun, but sun-beating-down-upon us desert stroll.
Click for more stuff to do in New Mexico!
1:55 PM On the prowl for Southwestern food.
Found green chile and big, puffy, hollow, pipping-hot sopapillas dripping with honey at La Placita at the Hacienda Casa De Armijo in Old Town.
Built in 1706, the courtyard room has a large shade tree that shoots straight through the ceiling.
3:00 PM Took in Old Town Albuquerque. The plaza is dominated by San Felipe De Neri, the oldest church in town, founded in 1706.
The twin spires really stand out among the rest of the squatty adobe buildings filled with galleries, restaurants and tourist-centric businesses surrounding the square.
Back on the Chief
Out the Window
6:50 PM Arizona.The desert is surprisingly green, quite a bit of rain lately, in fact we just passed through a shower.
7:30 PM The remaining clouds make for a spectacular sunset.
Day Seven: Los Angeles
Folks on the Train
Our favorite train attendant so far! Meet Francis — a whirlwind of fun — and train attendant extraordinaire!
Her infectious smile lights up the coach section and can turn even the grumpiest morning, not-had-my-coffee-yet person into little miss sunshine!
11:50 AM Arriving in LA's Union Station, utterly exhausted.
Need sleep that doesn't the involve moving of train cars. Must have a nap before we attack Hollywood with a vengeance.
3:00 PM The Hollywood and Vine station on the Red Line Subway — more trains, yay! The ceiling is covered with real movie reels. Just out of our midday comas, this is vertigo inducing stuff.
Spent the entire fifteen minute underground trip trying not to think about earthquakes.
5:00 PM Hollywood, ba-by! We're on a quest to find the "real" Hollywood. The sleep deprivation is manifesting into weirdness, but what a better place to be than Hollywood shooting a video when you're feeling a bit weird?
NEXT DISPATCH: WEEK TWO OF AMTRAK LIVE-BLOG
David & Veronica, GypsyNester.com
This post contains sponsored links.