Even though Volendam had arguably the best docking spot in the world, with two days in Shanghai we wanted to see something more than the hustle & bustle, and mind-boggling skyline of the city. So on our second morning we took a bus about an hour out of town to the ancient water city of Zhujiajiao.
This not only gave us a chance to see a small slice of the Chinese countryside, it allowed us to see just how huge Shanghai actually is.
Even though they are mostly stacked up in high-rise apartment buildings, twenty-four million people take up some space.
But in due time the scenery changed to small groups of farms, and soon we began seeing canals.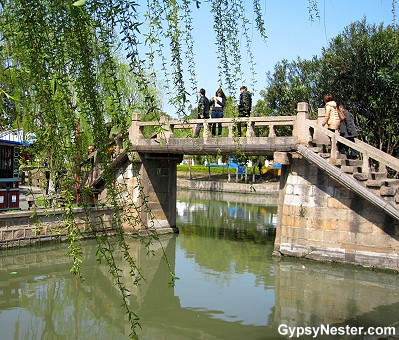 Zhujiajiao is one of many small cities in China that are built along canals, water towns where transportation mainly involves feet and boats.
And getting around on foot means bridges, at least thirty-six of them, which are a big part of the city's character.
The first one we crossed, Fangsheng Bridge, is the longest and tallest of them, but built in 1571 it is far from the oldest.
It is known as the Setting-free Bridge because beneath it women sell goldfish and turtles just waiting to be released from their plastic bags.
The idea is to score some karma points for doing a good deed by setting them free.
No word on whether points are deducted for catching them in the first place.
On the other side of the bridge we were anything but set free, we were more like knocked back by an overwhelming stench that smelled very much like a rotting carcass.
Wow! Was it the water?
A dead animal left to decay?
What could this be?
The answer turned out to be the last thing we would have ever thought, food.
Chòu dòufu, fermented tofu, that was being cooked up in front of a little shop.
The idea is that the tofu is allowed to ferment in a seasoned brine for a while, sometimes months, to develop its pungent aroma, and a flavor the we were not about to experience (and we're not wusses, we eat a lot of strange food).
We can only guess, but it seemed that grilling the stuff was really bringing out the nostril-stinging stink.
However, it also seemed to serve as a great advertisement, because flocks of school children made a beeline for the shop as soon as classes let out.
Ah yes, incredibly vile-smelling rotten soybean curd, the perfect after school snack.
We were eager to delve deeper into the city — not to mention escape the offensive odor — so we made our way over to the other side of the canal and into the narrow streets of the oldest part of the town.
The original settlement was founded around 1,700 years ago and recently it has become very popular with tourists so some of the historic charm has been overrun.
Two of the main attractions had issues with this, the old Post Office and the Tongtianhe Pharmacy.
Both date back to the Qing Dynasty, over a century ago, and were quite interesting, but extremely crowded.
We were herded through the post office fairly swiftly, but caught a little history of postal service in China which, according to the signs, has been delivering for over three thousand years.
The pharmacy was slightly less packed and unlike the post office it is still open for business so they must try to accommodate real customers along with us gawkers.
Most of the medicines were hidden away in drawers and jars, but there were a few strange remedies on display.
Most notably, what exactly is pickled snake and ginger root used to treat?
See all of our adventures in Shanghai!
As with most tourist destinations we discovered two things:
The farther in we wandered, away from the initial crowds, the more authentic it got.
And it's not Disneyland. It might have felt like a fantasy, but real people live in Zhujiajiao — around 60,000 — and they go about their day-to-day lives just like anywhere else.
Away from the typical tourist restaurants near the entrance, we found vendors selling lotus root stuffed with rice and cooked in honey, BBQ pork shanks, and one of our favorites, zongzi – rice and meat wrapped in bamboo, lotus, or banana leaves.
We snacked and walked until we managed to get ourselves fairly lost.
By backtracking we found our way to the main canal and decided to return by boat to where we started.
After all, we couldn't truly experience a water town without getting on the water.
Not unlike the gondolas in Venice, these were reminiscent of the old boats that carried passengers for centuries, but now are used almost exclusively by tourists.
That's OK, the view from the water — and riding under the bridges — was more than worth any embarrassment of not looking to be properly seasoned travelers.
See all of our adventures in Shanghai!
Our perspective was surprisingly different from the canal. In fact, we hadn't even noticed the city's two temples while walking but from the water the Taoist City God Temple, and The Yunjin Buddhist Temple dominated our views.
WATCH: Feel the sights and sounds of
Zhujiajiao!

As we were heading back to the bus we encountered quite a crowd gathered around a small storefront.
Oh no, not the stinky tofu again!
It wasn't, folks were gathering for a taste of something much sweeter, and downright artistic.
A young man was making lollipops in shapes from the Chinese zodiac out of melted sugar. His skill and speed were wildly impressive.
WATCH: The artist in action!

Almost effortlessly he poured the molten mixture out onto a marble slab in elaborate designs, gave them a few moments to cool, and handed them out to his audience of customers. Looked like one heck of a business to us.
But then what do we know? Folks'll line up to buy fried putrid soybean curd too.
David & Veronica, GypsyNester.com
Delve Deeper into Shanghai:
Discover Shanghai's Old Town
Take a Ride on the World's Fastest Train – it Levitates!
See Amazing Shanghai at Night!
See all of our adventures in China!
Click here for our full live-blog as we traveled with Holland America aboard the ms Volendam – through Hong Kong, China, South Korea and Japan