Live longer, feel better and perhaps even keep your original knees and hips… blah, blah, blah. We've all heard the healthy reasons we should get off our rumps and out in the world.
Pretty good reasons to participate in an activity that requires very little equipment – basically clothes and shoes. Most of us have those lying around the house somewhere, don't we?
The thing to take into consideration is that different types of shoes serve for different purposes. Websites such as *https://shoeadviser.com/* can quickly let you assess your needs and match the best walking pair of shoes to your lifestyle. Since most of our day consists of walking, it's important to be cozy when doing so
Or we could get more into it with some of the best walking shoes around.
In case your joints aren't that important to you, here are some not-so-healthy rewards that might inspire you to take that first step.
The GypsyNesters are glad to share some of the reasons that walking is such a substantial part our lives (in the ever popular Top Ten List form):
10) Finding money. We figure there's a lot of it just laying around out there. Millions, actually.
Think about it, if you added up all of the stray dough just laying around it boggles the mind.
Over 30 million dollars if each American has lost just one dime. We just want our fair share. Seriously, it's amazing how good you get at it.
Hint: In the mornings, walk by places that people have enjoyed a drink or three the night before. Veronica found a five dollar bill in a parking lot one morning. She was ecstatic. A few steps later she found a twenty. True story. more on this…
Bang-up people watching. We love to be afoot, noticing everything, being low to the ground.
When we're in a new place, watching the people around us is a great way to learn about the area. And we've made quite a few friends along the way… meet more great people with us…
Check out some of the walk-centric places we've visited!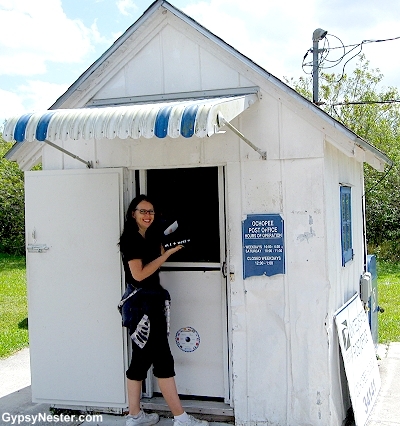 8) Great company. It's amazing how much we have to say to each other when we're not competing with the TV, phone or internet. We really have some wonderful discussions.
Though TV, phone and internet are portable nowadays, we find it refreshing not to carry them along. Terribly old school, eh?
Veronica discovers the world's smallest post office!
7) Weird shop owners. Both weird shop owners and weird shop owners. (BTW, weird=good in our book!)
New Orleans is at the top of our list, with many weird shops owned by weird owners, but we have stories from just about everywhere we've been.
Saunter into these strange places and create some stories of your own. more weird shops…
6) Cheesy tourist diversions. We're real suckers for things like the world's largest ball of twine and the world's largest ball of paint (yes, they both exist and yes, we've seen them). We've also visited THE gigantic bologna in Bologna.
We're always shocked at how we can round a corner and BAM!–there's something truly colorful or bizarre to take in. Sometimes it's the Statue of Liberty, and other times it's a huge collection of ceramic duck salt & pepper shakers. What a wonderful world. check out more cheesy tourist diversions…
Check out some of the walk-centric places we've visited!
5) The Appy Crawl. We take making meals out of appetizers very seriously. Having them at multiple restaurants is even better.
For one thing, it forces us to walk off some of the food between stops, for another, we get to try several different places without destroying our credit rating. We've dubbed this bopping from eatery to eatery the "Appy Crawl." see all of our appy crawl experiences…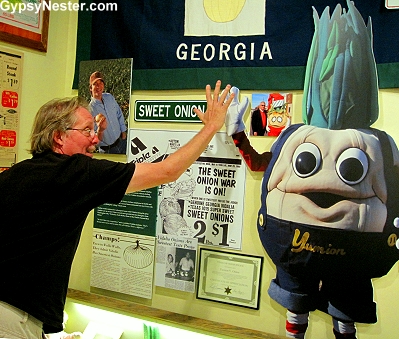 4) Problem solving. Not only do we have each other's (somewhat) undivided attention, it's a lot harder to yell or freak out in public. It's a good time to really hash things out.
We started this practice when we had kids in the house and we now have a really good groove with our walking and talking.
If we are having issues, walking takes us physically away from the immediate problem and helps us put things in perspective.
Street performers. In our opinion, there's nothing better a street performance. And, as with the case of K.C. here, we learn a bit of history too!
Musicians, balloon animal creators, kite flyers, comedians, acrobats…you name it, we'll enjoy it. more street perfomers we've met…

2) Street food. Anything from pasties from the U.P., sausages in Vienna, to donair and poutine in Canada or this unexpected deliciousness in China, street food is part of travel and the GypsyNesting experience.
Whether it's dogs (corn or otherwise), bags of roasted nuts, anything on a stick or wrapped in flat bread or deep fried balls of mystery… we've tried it all and haven't barfed yet! more of our street food experiences…

1) IT'S GOOD FOR YOU!!! (Gotcha!)
So — go ahead — break out those clothes and shoes, you never know what you'll find out there! Check out some of the walk-centric places we've visited!
David & Veronica, GypsyNester.com
YOUR TURN: Have you another great walking idea? Did we motivate you to get up and go?
This post contains sponsored links.