Most of the main attractions in Rome are close enough together that they can be easily walked from one to another so we hoofed it over to The Forum from The Colosseum.
Surrounded by government buildings, temples, statues and monuments, this was the epicenter of ancient Roman life.
Very little remains of most of the magnificent temples, just a handful of columns stand from The Temple of Vesta, one of the earliest structures in the Forum . . .
. . . and the Temple of Vespasian and Titus, dedicated to these two emperors from the Flavian Dynasty.
But the white marble Arch of Septimius Severus, a triumphal arch dedicated the Parthian victories of Emperor Septimius Severus, is remarkably well preserved.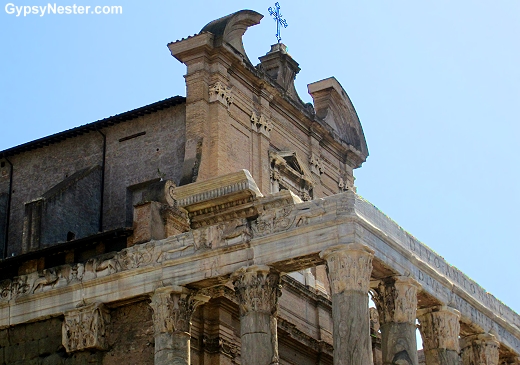 There are also a couple of temples that have been used as churches in modern times, The Temple of Antoninus and Faustina, which became the church of San Lorenzo in Miranda. . .
. . . and The Temple of Romulus, now known as Santi Cosma e Damiano, that are in good enough condition that they can still be used.
David & Veronica, GypsyNester.com
Thanks to Princess Cruises for inviting us along and providing this adventure! As always, all opinions are our own. See our entire Mediterranean voyage aboard the Royal Princess here