Near The Forum in Rome is San Pietro in Vincoli.
The small church is one of the oldest in Rome, dating back to 431 AD. What this little church lacks in grandiose size it more than makes up for in impressive artifacts.
The church takes its name, meaning Saint Peter in Chains, from chains displayed below the main alter that are said to have been used to hold Saint Peter when he was imprisoned in Jerusalem.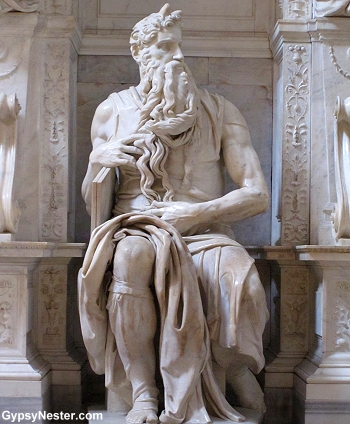 But perhaps even more interesting was the remarkable statue of Moses by Renaissance master Michelangelo.
Pope Julius II commissioned the statue in 1505 as a part of a massive sculpture for his tomb, but the pope died long before Michelangelo could finish the work.
Julius was buried in St. Peter's Basilica, which he also commissioned, and Moses ended up in this lesser known San Pietro.
We noticed an odd feature to the prophet, small horns on his head.
There seems to be some debate as to why Michelangelo did this, some say that it is due to the Latin translation of the passage from Exodus where Moses comes down from the mountain.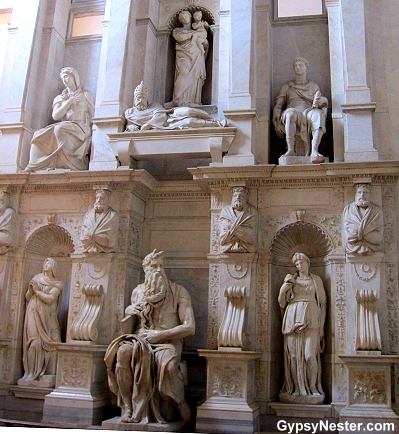 In the Middle Ages the idea that his face was horned from his encounter with God was common, now the word for horn is usually translated as shining.
Another theory is that the horns were never meant to be seen. The statue was to be placed high enough that they would not be visible from the ground and would reflect light to give the prophet a heavenly glow.
We will never know which is correct.
David & Veronica, GypsyNester.com
Thanks to Princess Cruises for inviting us along and providing this adventure! As always, all opinions are our own. See our entire Mediterranean voyage aboard the Royal Princess here