It was called the Gilded Age, a time when robber barons and their offspring built excessive tributes to their self-proclaimed awesomeness. Newport, Rhode Island was the epitome of this unbelievable excess, aptly dubbed Conspicuous Consumption.
It is certainly something to see, so be sure to check out some Rhode Island vacation packages and deals and prepare for a grand old time.
Newport is chock full of gaudy mansions erected by the more-money-than-class club.
In an embarrassing effort to one-up each other with their "summer cottages" these iconic American families of railroad, mining and steel fortunes, threw ridiculously lavish parties for their pets, sat atop carriages every afternoon to show off their new outfits, had notorious affairs, harassed their overworked staffs and backstabbed one another to get into the society pages.
Oh, to be rich and bored out of one's mind.
Many of these cottages, these cozycozy cottages, have become white elephants as family fortunes dwindled or heirs finally came to their senses and are now kept up by historical societies, available for touring by the public — and to be mocked
by The GypsyNesters!
In order to tell the story properly, we must start with Caroline Schermerhorn Astor.
Caroline insisted on being called "The Mrs. Astor," which in itself tells you a lot about the woman.
Together with her social director, the notorious Ward McAllister, The Mrs. Astor put together The Four Hundred, a list of people considered worthy of their company.
"If you go outside that number, you strike people who are either not at ease in a ballroom or else make other people not at ease," proclaimed Ward McAllister.
Although rarely disputed by society columns and social climbers, this list was full of the nouveau riche, which goes a long way in explaining the goings-on of the eight-week long Newport summer season in which these cottages were employed.
Caroline married William Backhouse Astor whose grandfather, John Jacob Astor, made a killing in fur and real estate and in his time was the wealthiest man in America. William, neither a captain of industry nor much into socializing, was nevertheless a big spender and bought Beechwood in 1881.
Two million 1881 gold-backed dollars were spent on fixing the place up and New York's Four Hundred showed up year after year to attend The Mrs. Astor's Summer Ball.
Perhaps the most infamous newcomer to The Four Hundred was Alva Vanderbilt. In 1875, Alva, married William Kissam Vanderbilt, grandson of Commodore Cornelius Vanderbilt, whose fortune was built on railroads and steamships. The Commodore amassed wealth, his descendants spent it like there was no tomorrow.
Despite the Vanderbilt's fantastic show of wealth in New York City, Alva could not properly break into The Four Hundred.
The traditional acknowledgment of this honor was to be formally "called on" by The Mrs. Astor.
Apparently the old Commodore had burned a few too many social bridges in his day, but Alva was not to be denied.
In 1883, Alva devised a plan to bust her way in. She put together a masquerade ball to show off her newly finished Fifth Avenue home in New York City.
This little wingding had a guest list of 750 and all the young ladies of quality were feverishly practicing their parts in the much anticipated Quadrilles. Just prior to the ball, Alva banned The Mrs. Astor's daughter, Caroline, from the festivities, citing Mrs. Astor's lack of formal calling. Sure enough, The Mrs. Astor came a-callin' and Caroline attended the ball.
The Vanderbilts were in.
Alva and William arrived in Newport in 1892 upon finishing their eleven million dollar Marble House. A gift from William to Alva for her 39th birthday, the new cottage just happened to be right next door to The Mrs. Astor's much humbler Beechwood. Oh SNAP!
A celebrated social climber, Alva was determined to marry off her oldest daughter Consuelo to a European aristocrat.
Lacking the proper pedigree, drastic measures were necessary to make Consuelo into a suitable mate. Among other things, Alva forced the girl to don a contraption made of steel to force her to sit up straight. Luckily, Consuelo turned out to be a renowned beauty (likely helped out by a two and a half million dollar dowry).
Alva shopped her daughter around the European gentry, finally landing the 9th Duke of Marlborough in 1895.
To convince Consuelo to marry against her will, Alva faked a mysterious fatal illness. The marriage was later annulled with Alva saying, "I forced my daughter to marry the Duke. I have always had absolute power over my daughter." Nice, Mom.
In 1895 Alva blew everyone's minds by divorcing William Vanderbilt, something that was just not done. She was granted a huge settlement and retained Marble House.
Alva then married Oliver Hazard Perry Belmont, son of August Belmont and his banking fortune. She moved in to Oliver's enormous cottage known as Belcourt Castle, just down the road. Her wedding gift? The deed to Belcourt Castle.
The new Mrs. O. H. P. Belmont's castle/cottage was soon trumped by her former kin, brother-in-law Cornelius Vanderbilt II, when he built The Breakers in 1895.
You just can't win in Newport.
The Breakers is so out of control, as our tour guide informed us, that Vanderbilt descendent Anderson Cooper of CNN fame won't even visit because he is "too embarrassed by his ancestor's self indulgence."
Much of this insane self indulgence was planned by the social directors. Perhaps the job to have in Newport, one social director of particular note was Harry Lehr. Harry took over The Mrs. Astor's schedule
after Ward McAllister wrote a tell-all book, fell from grace and died alone.
But it wasn't until Harry Lehr was hired on by Mamie Fish that his true colors could shine. He had discovered his true partner in crime.
Mamie Fish, wife of Stuyvesant Fish, president of the Illinois Central Railroad, was not your typical Newport hostess.
Mamie and Lehr hosted some pretty outlandish parties at the Fish's cottage Crossways — a dinner where everyone had to speak baby talk and bring dolls, a three-course dinner party for one hundred dogs, some dripping with diamonds, and an extravagant ball for the Prince del Drago, who when announced, turned out to be a monkey.
The simian prince then was seated in The Mrs. Astor's usual seat of honor, causing quite a stir.
As The Mrs. Astor's influence fell out of fashion, The Triumvirate emerged. Alva Vanderbilt and Mamie Fish had climbed to the top of the social ladder, and with Theresa Fair Oelrichs, The Triumvirate was completed. The trio became Society's reigning dowagers.
Theresa, aka "Tessie" was the daughter of James Fair, a silver magnate. She and husband, Hermann Oelrichs built Rosecliff, a cottage with twenty-two master bedrooms in 1902. Tessie could throw a mean, themed shindig including a fairy-tale dinner and a circus.
Her magnum opus was the thirty-thousand dollar Bal Blanc, put together by Ward McAllister before his demise.
All attendees wore white from head to toe, including the powder in their hair. Rosecliff was strewn with white flowers, the fountain full of white swans. But the pièce de résistance was the twelve white ships Tessie bought as decoration to float in the ocean.
Life was hard for these ladies as Alva Vanderbilt famously said, "I know of no profession, art or trade that women are working in today as taxing on mental resource as being a leader of society."
Well, honey, you should have thought of that before you decided to take on The Mrs. Astor.
Dear, brave Alva.
Needing to get away from the mentally taxing work of looking at huge houses, we decided to head down to the marina to relax and take in the scene on the water.
We found the Aquidneck Lobster Company where we picked out a lobster from their multiple tanks, had it steamed and ate it out of a paper bag on the beautiful back deck while watching the sailboats go by.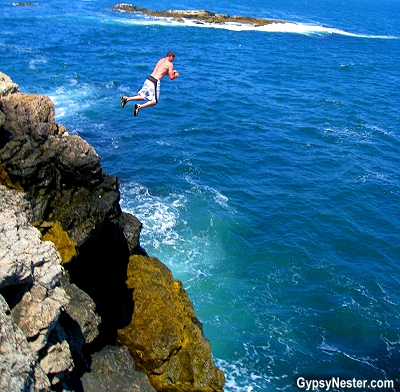 To burn off our seafood, we took a long walk/hike along Newport"s famous Cliff Walk.
This beautiful trail alongside the majestic cliffs of the Atlantic gives a view of the sea-facing sides of the most ostentatious cottages.
Yes, it meant more opulent mansion — sorry — cottage viewing but no trip to Newport is complete without it, it is truly spectacular.
Alva Vanderbilt's famous Chinese Tea House is along the cliffs. Tucked away behind the Marble House, she used it to hold meetings for the Women's Suffrage movement.
Apparently, later in life she wanted a vote that really counted.
After working up a new appetite on the Cliff Walk, we figured a full 180 from Newport's lavish luxury was the right choice for dinner.
We hit Flo's Clam Shack on First Beach for mounds of clam strips, decadent chowder and a fiery hot quahog. As far as we knew, Quahog is the town where the famous Family Guy lives, but always up for a culinary adventure, we ordered one anyway.
Luckily, it turned out that a quahog is a type of clam, served stuffed with spicy clam stuffing and held together with a red rubber band. Excellent when washed down with an ice cold beer.
Flo's was well worth the trip, if only to hear "Veronicer! Yuh chowda is up!"
Gotta love Rhode Island.
David & Veronica, GypsyNester.com

Explore the mesmerizing cottages of Newport and seamlessly work from anywhere with a cloud hosted desktop from a DaaS provider along office 365 from Apps4Rent.com, Add MS office to the same desktop by visiting O365CloudExperts.com
This post contains sponsored links.