Beautiful Barcelona has so much to see and enjoy, but there are some things in the city that we think no visitor should miss. Let's take a look at a few of our favorites and some Barcelona Top Travel Tips.
If Barcelona's heart is the old city's Barri Gòtic, or Gothic Quarter, then the aorta must be La Rambla. The tree lined boulevard has become a sort of giant open-air theater and is now one of the world's foremost settings for street performers.
But there is much more to it than that, the district is also home to several "don't-miss" landmarks of the city. It is certainly worth a walk, especially since it is less than a mile from end to end.
We began at the famous Christopher Columbus Monument, which stands in the center of a circle by the waterfront. He was placed there for the Exposición Universal de Barcelona in1888 on what is said to be the spot where Columbus returned to Spain after his first voyage to the New World.
The famously confused captain is striking a stoic pose while gazing out over the Mediterranean, which strikes us as a bit strange. Shouldn't he be looking west toward the Americas?
But we knew which way we were going, into the old town. La Rambla is great in and of itself, but several points of interest are just off the main street, such as the Plaça de George Orwell. Some are certainly worth a quick detour.
This seemed like a great spot for a cool drink and a quick bite of tapas, but when we asked our server why the square was named after the famous writer he didn't know. This meant we were forced to check with Google. It turns out Orwell came to Barcelona in 1936 to fight in The Spanish Revolution, saying he had "come to Spain to join the militia to fight against Fascism."
Across La Rambla from the little plaza there is a good, but small example of the work of the city's most famous architect, Antoni Gaudí. The Palau Güell was built from 1886 to 1888 for the wealthy tycoon Eusebi Güell, but it is only a small taste of what was to come from Gaudí.
A little farther up we came to the Boqueria. This is perhaps Barcelona's main market and dates back to 1217, when an open-air meat market sprang up near the city gate. The name is believed to come from the Catalan word for goat, boc. So, a boqueria would be a place where goat meat is sold.
Nowadays almost anything you might want to eat is available here, from bread, to fish, to cheese, to fruits and vegetables, and even flowers to dress up the table.
Another site worth stopping by is the Basílica de Santa Maria del Pi. Construction began over seven hundred years ago and the giant bell tower is one of the main landmarks of the Gothic Quarter.
La Rambla comes to an end at the Plaça de Catalunya, or Catalonia Plaza, which is often considered the unofficial dividing line between the old city and the new. This open square has several interesting statues, along with numerous cafés and restaurants, so it is a great spot to take a little break.
About a mile north of the plaza is what we came to think of as the highlight of Barcelona, the Sagrada Família.
This immense cathedral is without a doubt the ultimate masterpiece of architect and designer Antoni Gaudí's extraordinary career.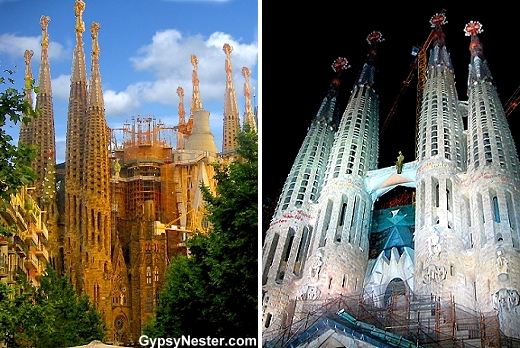 One piece of advice, leave yourself plenty of time to enjoy it. We spent several hours just absorbing the entirety of the structure and came away fully convinced that this is the most incredible building we have ever seen.
It is safe to say that Barcelona simply would not be the city that it is if not for Antoni Gaudí, and many visitors spend days just taking in his creations. We were not quite that obsessed, but do feel it would be a shame to visit the city and not see at least a few of them.
So we walked over to the Park Güell and up several hundred steps into one of the world's strangest parks. It was originally meant to be part of a housing development, but that failed to take off and it became something of a testing ground for some of the famed architect's ideas. The result is somewhat surreal, but certainly enjoyable.
It is as if he created his own little world here, which could also be a way to describe the beautiful, breathtaking city of Barcelona.
David & Veronica, GypsyNester.com