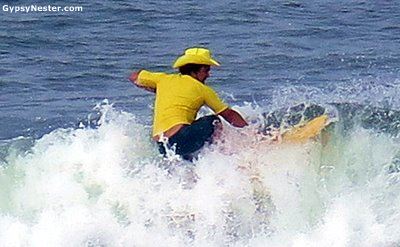 Surfers are just crazy about the idea of hitting the waves and swaying on it and enjoying the feeling of reining the ocean! Even if you are new to this sport, it has the power to captivate you with its excitement and enthusiasm — and soon you would get addicted to the sport. But do you realise on which factor does a great surfing experience depend? It's the surfboard obviously!
Without a good surfboard, you just can't imagine enjoying the fun and gaiety of the sports of surfing with zest and zeal! If you love surfing and are totally enthusiastic about it, then you have to own a surfboard for the same. Be it new or a used one, or even a one hired from Board Barn in Croyde Surfboard hire helps you get the best surfboard at minimum rates; and thus, you can enjoy your favourite sport practise without paying much and that too on a rocking state of the art surfboard.
Important information about caring for your surfboards!
 Buying or renting a surfboard isn't a joke! You have to invest a good amount of your money to get the same. And therefore, caring about it is mandatory in order to enjoy its benefits for maximum years. Read below some of the ways through which a proper care for surfboards will help you gain maximum benefits from it:
Avoid direct sunlight and heat as much as possible — You may be an early morning surfer and your surfboard would be accompanying you even in the toughest of sunny days. But constant exposure to heat and direct sunlight can destroy the finer coating on the board, causing the fibreglass to get separated from the foam. This heat can even deform the shape of the board. This can cause balancing issues later when you use it. To avoid such a situation, don't ever leave your boards on top of your car, in your car on a hot sunny day, lying on the beach under the scorching sunlight, near hot vents in the home, or even in the garage. For those who are thinking how can you enjoy on the beach and not let your surfboard stay under the sun, just cover it with a cloth or light towel so that the direct sunlight doesn't fall on it.
Never surf with a surfboard with open digs — This is something not just new but even experienced surfers ignore. And this shouldn't at all be taken for granted. Always check your surfboard thoroughly before going on board. If you find any hole in it, get it repaired immediately before hitting the ocean. Ok, so very minute crack or hole doesn't matter, but we know salty water has its own power to create it into a bigger one! And water just needs a tiny hole to make way and disrupt your activity. Better mend the problem in its nascent stage, rather than taking a risk by letting it aggravate.
Make a habit of using a board bag — By Board bag we mean a proper, padded board bag and not just a board sock! The board bag is around 8-10 mm thick and padded perfectly to secure your boards in an accurate position and safeguard it from any kind of wear and also harsh effects of sunlight. Whereas, a board sock may come cheaper, but just covers the board like a plastic layer, but does nothing to protect it. So, better invest in a board bag and ensure a proper care of your surfboard.
Transport it carefully — Most of the times, surfboards aren't damaged when surfing, but it happens when the board is out of water. It may be because of being kept in a very hot area for long, or due to improper carrying habits to and from the beach, or stacking it in your car in a mismanaged position, etc. Just remember to use a good board bag so that the above factors can't affect your surfboards. (Though you should be more careful about how you store and handle it too.) And try to keep it properly secured during your drives, failing which it can fall and get damaged.
A proper care of your surfboard ensures a longer life and better productivity from it. This obviously leads to you being a better surfer. So, your surfboard naturally demands at least this much care and concern!
We are happy to present this collaborative post to offer valuable information to our readers.