We have always had a soft spot for a festival, and our new home base on the California coast gives us close proximity to tons of them.
Everything from avocados and artichokes, to jazz and jalopies, to strawberries and salsa, to whales and wine are celebrated almost every weekend across the Golden State.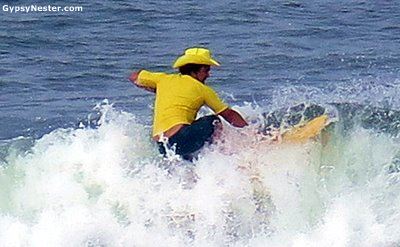 But what could be more Californian than surfing, or more Western than a Rodeo? Nothing.
This summer we happened to be home when that mix took place right outside our door as Ventura's Pierpont Beach hosted two days of sun, salty skin, sandy toes, cowboy hats, bikinis, boots, and waxed boards for a surf rodeo.
In Fact, this isn't just a surf rodeo, it is THE Surf Rodeo. This unlikely combination of beach bums and bronco busters has been going on for ten years and grown into a massive hootenanny of over fifteen thousand revelers.
With all that goes on all through the shindig, first and foremost, it is all about the surfing. So with a hearty cowabunga we ventured out bright and early Saturday morning, well before the other festivities had kicked off, to watch some of the competitors.
The idea behind the Surf Rodeo has always been to bring the highly competitive, cut-throat, serious atmosphere of most surf competitions back to their relaxed roots. The organizers feel strongly that fun should come first. That is also the feeling you will get when you save a bunch on your next surf trip.
So while the will to win was certainly on display, so was a healthy dose of humor and showmanship. Perhaps it is just hard to take yourself too seriously when surfing in fluorescent, day-glow colored cowboy hats.
One thing's for sure, we were not going to lose track of any participants out in the water.
After watching the cowpokes carve some curls, we made our way to the street fair, where about a hundred vendors were showing off local wares, crafts, and surf supplies.
In the middle of it all we found a collection of custom classic VW Beetles. These bugs were polished and ready for service as beach buggies.
However, we were more interested in the ample assortment of food trucks.
While we were feeding our faces, the bands fired up. During the rodeo, stages were set up right on the sand and featured twenty five groups covering just about every imaginable genre of music.
Of course there was country, it is a rodeo after all, but hip hop, oldies, R&B, reggae, punk, blues, and any combination of the above were all well represented and the beach was transformed into a giant dance floor.
The sand was kicked up until sundown, but we are happy to report that the weekend was more than worth the two day disruption of our little neighborhood.
In the midst of all the fun and frolicking, good deeds were also afoot. A big part of the rodeo's mission is to raise funds for several local and national non-profit organizations.
The philanthropy begins with the custom surfboards from the competition being auctioned off after the tournament, but that makes up only a small part of the generosity.
Through their own charity, Soul Profit, which helps children and youth develop positive, healthy lifestyles through music and sports, the rodeo gives back to the community.
They also support all of these others organizations, and so do we.
Boys & Girls Club works to provide a positive place for all youth.
Big Brothers Big Sisters helps children realize their potential and build their futures.
A Walk on Water provides water therapy through guided surf instruction to specials needs children.
Kids´ Arts is a free, comprehensive arts experience for the youth of Ventura County!  kidsartsventura.org
Paw Works is a nonprofit rescue organization that partners with county and city shelters to give abandoned animals a second chance at life.
The Young and Brave Foundation is dedicated to helping young people beat cancer.
When all was said and done we were glad to share our little corner of California, especially when the merriment included helping kids.
David & Veronica, GypsyNester.com