Thanks to Visit Stockholm for providing this captivating experience – and to Eurail for the 15-day rail pass that inspired us to undertake it! As always, all opinions are our own.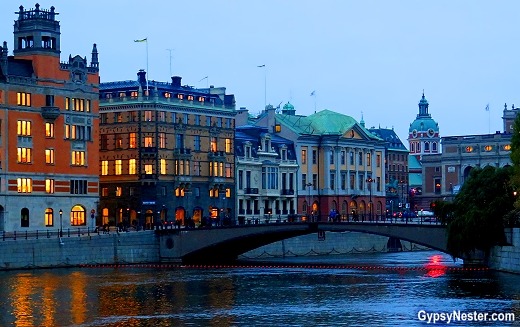 From now on, when we visit a city and wish we had been able to stay much longer, we shall refer to the situation as Stockholm syndrome.
The Swedish capital was completely captivating, and we couldn't help but have fond feelings for our captor.
As the sun set, we stepped off the train and were immediately helped by a friendly local who pointed us toward the bridge leading to the island where the original city and our hotel were located.
We felt completely welcome.
Walking the ancient streets of the old town, we felt phenomenal. Once we saw the fabulous quarters at the Victory Hotel that we would be occupying for the next couple of days, we knew we would've been delighted to remain in captivity much longer.
A True Victory
The Victory Hotel is the brainchild of Gunnar Bengtsson, who over many years gathered an amazing amalgamation of artifacts, mostly focused on the torrid love story of Admiral Lord Nelson and his scandalous squeeze, Lady Hamilton.
His solution for storing the memorabilia was to open a hotel and decorate it with his treasures.
And so, the Lord Nelson Hotel was born. But one hotel couldn't contain Bengtsson's collection, and soon the Lady Hamilton and the Victory Hotels, the latter named after Admiral Nelson's ship, were added to the family.
The rooms at the Victory are much more than just a place to stay for the night; they are lodging with a story to tell.
Each one is named for a captain, and features paintings of his ship, family heirlooms, and pictures. Our suite, honoring Captain A. G. Johansson, was filled with fantastic 18th century furnishings, wedding photographs, and original paintings dated 1642.
You've GOT to see more! Follow us into the beautiful Victory Hotel…
The Whole Beast
Even though we were excited to see the city, we couldn't pass up dinner at Djuret, the restaurant at the Victory Hotel.
The name means the "whole beast," describing their concept of serving one animal at the time.
Each day, three-course and six-course menus are prepared until an entire animal is used. Our evening's selection was moose, so it looked as though once again Veronica would be forced to endure the myth.
But our server explained that the animal was actually more like what we would call an elk. Veronica believes in the existence of elk because she has personally seen one, so all was well.
Whatever the critter was, it was prepared perfectly — roasted and sausage-d — served with Jerusalem artichoke, onion, and Chanterelle mushrooms.
Dessert stepped away from the moose (we were kind of hoping they'd lay mousse on us), instead we went where every human truly wants dessert to go, chocolate and ice cream.
But not just any old chocolate and ice cream, this was intense. Click here to see more about it and Djuret.
A Brush with Greatness
The next morning we met up with our guide, Marco, for a whirlwind overview of Stockholm.
Beginning with an exploration of the old town, Gamla Stan, we caught up on the history of not only the city, but also the country.
The name Stockholm means "log island" in Swedish and is based on a legend about a gold-filled log coming to rest on the island where the original city was founded.
Whether the tale is true or not, the spot on Lake Mälaren was ideal for both protection and trade routes — a perfect spot for a king to take up residence.
These days the parliament does the actual ruling, but the king still reigns from the palace, so that would be one of our first stops.
As we approached the Kungliga Slottet, or Royal Palace, we saw some first-rate imperial pomp and circumstance.
Mounted guards escorted horse drawn carriages carrying dignitaries through the main gate for a meeting with the king,
We were duly impressed by the regal spectacle, but somewhat surprised at the low-key approach to security.
Marco explained that in Sweden, the royal family regularly goes out in public without causing much of a stir.
 It's not Sweden without a fika!
Before moving on, Marco announced that we could hardly let the morning go by without a fika. He explained how this Swedish version of the coffee break has become an important part of the culture.
Generally, one does not refuse to fika when asked unless one wishes to appear rude. It's a fun word, fika, both a noun and a verb.
So fika we did.
We popped into a bakery and fika-ed our little brains out with coffee and another Swedish tradition, Kanelbullar or cinnamon rolls.
The proper fika also involves socializing, which we did, while Marco described how the practice has had an effect on business relationships in Sweden. Employees and bosses often fika together, and that leads to a more relaxed and better working environment.
The star of our next stop most certainly did cause a stir back in its day. From the small island that contains the old city we took a ferry to see an unbelievably unscathed piece of Swedish history.
The two hundred-foot ship, Vasa, sank less than a mile into its maiden voyage in 1628 while still in Stockholm's harbor.
Incredibly, it sat submerged and undisturbed for over 300 years, all due to a king's bluster.
King Gustavus Adolphus' desire to have the biggest, baddest ship on the sea was the vessel's undoing.
By adding an additional deck of canons without offsetting the weight below the water line, the design was badly flawed and the top-heavy ship rolled over and sank within a few minutes of launch.
Not ole King Gus's finest moment.
In 1961, salvage efforts were undertaken, and now the remarkably undamaged ship stands almost entirely intact in the Vasa Museum.
The poor design may have led to a major embarrassment for the king — it's said that soon after the sinking, ole King Gus sent men out to cut off Vasa's masts so he didn't have to see them sticking out of the water — but it left us with one of the best specimens of shipbuilding from the Age of Exploration to be found anywhere in the world.
The only parts to suffer from centuries under water were the nails — most of which have been replaced — leaving a nearly perfect time capsule.
The lady who lived in her own museum
From the Vasa Museum, Marco continued our time travels at the Hallwyl Museum, which is a perfectly preserved mansion from the gilded age of the 1890s.
The house was built for the Count Walther von Hallwyl and his wife, Wilhelmina, and everything has remained virtually frozen in place.
This was completely intentional; the countess had a system of cataloguing every household item.
This she employed almost immediately upon moving into the home in 1898 with an eye toward leaving a behind a museum after passing away.
We aren't talking about just the valuable stuff either, Wilhelmina had volume after volume filled with details numbering, photographing and identifying EVERY. SINGLE. THING. in the house.
Her eccentric obsession, possibly what we would call OCD today (not that we are doctors or anything), makes for a remarkable glimpse into the lives of Swedish aristocracy over a century ago.
Wilhelmina even had many tables and desks enclosed in glass cases so that nothing atop them would be disturbed.
Seafood Nirvana
For a quick bite of lunch, and a look at how Swedes shopped and ate back in Wilhelmina's day, we walked over to the nearby Östermalm Food Hall.
This covered market served as the supermarket for the city, with farmers and fishermen bringing in their fresh wares every day.
These days, the hall is a lot fancier.
The shopping selection remains impressive, but now the hall has become a popular midday-break spot for everyone from the neighborhood folks to royalty.
Case in point, we learned that the king himself is a regular at one of the restaurants, Lisa Elmqvist.
Not being Swedes, we sat down and waited for some royalty to show up — so we could stalk them — while enjoying creamy fish soup and toast skagen.
Lisa Elmqvist's classic combination of shrimp, dill, and caviar, on toast was beyond… um, better than… no wait, indescribably… that's it! … fit for a king.
Our eyes rolled back in our heads. No wonder his royal highness is a frequent customer.
For more photos and info, follow us in to the Östermalm Food Hall!
A High Tech Adventure
Marco had to drag us away kicking and screaming, reminding us that we had smorgasbord to tackle later that evening.
While we waddled walked to the old town Marco pointed out many of Stockholm's cutting edge companies in high tech development.
Stockholm has given life to Spotify, Skype, and Ericsson so, once we parted ways with Marco, we headed into the modern era to take a ride to the top of the world's largest spherical building, the Ericsson Globe.
At the Globe's SkyView, we climbed inside a smaller glass globe and traveled over four hundred feet up the rounded side to the top of the arena.
WATCH: Vault the SkyView with us!

During the ride up, being mostly mesmerized by the view, we didn't really notice a fear factor. Then, reaching the top, the 360 degree panorama of the entire city was all our minds could possibly process.
The trip down was a different story.
We are generally immune to any sort of motion sickness, but when we headed over the edge to descend it felt like a slow motion roller coaster.
That sensation of leaving our stomachs somewhere up above our bodies lasted a long, long time, and the view below, with nothing but air beneath us, was pretty darn unnerving.
Smörgåsbording Like it's Our Job
Once we had our feet back on the ground, we knew we had to get those queasy feelings in check because we had one big event left on our schedule – a real traditional Swedish smörgåsbord.
By all accounts, the place to partake in Stockholm is the renowned Grand Hôtel. It's a very extravagant setting for what originally was not particularly fancy fare.
The idea behind a smörgåsbord has a more humble background.
The name is a combination of the words smörgås, meaning sandwich, and bord, which means table, but in practice there is a whole lot more than sandwiches going down.
In fact, there is an entire method to properly approach the smorgasbord, which our server kindly walked us through before we took our first bite.
Most importantly, we were told not to pile too much on food on our plates at one time.
Using many plates is not being piggy; it is expected — perhaps even mandatory.
When done properly the meal becomes an event, taking several hours, and we were more than happy to oblige. We feasted our way through the massive spread, beginning with cold dishes of herring.
The next plate is… click here to continue reading about our crazy-fun, food-filled night!
Even with as much as we had seen and done in our short time in fabulous Stockholm, we felt as though we hardly got started before we had to leave.
The only feeling no, syndrome, affecting us was that we would gladly comply with being held hostage for a few more days.
And like it.
David & Veronica, GypsyNester.com
Delve Deeper into Stockholm:
See more of the The Victory Hotel
Learn how to smörgåsbord like it's your job!
Follow us into the Östermalm Food Hall
Find out how to save on all of the city's attractions with the Stockholm Card!
Thanks to Visit Stockholm for providing this captivating experience – and to Eurail for the 15-day rail pass that inspired us to undertake it! As always, all opinions are our own.
YOUR TURN: What would you hit first in Stockholm?