Anyone who has watched M*A*S*H has heard of Busan, South Korea, although on the show it was called Pusan.
As we learned from Beijing formerly being called Peking, early western visitors to East Asia couldn't seem to get their Ps and Bs straight.
As one of the only areas during the Korean War that never came under control of North Korea, it served as a temporary capital of the Republic of Korea. Guess that's why Hawkeye and the gang went there on their three-day passes.
We only had a one-day pass from our ship, so we had to make the most of it. Busan is the busiest port in South Korea and fishing is a big part of all of that maritime activity. This has created one of the biggest fish markets in all of Asia. We couldn't think of a better place to start our day.
The enormous Jagalchi indoor market covers three floors, but the fish selling spills out into the surrounding streets too.
On our way inside, we passed through this makeshift overflow market and got a first-hand look at the cleaning and preparation of the seafood.
Inside the huge building, the displays were more controlled with aquarium-type tanks showing off the catch of the day.
A nonstop fresh supply of water flows from tank to tank until it spilled over onto the floor and down into drains. This way all of the stock is kept not just fresh, but alive.
Walking through we encountered every sort of sea creature imaginable, many that we not only had never seen before, but we couldn't even begin to identify.
Then out of nowhere one of the fishmongers began to introduce us to a number of the critters. Without understanding a single word, we had quite a conversation — and a good laugh.
WATCH: Our new friend shows us around the incredible fish market of Busan!

After covering the the entire ground level, we headed up the stairs. The second floor houses traditional restaurants – complete with no shoes allowed – that serve up freshly caught specialties.
Where else could we dream of having lunch?
Once again the language barrier was high, but we managed to point and gesture and soon food began to arrive. Then more, and more, and so on.
Dishes appeared with the traditional Korean pickled vegetable dish kimchi, carrots, potatoes, cabbage, seaweed, broccoli, hot peppers, sliced garlic, peanuts, and a couple things that we couldn't identify (this was beginning to look like a theme for the day – and we love days like that).
Then out came an entire flounder that was most likely alive a second earlier. Finally a little stove was placed on the table with a boiling pot of garlicky broth, fish parts and herbs — we had entered food nirvana.
From the fish market we waded into the heart of the city. The crowded streets were filled with vendors and, even though we just ate, we had to try dongnae pajeon — a Korean pancake of sorts.
But this was not anything like what the word pancake conjured up in our minds.
The good old International House of never made any scallion, chili pepper, and seafood flapjacks.
More than stuffed, we were in desperate need of a way to work a little off. Climbing The 40 Steps sounded like it might help. While there is a staircase with exactly forty steps (yes, we counted), the name more generally refers to the area around them.
The working class neighborhood around the stairs has been restored to look like it did just after the Korean War.
Statues depicting street life as it was back then have also been placed around the district. Since the renewal, tons of shops, bars, coffee houses, and restaurants have sprung up, perhaps detracting from the authenticity of a 1960s post war look, but making for a cool place to stop for a cup of joe.
After our coffee break we were thinking that forty steps probably wasn't enough to make a dent in our earlier calorie consumption, but a climb up to The Busan Tower might do the trick.
We walked up a steep path through Yongdusan Park that came up on the back side of the tower.
While the tower stands over three hundred feet high, we didn't feel the need to go to the top because the view from the hill couldn't get much better.
In front of the tower there is a giant clock made of flowers that gave us, and just about everyone else in the park, a great photo op. After a few snaps we made our way down the hill via a long stairway and escalator that leads to the downtown area.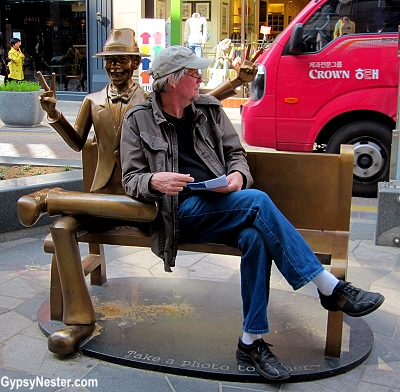 We messed around, checking out the shops and mugging for pictures with statues, until we noticed that we might be pushing things time wise.
We like to squeeze every last second out of a place when we visit, but we sure didn't want to be AWOL when the ship sailed. Time to find that bus stop.
We learned a valuable lesson in big city bus travel; the stop for the opposite direction is not always right across from where we got off in the morning.
After a brief panic, we found a tunnel under the road and made it on the bus, along with a handful of other last second stragglers headed for the ship.
We jumped off at the dock and ran aboard just before the gangplank was pulled up.
David & Veronica, GypsyNester.com
Click here for our full live-blog as we traveled with Holland America aboard the ms Volendam – through Hong Kong, China, South Korea and Japan