We're excited to announce we're hosting round #58 of Travel Photo Roulette! Thank you so much to Getting Stamped for choosing our photo of beautiful St. Augustine in their excellent theme "As The Sun Goes Down."
Travel Photo Roulette was started by Jeremy at Living the Dream as a way for travel bloggers to showcase their best photography.
For each round a new theme is chosen, and independent travel bloggers are asked to submit their photos. Then a winner is chosen to host (and judge) the following round on their website.
This Week's Theme is:
Cheesy Tourist Diversions

Here's some inspiration:

We LOVE cheesy attractions. Everyone who travels has seen them – those quirky, remove-a-buck-or-two-from-the-tourists wonders of ingenuity. Sometimes they are full productions, others are side-of-the-road pit stops. Often, there are amazing people and stories behind the scenes. Moments like that are our favorites. Show us yours!


How Travel Photo Roulette works
The rules are simple. The hosting blogger is the chosen winner of the previous round. The new host chooses a theme for the next round and bloggers can submit a single entry based on how they interpret the theme. The time frame for submissions is one week. At the end of the week, the host blogger chooses the winner for that round and said winner repeats the process on their own blog. Readers can always try and sway the host via comments during the contest, but the host is free to give as little or as much weight to people's opinions as they wish.
The rules for Travel Photo Roulette
1) One submission per blog (so sites that have 2+ authors only get one entry).
2) Post processing is fine for this round. Cropping and correction for red-eye or camera flaws are ok. Minor edits are totally fine if you think it improves your image.
3) Abstract submissions welcomed as long as it fits within the interpretation of the chosen phrase. Remember, the hosting blogger chooses the winner, so if they cannot understand the submission, you might not win!
4) Keep phrases general so that all bloggers can participate. Specific items like "Eiffel Tower" should be avoided but rather made open-ended like "monuments." For variety, it is okay to say focused things such as "monuments at night" in which most of us have pictures of.
6) Abstract thoughts are appreciated, but keep it within the realm that all readers will understand. No "Kafka-esque", but "Overlooking Creation" is able to be interpreted by all.
7) No obscene pictures or phrases allowed. Suggestive phrases and photography can be accepted, but please keep it within reason.
8) After a sufficient period of time, phrases can be reused, however new photos must be submitted. Keep the ideas and photos fresh!
9) Pictures from your entire portfolio are fair to submit. You do not have to take the photo within the week of the contest period to submit it.
10) Most importantly, ALL PHOTOS MUST BE YOUR OWN.
11) And last but not the least, talk about Photo Roulette! When tweeting about it, don't forget to use the #PhotoRoulette hashtag.
How to submit
Entering is easy. Just leave a comment below with a link to the image you'd like to submit and a caption or description of the image to help flesh it out. Once you've added your comment, we'll add the image to the submissions. Don't forget to check back during the week to see the other submissions and join the conversation by leaving comments for others. We'd love to hear what you think.
The contest runs for a week, starting June 6th and ending June 13th (Thursday to Thursday). The winner will be announced within a few days of the end of the contest and the selected blogger will then host round #59.
Please do your best to keep your images to a medium size and be aware that anything larger than 700px wide will be reduced in size to fit our site layout.
Past Photo Roulette winners and hosts
The following is a list of the previously played rounds of the game and the hosting blogger for each. This list also doubles as a winners' table as each topic host won the preceding round. Click the host's link to go directly to that entry to see some stunning photographs from the chosen term/phrase.
1. Nov 4–10, 2010 – Living the Dream – "Animals"
2. Nov 17–24, 2010 – Skinny Backpacker – "Road Signs"
3. Nov 29–Dec 6, 2010 – Dream a Little Dream – "Street Art"
4. Dec 8–15, 2010 – Flashpacker HQ – "Festival"
5. Dec 17–24, 2010 – Over Yonderlust – "Landmarks"
6. Dec 26–Jan 2, 2011 – Don't Ever Look Back – "Beaches"
7. Jan 5–12, 2011 – ThePlanetD – "Portraits"
8. Jan 15–22, 2011 – Travel with a Mate – "Motion"
9. Jan 26–Feb 3, 2011 – Johnny Vagabond – "Water"
10. Feb 8–15, 2011 – Ken Kaminesky – "Urban"
11. Feb 21–27, 2011 – Travels of Adam – "Friday Night"
12. Mar 7–13, 2011 – Itchy Feet Chronicles – "The Journey"
13. Mar 19– 25, 2011 – Brendan's Adventures – "Changing Seasons"
14. Apr 4–10, 2011 – Shutterfeet – "Storytelling"
15. Apr 13–21, 2011 – 10 Times One – "Piousness"
16. Apr 26–May 4, 2011 – Beached Eskimo – "Learning"
17. May 21–27, 2011 – Travel Junkies – "Architecture"
18. Jun 1–7, 2011 – Destination World – "Transportation"
19. Jun 8–15, 2011 – Living the Dream – "Paradise"
20. Jun 21-28, 2011 – Vagabond Quest – "Clothes"
21. Jul 4-11, 2011 – The Unframed World – "Symmetry"
22. Jul 16-25, 2011 – Beached Eskimo – "Home"
23. Jul 31 – Aug 7, 2011 – BackPackerBanter – "Inspiration"
24. Aug 14 – 21, 2011 – WanderingTrader – "Darkness"
25. Aug 28 – Sep 4, 2011 – Finding the Universe – "Tranquillity"
26. Sep 12 – 19, 2011 – Fearful Adventurer – "Food"
27. Sep 23 – 30, 2011 – Adventures of a GoodMan – "City"
28. Oct 06 – 13, 2011 – Globe-Trekking.com – "Reflections"
29. Oct 17 – 24, 2011 – Scene With A Hart – "Framing"
30. Nov 9 – 16, 2011 – Vagabond Quest – "Silhouettes"
31. Nov 26 – Dec 3, 2011 – Hecktic Travels – "Music"
32. Dec 11 – Dec 18, 2011 – Globetrotter Girls – "Love"
33. Dec 25 – Jan 1st, 2012– Man on the lam – "Humor"
34. January 8 – Jan 15 – My Walkabout – "Winter"
35. Jan 15 – Jan 22 – The Art of Slow Travel – "Blue"
36. Feb 6 – Feb 13 – Ten Times One – "Depth of Field"
37. Feb 22 – Feb 29 – Runaway Juno – "My Glorious Digital Nomad Moment"
38. March 7 – March 14 – Nomadbiba – "Sunshine"
39. March 24 – 31 – Travel With Kat – "Local Character"
40. April 10th – 16th – The Travel Bunny – "Street Scene"
41. April 23rd – April 30th – Adventure Crow – "Spirit of the Country"
42. May 7th – 14th – Food Travel Bliss – "Evening"
43. May 17th – May 24th – Matt Gibson – "Adventure"
44. May 30th – June 6th – Flashpacker HQ – "Once In A Lifetime"
45. July 23rd – July 30th – Skinny Backpacker – "Surreal"
46. August 10th – August 17th – 2away – "Smile"
47.
Aug 27 – Sept 2 – Bridges and Balloons – "Excellent Splendour of the Universe"
48. Sept
8 – Sept 15, 2012 – The GypsyNester – "What the ?!"
49.
Oct 22 – 29, 2012 – Runaway Juno – "Sweet"
50.
Nov 12 – 19, 2012 – GQ Trippin – "Play"
51.
Dec 15-22, 2012 – Breakaway Backpacker – "Face"
52.
Jan 14-21, 2013 – Fly, Icarus, Fly – "Serendipity
53.
Feb 1-8, 2013 – Travel Transmissions – "Lost in Thought"
54.
Feb 15-22, 2013 – Wanderlusters – "The Natural World"
55.
Mar 17-24, 2013 – Travel Junkies – "Patterns"
56.
April 25-May 3rd, 2013 – Living the Dream – "Your First Time"
57.
May12-19th, 2013 – Getting Stamped –  "As The Sun Goes Down"
58. June 6-13th, 2013 – The GypsyNester – "Cheesy Tourist Diversions"
Don't forget to talk about #PhotoRoulette! Here's a sample tweet:
I entered my best "Cheesy Tourist Diversion" photo to this week's Travel #PhotoRoulette! Check it out! http://bit.ly/11uoMJQ
Keep up to date with this week's Photo Roulette by following us here: Facebook – Twitter – YouTube – Google+ – Pinterest – StumbleUpon – RSS – via email
Hit us with your best shot! We can't wait to see your submissions. Good luck everyone!
The Entries!
#22 from Adam of Getting Stamped: The life size statue of Arthur "Fonzie" Fonzarelli,from the TV Show "Happy Days" cast in bronze is worth the trip to Milwaukee alone. I give this attraction two thumbs up!

#21 from Noah of Somewhere or Bust: The Sound of Music Bus Tour in Austria is the cheesiest tourist diversion in the world, especially with all the great beer gardens and the possibilities of exploration on foot or by bike. But my wife made me. Even better is that all of the people who live in Salzburg think that The Sound of Music is the name of a bus company. They've never heard of a movie called The Sound of Music.

#20 from Gadi and Tun of Being in Awe: We are getting cheesy and dirty in mud bathes of Moon Water Cave in Yangshuo, China

#19 from Kris of The World is Our District: Being in one state is soooo boring…especially when you can be in four at once! Four Corners on the Navajo Res in Arizona/Utah/Colorado/New Mexico.

#18 from Natasha of World Wandering Kiwi: I went to the Isle of Man for the famous TT Races and although I'm not at all into motorcycles or motorsport I got quite carried away by the excitement! Here's a cheesy pic of me posing on some random stranger's bike (you've never seen so many motorbikes in one place).

#17 from Poi of No Place To Be: Think of all the amazing trash you can buy for your friends from this place! Well actually, no. It's the same as the rest of the stuff on the strip at inflated prices! The world's biggest gift shop (apparently).

#16 from Josh of Traveling 9-5: In Chiang Rai, Thailand the popular tourist restaurant is called "Cabbages and Condoms". And, yes, they have mannequins at the door whose attire consists entirely of…condoms.

#15 from Jennifer of Jennywise Arcade: Provincetown, MA- This cheesy tourist diversion stops summer revelers in their tracks year after year- and more Barbies (and kens) keep on joining the party!!

#14 from Alexandria of Fluent in Frolicking: The tour guide made me do it!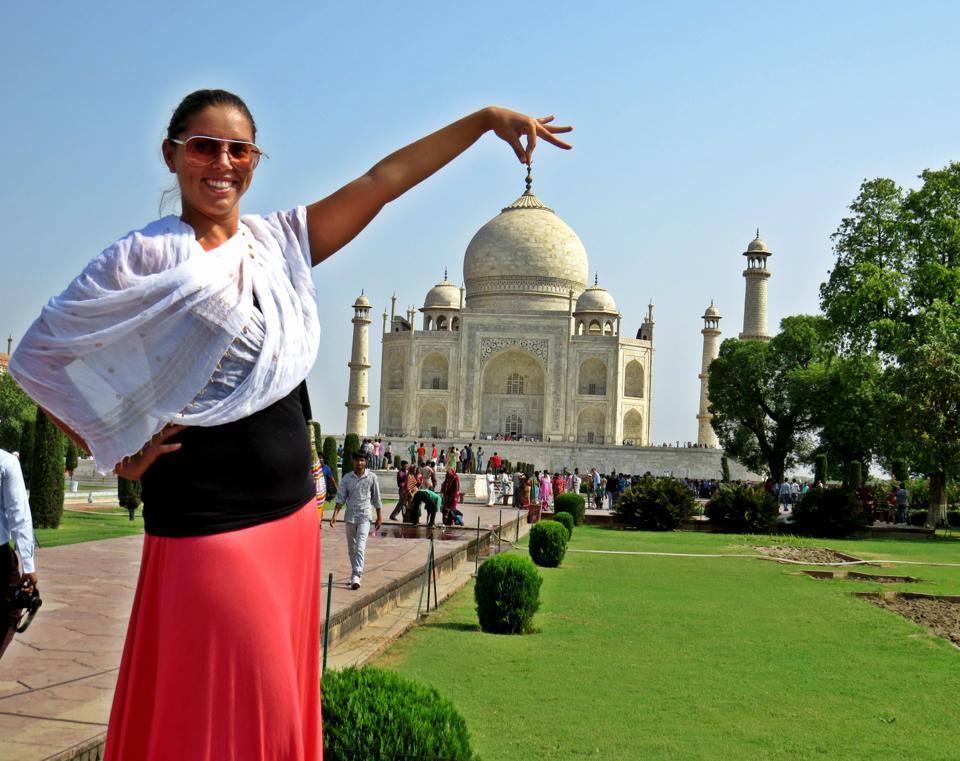 #13 from Noel of Travel Photo Discovery: Totally cheesy is this princess riding in a pineapple float – its a horsey dung pooper float and her escorts are the horsey pooper scoopers

#12 from Adrian of Travel Destination Search: This giant ice cream cone in front of a gelateria in Lisbon looked so tempting, we just had to take this photo!

#11 from 2foodtrippers: We love cheese when we travel more than we love touristy spots. Here's a photo of one of our favorite cheese shops, Neal's Yard Dairy, in London. Cheers!

#10 from Cam of Traveling Canucks: We took this photo yesterday while in Gravenhurst, a small town in the Muskoka region of Ontario. This is the world's biggest Muskoka chair. I don't know why anyone would want to take a photo beside a massive wooden chair, but apparently we've become the type that pulls over the car in order to do so. My how the times have changed!
#9 from Craig of Flashpacking Around the World: We had this picture taken at the Terracotta Warriors at Xian.  You pay to get your photo taken in front of a painting of the warriors in a room to the side of one of the pits. It was tacky, cheese, but we just had to do it.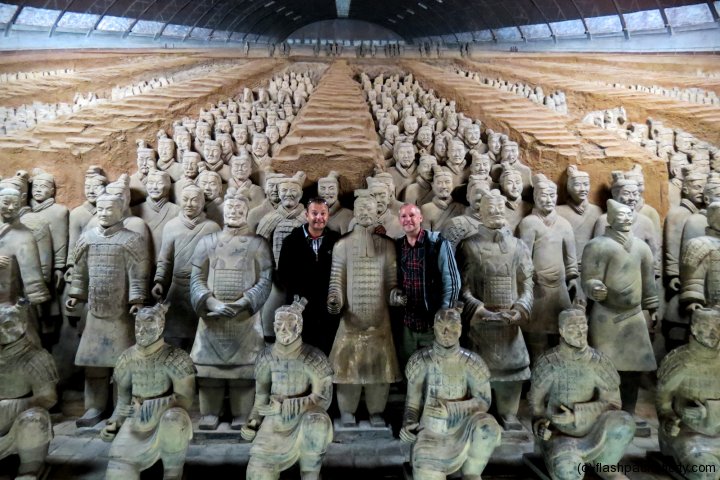 #8 from Tom of Travel Past 50: I'm sorry, but it just doesn't get any cheesier than the "World's Biggest Ball of Twine" in Darwin, Minnesota. Thousands of people drive out all the way from Dassel, Minnesota, 4.9 miles away, every weekend just to see it and be photographed with it. Eat your heart out all of you who think your photo of you in front of the Eiffel Tower is hot stuff.

#7 from Suzanne of Boomeresque: Sometimes the tourist contributes to the cheesiness of the moment. Here, a blogger (moi)  confers with FDR while Winston Churchill looks on. In self defense, I maintain that this sculpture called "The Allies" on Bond Street in the Mayfair section of London, England is a cheese magnet.

#6 from Heather of Ferretting Out the Fun: Myrtle Beach, South Carolina, is chockablock with cheesy tourist attractions. One of my favorites is an animal park called Alligator Adventure. Billed as "the reptile capital of the world," advertisements for the place can be found all around town. The star attraction is "Utan," a gargantuan Siamese crocodile thought to be the largest in the U.S. Meet Utan!


#5 from Ted of Traveling Ted: Thank you for giving me an opportunity to post some cheesy photos.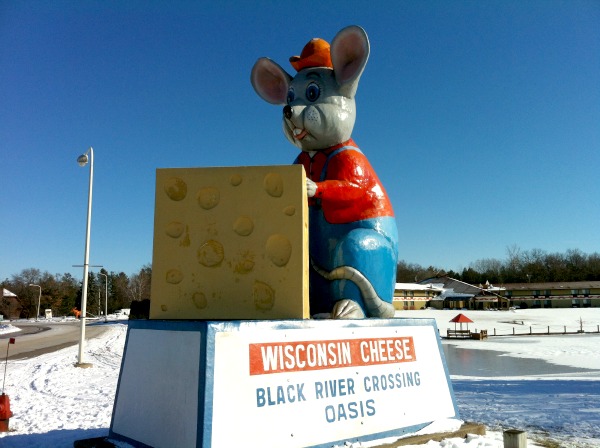 #4 from Charli of Wanderlusters: We were road tripping around the west coast of the USA and found ourselves in a saddlery  & western wear shop….as you do. We came out $200 out of pocket and sporting these stylish fashion statements! Well….when in Rome!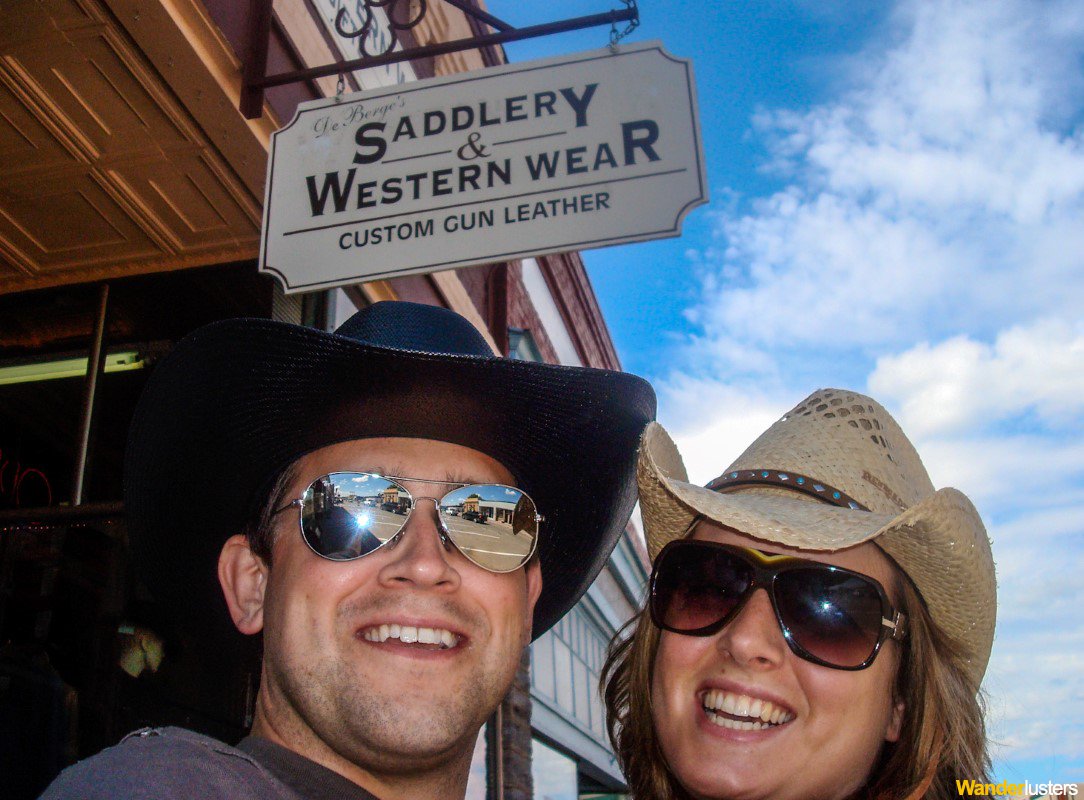 #3 from Tash of Jouljet: Has to be Larry the Lobster! On a roadtrip in South Australia – a must detour to Kingston to see him, to jump out of the car, and get a photo with him! A must!

#2 from Jeremy of Living The Dream: Everyone loves the mascot Haibo for the Shanghai World's Fair.  I think?  Right?  Right?

#1 from Abigail of 1,000 Miles On My Own Two Feet: In a wax museum, I feel like a somebody either glamming up with Marylyn Monroe, locking arms with Brad Pitt, or even staring down Anthony Hopkins as Hannibal Lector (of course in real life, my knees would be wobbly to see all these celebs!). Here I am with Jack Black in the Hollywood Wax Museum in Branson, Missouri!

YOUR TURN: If you're not submitting a photo, please, PLEASE, PLEASE help us pick a winner by leaving comments about your favorite shots! – David & Veronica