Clarksdale, Mississippi is home to one of the most unique inns we've ever encountered, The Shack Up Inn. This collection of sharecropper shacks on the old Hopson Plantation look like they haven't been touched in decades, but inside each one is fixed up into a comfortable little cottage.
Guy Malvezzi was great about showing us around and telling us the story. A few years back a couple songwriters started hunkering down in a shack down here to get away from it all and write.
Their idea started catching on and soon Guy bought up a bunch of authentic sharecropper shacks, moved them here, fixed them up and started renting them out. Fast forward a few decades and one of America's coolest accommodations is going strong. (click here to see our full story on the Mississippi Blues Trail!)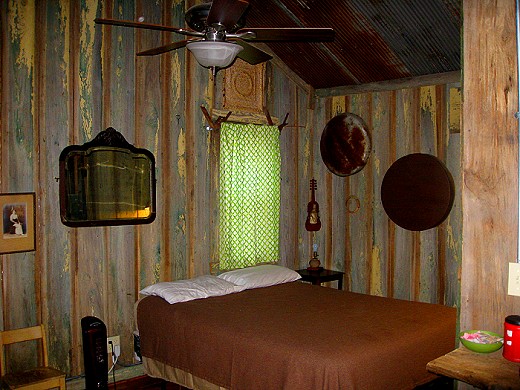 Bedroom in our first night's shack.
And the kitchen!
The "Office" Shack is where we spent our second night.
We loved the broken mirror above the sink! (check out The Shack Up Inn Website!)
After our night in a shack we were ready to absorb all of the blues history we could, and Clarksdale has a ton. What better place to start than The Crossroads? A big sign marks the spot of the alleged devil deal but we had our doubts.
(click here to continue along on the Mississippi Blues Trail!)
Bonus Time: The marker for Muddy Waters near Clarksdale Mississippi.
W.C. Handy's Marker in Clarksdale.
(click here to see our full story on the Mississippi Blues Trail!)
David & Veronica, GypsyNester.com
YOUR TURN: Are you a blues fan? Did you learn anything new? Is this a roadtrip you'd consider taking?