There is so much to see and do in the United States that it can no doubt seem a bit overwhelming to decide where to go on a visit from abroad. We hope to help by offering a few ideas along with some tips to make things as smooth as possible.
No one wants to waste valuable vacation time with details that could have been addressed before the trip, which is why planning ahead is so important. One huge time saver can be to apply for your ESTA well in advance.
Visitors from any of the 38 countries in the Visa Waiver Program must submit an application at least three days before traveling to the United States. Our thinking is, "Why wait until the last minute like that?" Better to get it done early and move on to planning the fantastic things to do and see in America.
Travelers arriving on the East Coast will definitely want to stop in New York City, with its vast array of entertaining and historic attractions, some that even the residents may not know about.
Those with more time may want to venture a little more off the beaten path. For that we recommend exploring deeper into the continent, and the possibilities are almost endless. The rest of New York state has plenty within an easy driving distance from the city.
Places such as the Hudson River Valley, Watkins Glen, Woodstock, and Niagara Falls are all definitely worth looking into. We fell in love with the Finger Lakes area on our visit a few years ago while sampling the fine wines, the beautiful water, and even flying in a sailplane.
The amazing historic cities of Boston, Philadelphia, and Washington DC are also all just an easy train ride away from The Big Apple. Still, even seeing all of these significant sites from America's founding only scratches the surface of what the country has to offer.
The incredible beauty of the National Parks is always popular for tourists and citizens alike. With sixty one parks in twenty nine states there are certainly plenty to choose from, including the most popular, Great Smoky Mountains National Park in North Carolina and Tennessee and Arizona's Grand Canyon National Park.
Many others may be less known but we have found some to be every bit as captivating. Unfortunately, some of these are really remote, but then that can also be a good thing because the surprise discoveries along the way often become highlights of the entire trip.
Driving across the vast expanse of the Rocky Mountain West is an extraordinary experience in and of itself, but add the majestic beauty of the Grand Canyon, Yellowstone, or Yosemite and it becomes a truly once in a lifetime journey.
For the even more adventurous, a trip up north to The Last Frontier could be even more remarkable. America's largest state, Alaska, is home to some of the country's highest mountains, including the very biggest, Denali.
This magnificent mountain, formerly known as Mount McKinley, is surrounded by a National Park of its own that includes a lodge and cabins, so staying near the peak is not a problem.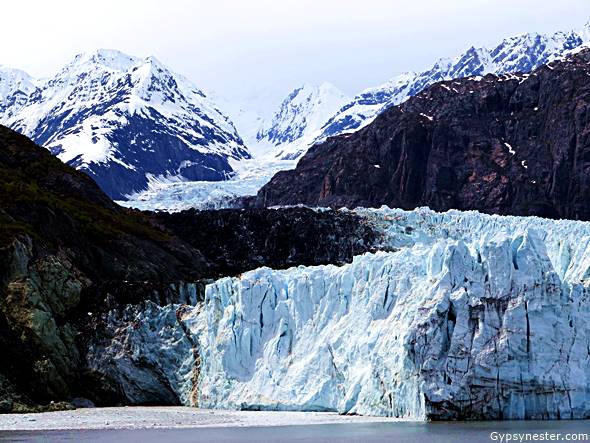 There are also glaciers galore all across the seemingly endless wilderness that covers most of the state. Most are difficult, if not impossible to reach, but some are best viewed from the comfort of any number of luxury cruise ships.
As grand as these wild and woolly destinations are, sometimes a visit to the bright lights of a big city is calling. That's when a trip to Vegas or Tinsel Town may be in order.
Las Vegas is famous for the neon and nonstop action on the strip, but has become more than just a gaming destination. Over the past few years the city has embraced a much wider range of entertainment options, including some incredible choices for the whole family.
Not too far from Sin City, Los Angeles has something for everyone, incredible dining, Disneyland, Hollywood, unparalleled beaches, every sort of water sports, and world renowned nightlife that can certainly give the Big Apple a run for its money. So much in fact that it might take a week to see it all.
So that takes us from coast to coast, and to see it all it is of prime importance to have your travel documents all in order well in advance, so check your passport and United States ESTA visa.
David & Veronica, GypsyNester.com
We are happy to present this collaborative post to offer valuable information to our readers.