Savannah is like a box of chocolates, you never know what you're gonna get. Or at least we didn't.
But the city is gorgeous and the pace slow, so it seemed like a perfect place to take a little bicycle tour.
We did know that Forrest Gump waited for his bus somewhere in Savannah, so that seemed like the perfect place to begin our explorations.
With a minimal amount of Googling we learned that the movie scenes on the bus bench were shot at Chippewa Square, one of the twenty-two historic squares that remain from the original twenty-four that the old city was laid out around.
All we had to do was follow Bull Street through a couple other squares until we found the statue of General James Oglethorpe.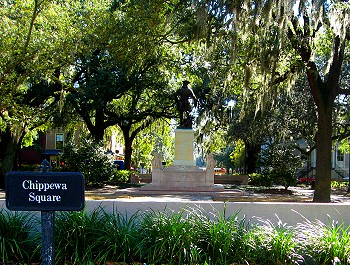 We didn't know we'd get a square that commemorates a whole lot more history than a Tom Hanks movie, even if it is a really good movie.
In fact, there's no acknowledgment of the cinematic history made here whatsoever. No plaque, marker or sign, not even the park bench ol' Forrest sat upon expounding his observations.
That bench was a fake, made of plastic and is now in a museum.
What we got was plenty of real life history memorialized. Laid out in 1815 and named in honor of American soldiers killed in the Battle of Chippawa in the War of 1812, Chippewa Square is presided over by the looming bronze statue of James Oglethorpe at its center.
(Note, for no apparent reason the different spellings of Chippewa are correct, box of chocolates, you never know, and so forth.)
General Oglethorpe founded Savannah, along with the whole colony of Georgia, when he landed on Yamacraw bluff, the site of the current City Hall, back on February 12, 1733. He laid out the city from that spot around four open squares.
Anticipating growth, places for additional squares were designed into the plan and sure enough, squares were added over the following years. By 1851, the city surrounded twenty-four squares, each with its own theme honoring people or events in Savannah's history. Kind of like the squares in a box of… oh never mind.
So we had picked a good confection with this first stop, on to our next treat, Forsyth Park. Thirty acres of paths and gardens right smack dab in the middle of Savannah's historic district.
The park and its famous fountain were designed to give a Parisian flair to the city. A Confederate Memorial Statue was added later, giving Forsyth more Southern charm than European flair, but hey, a box of chocolates can have bonbons and pecan clusters.
In the park we ran into, not literally, luckily, street artist extraordinaire , K.C., weaving palm fronds into flowers. Mesmerized, we had to stop and watch. Palms are a huge part of the decor and charm of the city, lining the boulevards and accenting the antebellum mansions.
Seeing he had an audience, our weaver worked wonders with the foliage, sprayed it with rose scent, and offered it to Veronica. To top of the experience, K.C. filled us in on the history of the roses he creates, while barely looking down at his fingertips as he worked.
We'd rate that right up there with finding a dark chocolate with caramel filling, our personal favorite.
As we worked our way down toward the waterfront, we passed block after block of ornate old homes, many, like the Wedding Cake Mansion, which are now available for events or even as vacation rentals.
Having a holiday in the historic district would no doubt be quite stylish, but not quite our cup of tea.
Plus we were getting too hungry for any more mansion gawking. To the waterfront – they must be cooking up some sea critters down there.
We rode till we hit water, and found that River Street is lined with eateries.
Fiddler's Crab House caught our eyes, especially since they had "Lowcountry Boil" prominently scrawled on their outdoor chalkboard.
We were hooked, and felt even better when we were seated at a table with a nice river view and a big bucket in the center of the table.
Obviously they were prepared for us to toss mass quantities of expended exoskeletons into this tin pail.
We started out with the "Savannah Style" Crab Stew, as much to kill time until the boil arrived as to see what it was like.
Turned out to be very good, a lot like the She Crab Soup found in Carolina, but bring on the boil.
Ah, a gigantic steaming platter of shrimp, sausage, corn on the cob and Lowcountry potatoes arrived. In case that wasn't enough, they threw in a side of slaw.
We think that this was actually meant for just one person, but we split it, and still could barely make it back to our bikes afterward. We didn't even have room for a chocolate.
In lieu of calling an ambulance, we decided to work it off, so we left the bikes locked up and walked around the old, hard-on-the-butt-when-biking cobblestone streets along the waterfront.
These buildings, converted into restaurants, bars and crap shops, were the lifeblood of Savannah back when they were cotton warehouses.
Stair-stepped up the bluff with entrances on three levels, from the water level fronts on River Street up to the Bay Street entrances facing the city at the top. In between, a hidden alleyway known as Factor's Walk is snuggly tucked in.
This is where cotton merchants, called factors, transacted their business in the days when cotton was king.
A series of stairways, bridges and catwalks access hidden doorways, connected by narrow streets paved with the ballast stones brought in by the trade ships coming in from Europe. In the 1800s, this was the Wall Street of cotton.
Click photos of Factor's Walk to enlarge.
As cool as it looked by daylight, we just knew we had to see it in the dark, that left us with some time to kill.
We moseyed back down to the river, across the streetcar tracks, and onto the river walk for a view of the old time paddle wheelers, as well as the modern giant container ships, coming and going from this bustling port.
Along the walkway we found plenty of historical markers explaining the history of Savannah and the importance that the shipping industry has played.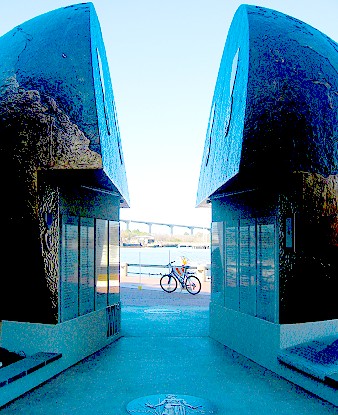 As we walked, we came upon a giant globe, split in half. A closer look revealed "The World Apart," a World War II memorial designed by Eric Meyerhoff, and dedicated just last year.
The split sphere represents the Pacific and European theaters of the war and honors Savannah's World War II veterans, living and deceased.
One of those surviving heroes happened to be present with his daughter. They were looking for the donated brick with his name on it, and when they found it, we happily snapped a photo for them and thanked him for his service. No candy could be sweeter than that moment.
At the seaward end of the walk, another statue caught our attention. The tale is told that from 1887 to 1931 Florence Martus ran out to the shore and greeted every ship that entered the port of Savannah.
Theories as to why are as numerous as the citizens of Savannah, but for whatever reason, she became a local legend, and had the Liberty Ship SS Florence Martus named in her honor in 1943.
In 1971 Florence and her trusty collie were immortalized with this phenomenal statue, "The Waving Girl," by Felix De Weldon, the sculptor of the iconic Iwo Jima flag planting scene at the Marine Corps Memorial in Arlington, Virginia.
Since the sun was sinking, it was time to fetch our bikes, put them away, and head back to the darkening alleys of Factor's Walk.
With the old gaslights flickering and the moon rising, it felt like we might find a wayward pirate, confederate ghost or maybe Jack The Ripper around any corner. No wonder Savannah ghost tours are so popular!
But we steeled our spines and completed the length of the Walk, loving every minute of it.
Savannah really was like a box of chocolates, in that we never knew what we were gonna get. But everything we got turned out to be delectable. Not one yucky, pink gooey middle in the whole box.
And that's all we have to say about that.
Click here for a photo gallery Factor's Walk
David & Veronica, GypsyNester.com