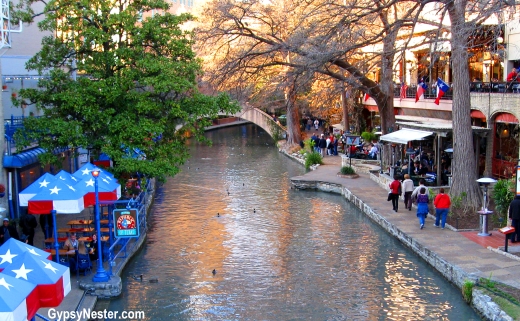 After an all day tour of the missions of San Antonio that ended with a proper remembrance of The Alamo, we had biked up quite an appetite. Good thing that the famed Riverwalk was only a block or two away.
Restaurants of every variety, along with nightclubs, hotels, bars and shops, line the banks of The San Antonio River as it runs through downtown. The riverside is beautifully landscaped with plants, trees, walkways and bridges that are romantically lit with twinkling lights after dark.
It's almost like it was designed with a GypsyNester appy crawl in mind. In an interesting twist, this all happens below street level.
The Riverwalk, or Paseo Del Rio, was the brainchild of Robert H. H. Hugman, who hatched the idea after a devastating flood in 1921.
Hugman's vision was to emulate a visit to Venice. He convinced city officials and business leaders that the plan would be financially beneficial, got their backing, and the dream began to take shape.
It was less than an immediate success. For decades businesses struggled to make a go of it as visitors were scarce and crime was rampant.
David's father, who was stationed at nearby Fort Sam Houston back in the fifties, explained to us how The Riverwalk was so rough that it was off limits to Army personnel. Getting caught down there would earn a soldier a trip to the brig.
The sixties brought improvements and then in 1969, the Paseo Del Rio Association was established promoting improvement and development of The Riverwalk. They have done a fantastic job, because today this beautiful attraction pulls in nearly $800 million a year for San Antonio's economy.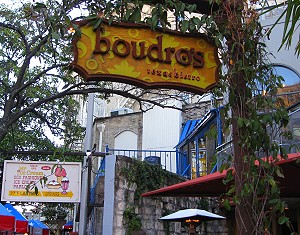 We walked down the stairs from Commerce Street to the river level and immediately ran into Boudro's Texas Bistro — this looked like our kind of place.
To be honest, we were too hungry to go hunting any further. We took a seat right on the water and commenced to slobber over the menu. So many tempting choices for some "Texas Tapas."
Smoked Shrimp Enchiladas, Chili Fried Oysters, Tequila Cured Salmon Bruchetta and made-at-the-table Guacamole for Two all sounded like winners, but we went with Mesquite-Grilled Quail and the Duck & Sausage Gumbo.
Little touches made Boudro's stand out. With a charming décor that included horse blankets on the outdoor seats for cool evenings, a friendly and knowledgeable staff, and real attention to detail and presentation, we knew we were in for something special.
They even doll up the beer. David's local favorite, Lone Star, arrived with a glass that had a salt and chili mixture rubbed on the rim. Still the food was the star of the show.
The gumbo was locally inspired, yet had classic Cajun flavor. The jalapeno sausage came from nearby Hill Country and three local peppers blended perfectly with the duck.
Served in a big bowl on a wild rice blend, this would be hard to match, but… enter the bird.
The quail, grilled to perfection on a mesquite fire, was crazy delicious. Nothing says Texas like mesquite-grilled meat, any meat, or even the carton it came in. Everything tastes good mesquite-grilled. But this bird stood out. Served with a chipolte demiglace on a bed of pepper jack grits with jalapeno chips, holy crap that's good eatin'!
Both of these dishes were from the appetizer menu but were big and hearty enough to serve as a meal. It's going to be mighty tough to top this, but we have all night to try and we might need every minute of it just to work up a new appetite.
We decided to walk off the first round and check out the rest of Riverwalk's culinary choices. We passed tempting local fare, like Boudro's, The Little Rhein Steak House and La Margarita's.
National chains like Hard Rock Cafe, Joe's Crab Shack and Rainforest Cafe are represented and famous names such as Pat O'Brien's round out the options — Riverwalk could take on any craving we could conceive.
After browsing the possibilities we stopped off at Paesanos. Self described as classic Mediterranean and contemporary Italian dining, it sounded like a good choice for a vino and a bite. We have some basic rules of thumb concerning certain types of restaurants.
The salsa tells you a lot about a Mexican place, the sweet tea about a meat &three and the crust of the bread about an Italian spot. The bread at Paesanos didn't put up any fight at all. Felt like it came out of the freezer and it turned out our whole appetizer seemed like that.
We ordered "The Sampler Selection of Three of the Most Popular Antipastos" (note to Paesano, the plural of antipasto is antipasti).
The uninspired plate plopped down before us contained two Parmesan Crusted Artichoke Hearts (greasy gut-bombs of deep-fried canned artichokes), a pile of Giant Calamari with a Duet of Sauces (horrifyingly humongous fried flat filets of sea creature not remotely resembling any calamari we'd ever seen and the sauces were — wait for it! — tartar and cocktail) and Shrimp Paesano (best of the three by far, but that simply means they were very average baked shrimp).
Good thing we had some wine to wash it down with. As often seems to be the case, this disappointment turned out to be our most expensive stop of the night.
Hoping to end the evening on a high note, we walked over to the highly acclaimed Fig Tree, widely considered to be the best on The Riverwalk. Alas we were too late.
They were closing for the night but the helpful maitre'd suggested a nearby spot just above the walk.
We took his advice and were so glad we did. Insignia turned out to be a perfect nightcap — friendly and cozy with a quirky menu.
We sat at the bar, ordered a couple drinks and the bartender, Lindsey, highly recommended the Bone Marrow Pudding with Tongue & Cheek Marmalade. Honestly, how could we turn down a dish with a name like that?
As we sipped our drinks, we waited to see if we had completely lost our minds.
To calm our nerves, Lindsey chatted us up a bit. She informed us that Insignia is located in The Fairmount Hotel, the largest building ever to be moved in one piece.
Just another quirk about this interesting place. There are drawings and photos of the big move in the hotel itself, along with Guinness Book of World Records certificate.
Before we knew it, the tongue and bone was ready. Now we've eaten some strange things in our GypsyNesting travels and this was right up there.
Strange until we popped a marrow pudding-n-marmalade covered piece of heaven into our mouths. The marrow is cooked down until it's like butter, spread on toast and covered with the meaty marmalade.
Honestly, the tongue and cheek meat with the marrow is one of the best flavor combinations we've ever encountered.
As we were going to town on it, we started to notice — WOW was this rich! This taste sensation should be enjoyed in small quantities. Even with two of us attacking it, we had plenty.
Turns out that this anatomical dish is not on the menu, it's offered as a special periodically and we just happened to hit the jackpot. One more reason our visit to Insignia was made memorable.
After lingering at the bar and letting things settle, we headed out, secure in the feeling that we had experienced a broad range of what San Antonio had to offer.
But we had to wonder as we looked back at The Fairmount, "how in the hell did they ever move that whole huge building?"
David & Veronica, GypsyNester.com