With the XXIV Olympic Winter Games beginning, we decided to take a look back at our visit to the site of the 1952 Games in Norway to contemplate jumping off the side of a mountain with skis strapped on our feet.
Leaping into the abyss
Being winter Olympics fans, when we think Norway, we think Nordic, and as far as we know the word Nordic is always followed by the word combined.
So we boarded the tram in Oslo, and off we went to the site of the 1952 Winter Olympic Games, Holmenkollen and the Holmenkollbakken ski jumping hill.
The city has grown so that now it surrounds the hill, making for a bit of an oddity in the suburban setting. But this also makes it easy to get to; there is a metro stop just a few minutes' hike away, just about the same distance as the skiers go when flying off of the hill.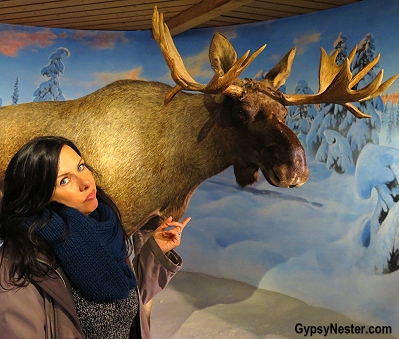 The sport of leaping off of a huge ramp while on skis was invented in Norway about a hundred and fifty years ago, and the Norwegians have dominated the event ever since.
So underneath the huge ramp is a fitting site for a ski museum, with a fascinating collection of old ski equipment, some of which looked mighty familiar from back in the days of David's first set of skis.
While we have been known to strap boards to our feet and slide down a snowy slope, never in a million years would we dream of launching ourselves off of a hill like this.
We go in more for the peace and quiet of a gentle slope.
Still, somewhere in the back of our minds we always wondered what it would be like to try, and here was our chance to find out.
The complex includes a simulator that recreates the sensation of flying down the ski jump, no skis, or skills, required.
We actually got to experience the victorious thrill of jumping (without the inevitable agony of defeat that would have occurred in real life) while sitting down.
That position turned out to be ideal because the thing rocks, rolls, tilts, and bumps enough that we felt every bit like we were flying through the air… right down to the piped in wind in our faces.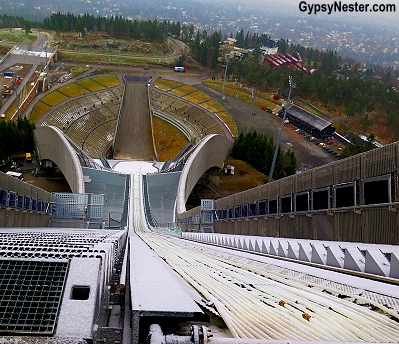 Now that we were seasoned jumpers, we felt ready to go to the top and stare down the beast.
But the view down the slope left no doubt in our minds that the simulation was the closest we would ever get to taking such a leap.
Common sense prevailed and we remained at the top.
Well, not forever… we walked back down.
David & Veronica, GypsyNester.com
… CONTINUE READING and see our entire Oslo adventure
See all of our adventures in Norway!
Visit our GypsyNester YouTube Channel!