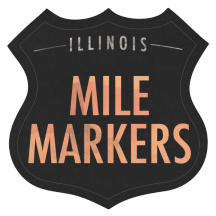 We are proud to be Illinois Mile Markers – thanks to Enjoy Illinois for making this adventure possible! Click here for our full adventure down The Great River Road.
Our exploration of Quincy began at Villa Katherine, a Moorish styled castle perched above the Mississippi River.
Built in 1900 by eccentric world traveler George Metz and inspired by Villa ben Ahben in Morocco, it now houses the Tourist Information Center. Inside we talked to Holly, who was kind enough to show us around and even take us up onto the roof for a fantastic view and a peek into the harem room.
A place to hide the harem is just one of the castle's quirks. The interior features ornate carved wood trim, oddly stacked columns, and a central reflecting pool below a set of windows designed to act as a sort of air conditioner.
Strangely, after building his masterpiece Metz abandoned it in just a few years. It fell into disrepair and was nearly torn down before Quincy saved it.
The Villa has plenty of good company, the city has 3,665 buildings listed on The National Register. Since the day was nearly perfect, we decided to mount up, head east, and ride our trusty bikes to take a look at some of them.
One of the finest is the John Wood Mansion, which was home to the city's founder and 12th governor of Illinois.
This remarkable example of Greek Revival architecture has a secret that we found hard to believe.
In 1864 Wood decided to move the entire house to its current location from just across the street. The herculean undertaking, performed to make way for a new house, was accomplished by cutting the structure in half and rolling the pieces on logs.
Wood's reconnected home is just one of the dozens of incredible houses in Quincy's East End Historic District.
In fact, every street is packed with jaw dropping examples of nineteenth century homes, especially the tree lined boulevard Park Place. We're pretty sure Monopoly should be jealous.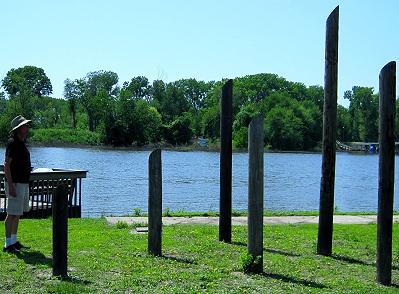 From The East End we headed back to the river. Several parks line the riverfront in Quincy, all connected by a bike path, so we rode through Edgewater Park and Bicentennial Park to an old swing bridge that crosses over to Quinsippi Island.
The island is home to Log Cabin Village, where an old church, smokehouse, and corncrib from the early 1800s are on display.
The village was not originally on the island, the structures were moved from different parts of the area into place about fifty years ago.
The ride back into town gave us a fantastic view of the Bayview Bridge over The Mississippi. We stopped for a photo, and one last look at the legendary river that inspired our incredible journey along The Great River Road.
Click here to see our full adventure down The Great River Road
David & Veronica, GypsyNester.com
Thanks to Enjoy Illinois for making this adventure possible! Our opinions, as always, are our own.
YOUR TURN: Have we inspired you to take an Illinois Road Trip?