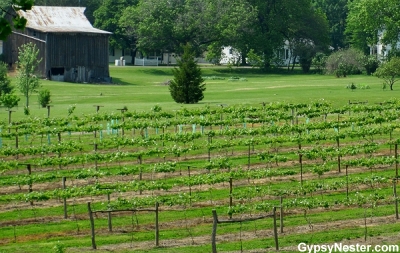 Before our trek down The Mighty Mississippi we had no idea that The Land of Lincoln was also wine country, but there are vineyards and wineries all along the river.
This area of Illinois was the first to grow grapes, starting way back in 1851, and those vines are still growing in Nauvoo State Park.
Nauvoo is home to the state's oldest winery, Baxter's Vineyards.
For five generations the Baxter family has been making wine, and their experience and attention to detail shows.
The wines are still made the old fashioned way, no big machinery or assembly lines, in the specially designed basement of the winery.
Kim, who returned to Nauvoo after college to continue the family tradition greeted us and showed us the entire operation.
Each vintage is produced in small quantities, carefully watched and tended, and then bottled and corked by hand.
The busy seasons, harvest and bottling, brings in entire family from far and wide.
Folks gather together as they have for generations and Kim's grandmother cooks for everyone on site in the big kitchen.
The rest of the year the kitchen serves as headquarters for Carol's Pies & Nauvoo Nibbles.
For those that want to make Nauvoo and Baxter's winery an overnight destination, the old family home is now The Nauvoo Grand Bed & Breakfast.
Click here to see our full adventure down The Great River Road
David & Veronica, GypsyNester.com
Thanks to Enjoy Illinois for making this adventure possible! Our opinions, as always, are our own.
YOUR TURN: Have we inspired you to take an Illinois Road Trip?