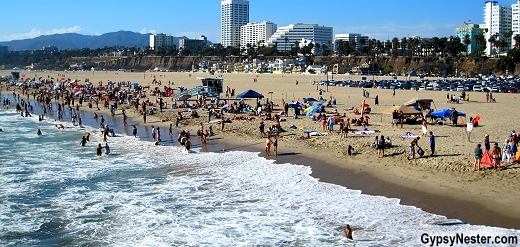 Los Angeles is a popular place highly recognized for Hollywood and incredibly designed art museums. However, the beauty of this city is not limited to it. There are plenty of other things to do and explore. And it encompasses the thrilling water sports turning your world upside down.
If you are a happy water baby who wishes to be surrounded by nature and water, then you should not miss these water sports in Los Angeles. Explore and give them a try!
Popular water sports waiting to enrich your travel experience-
A hot summer day in Los Angeles gets upset when you do not find anything around to soothe your soul. But why get upset when you have something entertaining to rejuvenate and relax you. The best thing about water sports in Los Angeles is the range of water sports options available for you.
So, wait no more and explore it all.
#1 – The famous dragon boat ride
This water sport is as exciting as it sounds. For once, it makes people think of an ordinary dragon boat often seen in craft carnivals. Well, you are somewhere right, but there is a twist in it. Generally, a dragon boat is a long narrow boat that comes with human-powered efficiency to swing it. But here, it has to be rowed by all sitting inside it.
If you wish to enjoy this sport to the fullest, consider visiting Castaic Lake, a popular sport. The local trainers may make you undergo a quick training session before letting you enter the boat. So, be ready for all the fun elements.
#2 – Exploring the charm of the LA river
For once, you may fear seeing the depth of this giant river but relax as there are many guides to help you sail through your hydrophobia. Moreover, there are two recreational zones to choose from. The mesmerizing beauty of this river is irresistible and genuinely amazing to witness at any time of the year.
#3 – Whale watching
It's common to witness the beauty of marine life in an aquarium center. But when it comes to having a real-time experience, there is nothing better than Los Angeles whale watching exposure. Summer is the best time to enjoy whale watching as it's the time when most mammals are on the Earth to give you a perfect visual treat. Moreover, whale watching can give you the experience of riding on a cruise as well.
#4 – Surfing
There are some amazing beaches in Los Angeles to explore and surf. The waters are so inviting that you can't resist trying your hands on surfing. You can get some quality surfing lessons at Venice or other beaches for sure. The coaches have prepared a set of classes for beginners to intermediates.
Conclusion –
Water sports in LA is one of the significant highlights of why millions of people travel here. From the superb whale watching experience to riding on the dragon swing within the middle of the water, there are many exciting sports to kick in the travel feels within you.