We have a winner!
Congrats to Sophie of Sophie's World!
This one was incredibly hard for us to decide! There were so many weird foods to choose from – but we kept coming back to Sophie's entry. Trying to imagine these heads on a platter with vegetables – and how or what parts one is supposed to eat simply boggled our minds.



Smalahove is a traditional delicacy in Western Norway, especially at Christmas. The lamb's head is torched, then salted or smoked, and finally steamed and served with potatoes, vegetables, sausages and sometimes peas and bacon. So – it's really only smoked lamb, only the way it's served is different. You're left in no doubt as to what you're eating.
We're excited to announce we're hosting round #68 of Travel Photo Roulette! Thank you so much to Am I Nearly There Yet? for choosing our photo in their excellent theme "Travel Fails!"
Travel Photo Roulette was started by Jeremy at Living the Dream as a way for travel bloggers to showcase their best photography.
For each round a new theme is chosen, and independent travel bloggers are asked to submit their photos. Then a winner is chosen to host (and judge) the following round on their website.
This Week's Theme is:
Weird Regional Food
Here's some inspiration:



We LOVE food – the weirder the better. To us, weird=good. Everyone who travels has come across some weird regional food – hope you didn't forget to snap a shot before you chowed it down! You can explore more from The Texas Tasty if you're a foodie.


How Travel Photo Roulette works
The rules are simple. The hosting blogger is the chosen winner of the previous round. The new host chooses a theme for the next round and bloggers can submit a single entry based on how they interpret the theme. The time frame for submissions is one week. At the end of the week, the host blogger chooses the winner for that round and said winner repeats the process on their own blog. Readers can always try and sway the host via comments during the contest, but the host is free to give as little or as much weight to people's opinions as they wish.
The rules for Travel Photo Roulette
1) One submission per blog (so sites that have 2+ authors only get one entry).
2) Post processing is fine for this round. Cropping and correction for red-eye or camera flaws are ok. Minor edits are totally fine if you think it improves your image.
3) Abstract submissions welcomed as long as it fits within the interpretation of the chosen phrase. Remember, the hosting blogger chooses the winner, so if they cannot understand the submission, you might not win!
4) Keep phrases general so that all bloggers can participate. Specific items like "Eiffel Tower" should be avoided but rather made open-ended like "monuments." For variety, it is okay to say focused things such as "monuments at night" in which most of us have pictures of.
6) Abstract thoughts are appreciated, but keep it within the realm that all readers will understand. No "Kafka-esque", but "Overlooking Creation" is able to be interpreted by all.
7) No obscene pictures or phrases allowed. Suggestive phrases and photography can be accepted, but please keep it within reason.
8) After a sufficient period of time, phrases can be reused, however new photos must be submitted. Keep the ideas and photos fresh!
9) Pictures from your entire portfolio are fair to submit. You do not have to take the photo within the week of the contest period to submit it.
10) Most importantly, ALL PHOTOS MUST BE YOUR OWN.
11) And last but not the least, talk about Photo Roulette! When tweeting about it, don't forget to use the #PhotoRoulette hashtag.
How to submit
Entering is easy. Just leave a comment below with a link to the image you'd like to submit and a caption or description of the image to help flesh it out. Once you've added your comment, we'll add the image to the submissions. Don't forget to check back during the week to see the other submissions and join the conversation by leaving comments for others. We'd love to hear what you think.
The contest runs for a week, starting October 19th and ending October 26th (Saturday to Saturday). The winner will be announced within a few days of the end of the contest and the selected blogger will then host round #69.
Please do your best to keep your images to a medium size and be aware that anything larger than 700px wide will be reduced in size to fit our site layout.
Past Photo Roulette winners and hosts
The following is a list of the previously played rounds of the game and the hosting blogger for each. This list also doubles as a winners' table as each topic host won the preceding round. Click the host's link to go directly to that entry to see some stunning photographs from the chosen term/phrase.
1. Nov, 2010 – Living the Dream – "Animals"
2. Nov, 2010 – Skinny Backpacker – "Road Signs"
3. Nov, 2010 – Dream a Little Dream – "Street Art"
4. Nov, 2010 – Flashpacker HQ – "Festival"
5. Dec, 2010 – Over Yonderlust – "Landmarks"
6. Jan, 2011 – Don't Ever Look Back – "Beaches"
7. Jan, 2011 – ThePlanetD – "Portraits"
8. Jan, 2011 – Travel with a Mate – "Motion"
9. Feb, 2011 – Johnny Vagabond – "Water"
10. Feb, 2011 – Ken Kaminesky – "Urban"
11. Feb, 2011 – Travels of Adam – "Friday Night"
12. Mar, 2011 – Itchy Feet Chronicles – "The Journey"
13. Mar – Brendan's Adventures – "Changing Seasons"
14. Apr, 2011 – Shutterfeet – "Storytelling"
15. Apr, 2011 – 10 Times One – "Piousness"
16. Apr, 2011 – Beached Eskimo – "Learning"
17. May, 2011 – Travel Junkies – "Architecture"
18. Jun, 2011 – Destination World – "Transportation"
19. Jun, 2011 – Living the Dream – "Paradise"
20. Jun, 2011 – Vagabond Quest – "Clothes"
21. Jul, 2011 – The Unframed World – "Symmetry"
22. Jul, 2011 – Beached Eskimo – "Home"
23. Jul, 2011 – BackPackerBanter – "Inspiration"
24. Aug, 2011 – WanderingTrader – "Darkness"
25. Aug, 2011 – Finding the Universe – "Tranquillity"
26. Sep, 2011 – Fearful Adventurer – "Food"
27. Sep, 2011 – Adventures of a GoodMan – "City"
28. Oct, 2011 – Globe-Trekking.com – "Reflections"
29. Oct, 2011 – Scene With A Hart – "Framing"
30. Nov, 2011 – Vagabond Quest – "Silhouettes"
31. Nov, 2011 – Hecktic Travels – "Music"
32. Dec, 2011 – Globetrotter Girls – "Love"
33. Jan, 2012– Man on the lam – "Humor"
34. Jan, 2012 – My Walkabout – "Winter"
35. Jan, 2012 – The Art of Slow Travel – "Blue"
36. Feb, 2012 – Ten Times One – "Depth of Field"
37. Feb – Runaway Juno – "My Digital Nomad Moment"
38. Mar, 2012 – Nomadbiba – "Sunshine"
39. Mar, 2012 – Travel With Kat – "Local Character"
40. Apr, 2012 – The Travel Bunny – "Street Scene"
41. Apr – Adventure Crow – "Spirit of the Country"
42. May, 2012 – – "Evening"
43. May, 2012 – Matt Gibson – "Adventure"
44. June, 2012– Flashpacker HQ – "Once In A Lifetime"
45. July, 2012– Skinny Backpacker – "Surreal"
46. August, 2012 – 2away – "Smile"
47.
Aug – Bridges & Balloons-"Splendour of the Universe"
48. Sept, 2012 – The GypsyNester – "What the ?!"
49.
Oct, 2012 – Runaway Juno – "Sweet"
50.
Nov, 2012 – GQ Trippin – "Play"
51.
Dec, 2012 – Breakaway Backpacker – "Face"
52.
Jan, 2013 – Fly, Icarus, Fly – "Serendipity
53.
Feb – Travel Transmissions – "Lost in Thought"
54.
Feb, 2013 – Wanderlusters – "The Natural World"
55.
Mar, 2013 – Travel Junkies – "Patterns"
56.
April, 2013 – Living the Dream – "Your First Time"
57.
May – Getting Stamped –  "As The Sun Goes Down"
58. Jun – The GypsyNester -"Cheesy Tourist Diversions"
60. June, 2013 – Boomeresque – "Revolution"
61. July,2013 –Breakaway Backpacker – "Colorful"
62. Aug, 2013 – Around This World– "Mountains"
63. Aug – Passports & Pamplemousse – "Hands at Work"
64. Sept, 2013: TurtlesTravel – "Dance"
65. Sept, 2013: Keep calm and travel – "The sea"
66. Sept – Travel Photo Discovery – "The Market"
67. Oct – Am I Nearly There Yet? – "Travel Fails"
68. Oct – The GypsyNester – "Weird Regional Foods"
Don't forget to talk about #PhotoRoulette! Here's a sample tweet:
I entered my best "Weird Regional Food" photo to this week's Travel #PhotoRoulette! Check it out! http://bit.ly/175uOpT
Keep up-to-date with this week's Photo Roulette by following us here: Facebook – Twitter – YouTube – Google+ – Pinterest – Instagram – StumbleUpon – RSS – via email
Hit us with your best shot! We can't wait to see your submissions. Good luck everyone!
The Entries!

#16 from Lunaguava: I eat shrimp and other bugs of the sea, so I'm usually fine with trying some crunchy terrestrial goodness as well. Case in point, these chapulines (grasshoppers) with chile and garlic we had in Oaxaca, Mexico. They went really well with bits of orange, to cut the spice and add a bit of zest.

#15 from Adelina of Pack Me To: When I first heard about lángos, I was skeptical. Who puts sour cream and cheese together and on top of fried dough? I tried it one late night in Budapest and have never turned back. It's the ultimate greasy junk food.
#14 from Dave of Travel Transmissions: Everyone knows the Chinese enjoy exotic foods. I wish I could say this market was extraordinary, but it was a fairly normal dig found in the city of Hangzhou. In the midst of the usual fair of various grubs and creepy crawlies on sticks, was a crunchy tarantula. It was hard to justify $10 USD for the tiny bits of meat that came off the furry arachnid when entire meals can be found for $1 or $2, but it was good for the experience!

#13 from Heather of Ferreting Out the Fun: It's really a shame I can only submit one photo because I saw loads of weird food items during my two years in China. Skewered insects, fried chicken feet, bowls of rotten tofu, the list goes on. But the most memorable has to be the platters of roasted rabbit heads sold on the street in Chengdu. There was something about those curving teeth that sent shivers down my spine!

#12 from Lydian of Shoutography: As big as your thumb, these little worms -locally called 'suri'- will happily crawl around in a bowl until they will be put on the grill to be prepared for you. As a vegetarian I passed on this 'exotic' experience, but I have been told that as soon as you get used to the soft structure of the suri, the taste is actually pretty ok.

#11 from Jade of Our Oyster: Ok so this isn't as weird as some of the others – but its a Canadian favourite… Poutine! French fries, gravy and cheese curd… nom nom nom

#10 from Jeremy of Living the Dream: My weirdest regional food is Balut from Vietnam and other SE Asia countries.  Between you and me, it tastes like chicken.

#9 from Irina of Trips That Work: For me the weirdest food out there is the one that's cooked with teeth & nails… It was crappy to eat this little guy in Cusco because I actually owned a pet guinea pig before.

#8 from Beyond My Front Door: One of the local beverages from the Balkans, made during a time when Coke / Pepsi could not be obtained in Yugoslavia.

#7 from Sidewalk Safari: Ice Kachang looks like simple shaved ice on the outside but then you dig in you find all sorts of goodness, like corn, kidney beans, and jello cubes.  It's like parents conspired to hide healthy fillings in a child's favorite treat.  It's definitely a weird medley of flavors and textures!


#6 from Sophie of Sophie's World: Smalahove is a traditional delicacy in Western Norway, especially at Christmas. The lamb's head is torched, then salted or smoked, and finally steamed and served with potatoes, vegetables, sausages and sometimes peas and bacon. So – it's really only smoked lamb, only the way it's served is different. You're left in no doubt as to what you're eating.

#5 from Tom of Travel Past 50: Gee, it's going to be hard to top bugs, so I'll just go with baby eels. Delicious baby eels in Spain. And a mother of pearl spork to eat them without tainting their delicate flavor with a metal fork.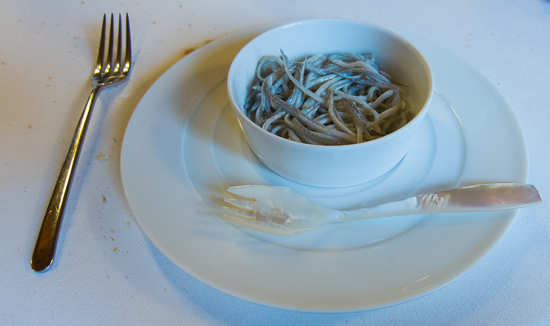 #4 from Cacinda of Points and Travel: I found plenty of strange foods in China during my visit, but was particularly afraid of eating these things!

#3 from Suzanne of Boomeresque: When I was in college (waaay back in the day), mystery meat was often on the menu, but the Japanese seem to have discovered how to pickle their vegetables into unrecognizableness. At this market stall in Tokyo, at least 12 types of unidentified pickled vegetables were for sale.

#2 from Zara of Backpack ME: If you thought eating snails (or fancy escargot in France) is too "been there, done that" try getting your mouth around these African Snails that can weigh up to 1Kg!!

#1 from Micki of The Barefoot Nomad: Our all time favorite strange food we found while traveling is this insect buffet we discovered at a street market in Krabi.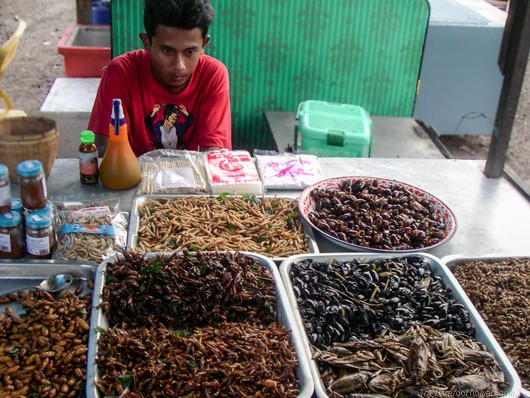 YOUR TURN: If you're not submitting a photo, please, PLEASE, PLEASE help us pick a winner by leaving comments about your favorite shots! – David & Veronica