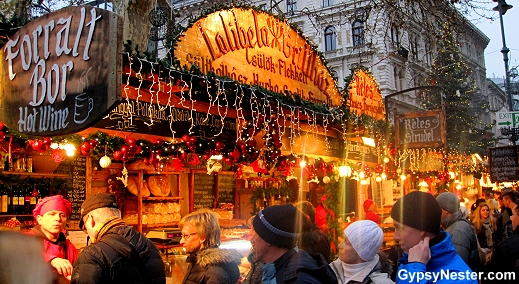 On the Pest side of Budapest we checked out the the city's main Christmas market, a large collection of stands and kiosks all decked out in holiday style.
We were surprised how many of these were selling food or drink as opposed to gifts.
See our entire adventure in Budapest!
It seemed that this market was more of a gathering place for friends and family to grab a bite, hang out, socialize, and listen to music than a shopping venue.
Basically a street fair, so we loved it.
We started with a cup of forralt bor, meaning boiled wine, the Hungarian version of mulled wine, or glühwein.
With our cockles properly warmed we were ready to sample some of the local fare.
See our entire adventure in Budapest!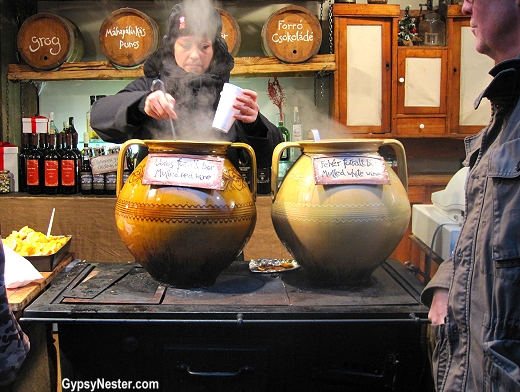 See our entire adventure in Budapest!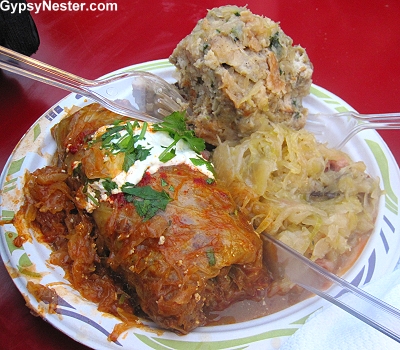 Everything looked fantastic but we settled on töltött káposzta, cabbage stuffed with meat and rice and served with a paprika sauce and sour cream, then we added a huge smoked meat dumpling with sauerkraut to our meal.
Exceedingly Hungarian!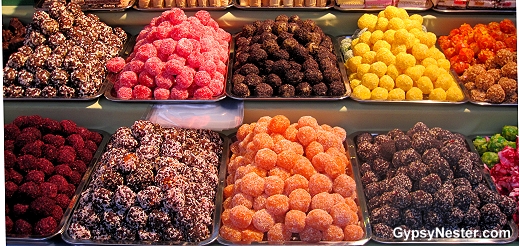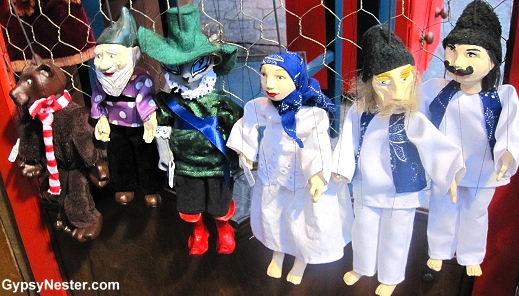 See our entire adventure in Budapest!
Best jet-lag cure, total immersion into the local food and customs.
David & Veronica, GypsyNester.com
Thanks to Viking River Cruises for inviting us along and providing this adventure! As always, all opinions are our own.
Delve deeper:
See our entire adventure in Budapest
Explore the St. Stephen's Basilica
Discover more about Fisherman's Bastion & Matthias Church
Continue along with us on our Christmas cruise along The Danube with stops in Budapest, Bratislavia, Vienna, Durnstein & Melk, Salzburg, and Passau.
See more about the history of Christmas markets and our explorations of these markets around the world!