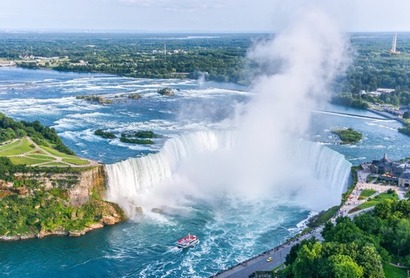 When you're an empty nester planning vacations around the world, it's easy to look for destinations that are far away, remote and very different to your everyday life. However, keep in mind that you can find all sorts of amazing things to see and do closer to home, too, in North America.
While the continent boasts excellent adventure activities, romantic escapes and great shopping, restaurants, bars, museums, galleries and entertainment, you can't go past some of the incredible natural wonders found in this part of the world. Read on for some of the best ones in North America you need to visit at least once, to put on your itinerary for this year.
Niagara Falls
Of course, one of the biggest natural wonder tourist attractions in all of North America is Niagara Falls. Situated on the Canadian-U.S. border between Ontario and New York, this natural phenomenon is composed of three separate waterfalls which, combined, lead to millions of cubic feet of water thundering down each minute.
There are numerous ways to see this awe-inspiring site, so check out Niagara Falls packages for vacations which include things like hotel rooms with a view of the Falls, rides on the Niagara SkyWheel (where you can see the waterfalls from up high) and trips on the popular boat tours that take off from either country's side of the natural wonder. These excursions transport passengers up so close to Niagara Falls that they can get drenched by the water.
Mammoth Cave National Park
If you're looking for somewhere truly atmospheric to explore, head to the state of Kentucky in America. Here you will find Mammoth Cave National Park, a World Heritage Site and U.S. National Park that happens to be an underground destination. The park is part of the Green River Valley and the longest known cave system in the world.
As you walk through this area, you'll have a wide variety of fascinating chambers and subterranean passageways to choose from. In fact, more than 400 miles of caves have been discovered to date (though there is plenty that still hasn't been explored). This historical spot is thought to have been visited by humans for at least 6,000 years, according to researchers.
During your time in Mammoth Cave, you need to ensure you get to the Frozen Niagara section. This part gets its name from Niagara Falls, as the flowstone formations resemble waterfalls. In addition, make your way to the popular Gothic Avenue. Here you'll get to see a ceiling covered with signatures of people who have trekked into the cave from the 19th century onwards.
Hopewell Rocks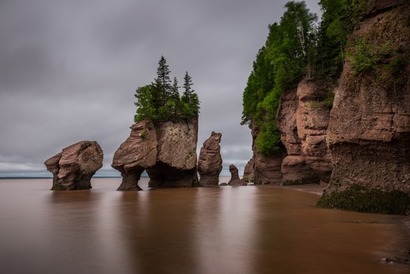 It pays to get to the province of New Brunswick to see the Hopewell Rocks. These unique formations are one of the most visited spots in New Brunswick because they showcase the power of Mother Nature. The Rocks have been carved out by erosion over thousands of years as tides empty in and out of the Bay of Fundy around Hopewell Cape.
Exploring this attraction gives you the chance to check out the bottom of the ocean without having to scuba dive. At low tide, when billions of tons of water flow out of the bay, you can make your way along the ocean floor, with the "flower-pot" sculptural rocks towering above you. There is more than a mile of beach to explore. Make sure you spend time in the nearby interpretative center; it's reached by just climbing back up the stairs from the beach.
Everglades National Park
If it's wetlands you're interested in, plan a trip to the Everglades National Park in Florida, U.S.A. This International Biosphere Reserve is the largest subtropical wilderness in the nation, and both a World Heritage Site and a Wetland of International Importance. The Everglades National Park is huge, covering almost 1.5 million acres; however, it still only protects a fraction of the total Everglades ecosystem (20 percent).
Listed as a specially protected region in the Cartagena Treaty, this Park is vital as it's a crucial habitat for all sorts of endangered creatures. Here live animals such as the American alligator, Florida panther, sea turtles, Cape Sable seaside sparrow, manatees, American crocodile, bald eagles, wood storks, Everglades snail kite, wood storks and many others. The Everglades is home to many threatened flora species too, like Krug's holly, the Florida thatch palm, tree cactus and buccaneer palm.
We are happy to present this collaborative post to offer valuable information to our readers.