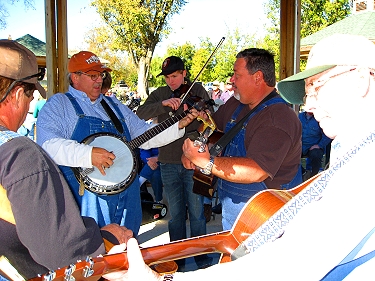 The Holidays may be the best time to catch some of the mountain music in the Arkansas Ozark Mountains, and we just happened to be in the area right as the season kicked off.
Even though the weather sometimes puts a damper on the outdoor impromptu jam sessions that the town of Mountain View has grown famous for, it is easily offset by the fantastic Caroling in the Caverns.
This incredible combination of music and geology is now in it's ninth sell-out season at nearby Blanchard Springs Caverns.
We were lucky enough to be invited to a dress rehearsal – normally reserved exclusively for the big-wigs – as every last ticket for this year's shows had been snapped up well before Thanksgiving.
These caverns formed over millions of years as an underground river carved out an amazing system of caves through the limestone here in Stone County.
What was left behind is an astonishing three levels of caves stacked upon each other.
We were escorted into the caverns by a ranger who took us down over two hundred feet in a crowded elevator.
Ears popping, we walked down a damp, dark hallway that opens up to the spectacular, and nearly acoustically perfect, Cathedral Room. This "room" is the largest part of the caves, a thousand feet long, and makes a pretty darn good underground auditorium.
A small set of bleachers rises up one wall of the cathedral, so we found a seat and settled in for some traditional folk music Christmas carols. Guitar, mandolin and mountain dulcimer accompanied superb hillbilly harmonies on classic pieces, as well as some local favorites written by area artists.
We had to smile, even laugh in spite of ourselves, at their Ozark version of The Twelve Days of Christmas, with gems like: "12 stills a brewin', 9 fiddlers fiddlin', 8 banjos strummin', 6 hounds a bayin', 4 razorbacks, 2 hickory nuts and a possum in a gum tree," the whole crowd was laughing like a bunch of Santas. Ho, ho, ho and a bowl full of jelly.
You can't swing a cat around these parts without hitting a folk music theater with a holiday show going on. The venues may not be as awe inspiring, but then water won't be dripping on your head either.
The White River Hoedown, Sons of the Ozarks Music Theater, Brickshy's Backstreet Theater, The Leatherwoods and Jimmy Driftwood Music Barn all deck them halls.
While most of these artists are not widely known outside The Ozarks, James Corbitt Morris, better known as Jimmy Driftwood, scored major hits as a songwriter back in the fifties with songs recorded by Eddy Arnold, Johnny Cash, Johnny Horton, Hawkshaw Hawkins, Homer and Jethro and Doc Watson.
Driftwood's hit, The Battle of New Orleans, was written when he was teaching at a local high school in an attempt to get his class interested in history.
Speaking of history, the history of traditional mountain folk music runs deep in these parts. As far back as 1941, a big weekend musical was held at a camp built by the Civilian Conservation Corps near Blanchard Springs.
In the fifties, paved roads arrived in Stone County and folks started coming down out of the hills to perform in town. Mountain View embraced these hootenannies, and in 1963 the first Arkansas Folk Festival was held. By the seventies, 100,000 people were showing up for the festival.
More festivals followed, the Arkansas Beanfest and Great Championship Outhouse Races, two Mountain View Bluegrass Festivals, An Old-Fashioned Fourth of July, and the Ozark Mountain Christmas. Soon folk music and crafts became the town's main economic engine.
In the eighties, The Ozark Folk Center was built to help continue the growth. The center hosts several events, including the Arkansas State Fiddle Championships, and workshops teaching banjo, dulcimer, and crafts.
Fiddle, banjo and dulcimer are all integral parts of mountain music, but the dulcimer is somewhat unique to it.
Of course even these traditional violins need to be in tune, so check out the best ways to keep them in perfect pitch at sound-unsound.com.
Up at The Dulcimer Shoppe here in Mountain View, they are glad to fill folks in on some of the history of dulcimers. Technically a fretted zither – zithers are a stringed instrument, but without a neck like a guitar or violin, and date back to 1560 in Denmark.
Over the years dulcimers migrated throughout northern Europe, then to Appalachia with immigrants, and finally to the Ozarks.
The other music store in town, Mountain View Music & Gifts, stocks all the traditional instruments as well, but is probably best known for their front porch jam sessions that spring to life anytime the weather permits.
All the usual suspects join in, banjo, fiddle, mandolin, dobro and guitar, but we saw several homemade additions to a few bands. Wandering through the groups we saw musicians throw down on spoons, washboard and a cool washtub bass.
Another favorite spot for jammin' is the courtyard in front of The Snack Shack right across the street, or any open patch of turf around the town square.
The city has set up several gazebos to act as bandstands for the get-togethers. These don't really serve as stages since the players tend to form circles and just play to each other for the love of the music.
But we can certainly attest to the fine musicianship of the participants after just one Saturday afternoon of meandering around from group to group.
We heard tell that these Saturday jam sessions used to get pretty raucous, until the city of Mountain View, and even the whole county, went dry in an attempt to get things back under control. Now days when folks get a hankerin' for some hooch, they just have to "make dew."
We didn't stick around to see, but we'd bet that the moon was shining right bright somewhere around town that night.
David & Veronica, GypsyNester.com
This post may contain sponsored links.