The northwest coast of Florida (yes, Florida has a west coast) is loaded with giant fresh water springs that attract tons of manatees.
There are theories that manatees like these are the source of the legend of mermaids.
These rely on the idea that the sea cows have some slight resemblance in shape and size to humans, and that after a long time at sea a sailor will see a woman no matter what he is actually looking at, so they are likely true.
But what do these have to do with each other, or our travels through The Sunshine State?
Well, in the crystal clear waters of Weeki Wachee Springs there reside both mermaids and manatees, so we figured what better place to test the theory?
When we got our first look at the spring, several manatees were lazily drifting through the crystal clear water, from far away and perhaps with some poor eyesight and the wishful thinking of several weeks of shipboard celibacy, one might mistake them for some sort of swimming female.
We could see it, until we saw the poster of the famous Weeki Wachee Mermaids that is, then… well let's just say there must have been some sailors in serious need of spectacles.
While these mermaids may not be the legends of lore, they do have quite a history. Back in 1947, former U.S. Navy diver Newton Perry hatched a plan to turn the spring into a tourist attraction.
He came up with the idea of underwater breathing through air hoses instead of tanks, built a little eighteen seat theater with a glass wall for viewing into the spring, found some pretty girls, trained them, and put up signs along Highway 19.
Only problem was that back then there were more alligators than tourists around.
Traffic passing by was so rare that when they heard a car approaching the girls would run out to the road to beckon the travelers in, a lot like their mythological ancestors, the sirens.
But as Florida grew, so did Weeki Wachee. In 1959, ABC bought the business, expanded the theater to five hundred seats, and introduced highly staged and themed performances.
The shows were a big hit and thrived, but by the 21st century modern attractions were drawing the bulk of the Sunshine State's tourists and Weeki Wachee was fading.
Luckily Florida's State Park Service took it over in 2008 and created one of America's most unique state parks.
We had arrived between shows, but not to worry, there were other activities to occupy our time until the next mermaid spectacular, including a boat tour down the river that flows out of the massive spring.
We like boats, in fact we are up for just about any ride on the water, so we headed across the park to The River Boat Cruise.
More African Queen than Delta Queen, our little river boat took us downstream on the Weeki Wachee River as in makes its twelve mile journey to the Gulf of Mexico.
We only went about a mile of that, but we did get an informative look at many of the local flora and fauna, including a majestic bald eagle.
After our cruise, we took in a bit more zoological observation at the Animal Encounter show where we met snakes, turtles, and the star of every Florida animal act, an alligator.
But the time was near for the main attraction, so we high-tailed it over to the theater to stake out some front row, glass-side seats.
The extravaganza kicked off to music, and one by one three fish-tailed divers entered the underwater stage. They performed a choreographed swimming number with reasonable precision and definitely impressive lung capacity.
The ability to hold one's breath for long periods is imperative to becoming a mermaid because the air hoses are only used to grab quick breaths between routines. This became a key feature later in the show.
Their most impressive move, a rotating circle of the three, came early in the show. Then, as it turns out, was repeated often.
We kept waiting for a school of more mer-folk to arrive, but alas, they never did. In fact, a turtle that decided to endlessly pester one of the performers was fast becoming the star of the show.
Throughout the program the camp factor (and we LOVE camp factor) was definitely high, with many fin-and-tail puns and even some underwater apple eating.
This was true Americana, but the show didn't take advantage of it as much as we hoped.
At least not until the big climax, when one of the mermaids attempted to dive over one hundred feet deep toward the bottom of the spring without any oxygen hose.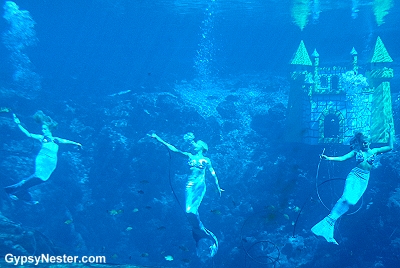 Without a doubt a breathtaking spectacle, except for the fact that the entire feat took place below a rock ledge that obscured any view from the audience.
While the emcee dramatically counted off the time she had remained submerged without air, we all simply stared into empty water. It was riveting.
Or maybe not, depending on the viewer's level of skepticism. Perhaps she was simply hanging out in the underwater dressing room where the performers prepare for the shows.
Either way, amazingly she reappeared no worse for wear and proceeded to join in on the grand finale. We were treated to one more round of the rolling circle of mermaids and sent on our way.
At the exit of the park we were bid adieu by one last mermaid sitting on a throne.
A wave goodbye seemed fine to me, but Veronica insisted, "you get over there and get your picture taken with that mermaid!"
As I sheepishly made my way up to the young lady turned real-live mythical creature, it occurred to me that getting to hear a statement like that is what Weeki Wachee is all about.
David & Veronica, GypsyNester.com
YOUR TURN: Have we convinced you to visit Weeki Wachee? Do you believe in mermaids now that you have photographic proof?