Even though we can't travel to Germany right now, we can still remember…
and learn how to make gingerbread. Yum!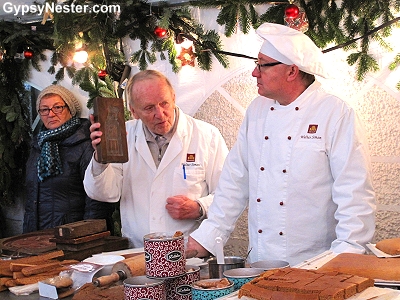 Our frosty December morning in Passau, Germany was warmed up with a stop at Confiserie Café Simon and a demonstration of making gingerbread.
Just the smell brought a warming ember to our chilled cockles. The baked treat is known here as Lebkuchen, which means loaf of life.
A fitting name that demonstrates how our English translation is a misnomer–there is no ginger in gingerbread. The original simple recipe consists only of rye flour, honey, and spices such as clove, nutmeg, and cinnamon. A more spicy version known as Gewürzlebkuchen (gewürzle means spice) includes molasses… see more about quaint Passau, Germany
David & Veronica, GypsyNester.com
Thanks to Viking River Cruises for inviting us along and providing this adventure! As always, all opinions are our own. See our entire Christmas cruise along The Danube with stops in Budapest, Bratislavia, Vienna, Durnstein & Melk, Salzburg, and Passau.