Everyone in the United States has heard the horror stories about Mexico, especially the border region, but the idea that our southern
border is an open, unchecked thoroughfare for illegal activities is patently absurd.
Driving along the US-Mexico border from California to Texas, we never went more than a few minutes without seeing the United States Border Patrol doing what they do best, patrolling.
There are checkpoints, lookouts, fences, trucks, Jeeps, electronic surveillance setups, airplanes, helicopters, boats and no doubt many other invisible resources — all working vigilantly to secure the frontier.
It's a dusty, dangerous, dirty job with few accolades. Each time we were pulled over our brave men in uniform were always thorough, efficient and polite.
This being said, I wasn't keen on the idea of actually driving down into our neighbor to the south. Veronica was a little more willing to take the plunge. Perhaps it fell under her fear conquering "people do it everyday…" mantra — or her Southern California upbringing — but I needed more information before running for the border.
We chose Gringo Pass, Arizona to take a peek across the border — mainly because Gringo Pass is a really funny name. After parking at a gas station, I took a little stroll to check out the tiny outpost.
I found myself wishing I had spurs on 'cause the chinking sound would have accompanied the dust I was kicking up perfectly. In lieu of said spurs, I shook my keys as each footfall landed and imagined myself in the wild west.
Less than a block down the only side street, I attracted an SUV driving border guard. After the usual "where were you born" and "what are you doing here" questions, I chatted him up a bit. He understood my border crossing apprehension.
He explained how most of our fears were unfounded — at least at this crossing –because the media tends to play up the bad stuff.
I suppose Border Patrol Does Fine Job Protecting America doesn't make for an attention grabbing headline.
Our new border patrol buddy explained that there are certainly parts of the border that better judgment would call for avoiding, especially the big cities like Tijuana and Juarez, but Gringo Pass wasn't one of them.
He went on to fill us in about a beautiful seaside oasis just an hour south of the border, Rocky Point — Puerto Peñasco in the native tongue. He literally said, "Go — it's great down there." We had no reason to think he was trying to send us off to meet our maker so we decided to head on down.
Our preparations for the excursion were minimal since, in a concerted effort to attract tourists, the Mexican government has declared about half of the state of Sonora, including Puerto Peñasco, a "Hassle Free Zone."
It's a bit of a strange name, perhaps a translation twist, but it means that vehicle permits are not required within the zone and, for visits up to three days, a tourist card need not be acquired. Badges? We don't need no stinking badges!
We did purchase Mexican insurance for our vehicle since American policies are not recognized south of the border. Coverage only cost a few dollars a day so there was no reason to take chances.
In chatting with the incredibly helpful agent, Sandy Rogers, at the Why Not Travel Store in Why, Arizona we learned that all traffic incidents are treated as a crime in Mexico and, as such, our vehicle could be impounded and we could find our butts in a Mexican pokey.
Sandy further recommended the Legal Aid addition to our policy. It was a peace-of-mind expense to assure that a lawyer would spring us from jail should something go terribly awry.
Policy in hand and passports (not necessary for entering Mexico but extremely important for getting BACK in to the good old U.S.A.) in our pockets, we headed into Sonoyta, Sonora. The typical bordertown begins the barren sixty mile run across The Sonoran Desert down to Rocky Point.
This piece of highway –which, by the way, is in much better shape on the Mexican side of the border — is straight out of an old western movie. The harsh landscape is strewn with classic Saguaro cacti standing arms-up as if some bandito got the jump on them. It made us feel like we might be seeing The Duke or Clint riding by any time.
The hype on Puerto Peñasco was not overblown. This little fishing village on The Gulf of California is one rockin' Rocky Point.
In an odd quirk, the English version of the name, Rocky Point, was actually the original form, given by the British Lieutenant Robert William Hale Hardy while sailing the area back in 1826.
Over a century later Mexican President Lázaro Cárdenas renamed it Puerto Punta Peñasco, or Port Rocky Point. Through the years the Punta got dropped, hopefully not on anybody's toes.
Once entering the city, we followed the main road until we hit water — always our general approach when entering an unfamiliar waterside town.
At the waterfront we found a public parking lot and proceeded on as pedestrians.
The original section of the town is bunched up on a few square blocks of crowded narrow streets by the harbor — better explored on foot.
Along the packed little main drag is an array of touristy shops mingled with bars, restaurants and fresh seafood shops. The fishmongers brandished gigantic raw shrimp — fresh from the gulf — in our faces about every twenty paces.
Mixed in with the barkers from every crap shop and cafe, the street is a gigantic jumble of Spanglish with a mariachi soundtrack. It's beautiful, quintessential Mexico.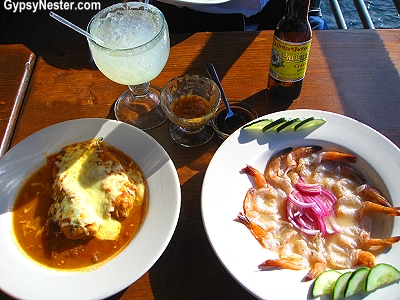 Shrimp is what Puerto Peñasco is all about. They are everywhere, on every menu and in every shop, either fresh or as souvenirs.
Hats, shirts, stickers, mugs and glasses all sporting clever crustacean catch-phrases designed to remove the pesos from the pockets of passersby.
Vendors along the streets and beaches have coolers filled to the brim with the fresh caught buggers and offer up bags to every possible
prospective buyer.
At the end of Malecón Avenue is a plaza with a tribute to the local seafarers. A statue of a fisherman riding a giant shrimp (an oxymoron if there ever was one) dominates the square.
A tribute to all of the adjoining states and their governors, both Mexican and American, proudly lines the yellow seawall.
The plaza is a popular meeting place for locals and a great place to watch the shrimping fleet as they line up waiting their turn to drop off the day's catch or head back out for another boatload.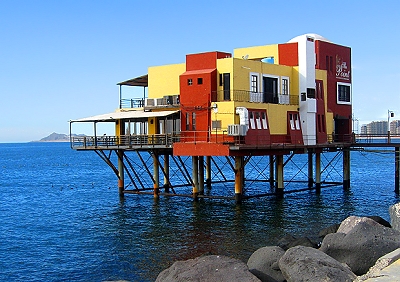 Along the waterfront stretch there are a bunch of great spots for a relaxing sunset libation overlooking the Sea of Cortez.
Over the span of our stay we tried several of them but our favorite had to be The Point. It juts clear out over the water — at least
when the tide is in — for an up close look at the dolphins that came by every afternoon.
Another highlight of our visit was The Tequila Factory in the newer part of town. Not actually a factory, it serves as a storefront for La Cava de los Compadres tequila brewers.
After a brief but highly informative program about the history and process of making tequila we sat at a little bar and tried about a dozen varieties of the agave juice in a procedure very much like a wine tasting. Luckily the samples were just a small taste so we didn't do any "drunk bicycling" on our way back that afternoon.
A fifth of the golden liquid aging in the lobby was purchased as a gift for my dad, a tequila connoisseur. An empty bottle was filled from the barrel, corked, scotch taped shut and wrapped up in newspaper for safe keeping. Good thing we didn't get stopped by customs because it easily could have passed for moonshine. I can't imagine that being good scenario.
Speaking of moonshine, a full moon graced our stay — adding magic to the Mexican nights and creating some amazing tide fluctuations. Huge stretches of beach, a hundred yards or more, would appear and disappear during the course of the day.
It made for some great seashell and tide pool exploration as outcrops of volcanic rocks, usually part of the seafloor, became exposed. We had quite the time examining the critters left behind by the receding water.
Whether we were poking around on the beach, wandering the dusty streets or sipping a mariachi-serenaded ice-cold Pacifico at sundown, it's hard to imagine how a getaway so close could have felt any farther away.
David, GypsyNester.com