A huge part of how we acquire knowledge about new locales is by exploring their culinary fare. On our expedition to Mexico's Puerto Peñasco we continued in that tradition.
As is often the case, we found that the typical food of an area is not what we Americans expect when we think of "ethnic" food.
Italian pizza is not even remotely comparable to the Dominos version and real Mexican food ain't no Taco Bell.
In fact, "real" Mexican food varies drastically depending on the region in which the meal is prepared. In Puerto Peñasco real means shrimp, shrimp and, yup, more shrimp.
Ah yes, sampling all of those tasty treats was a dirty job — but somebody had to suffer through it!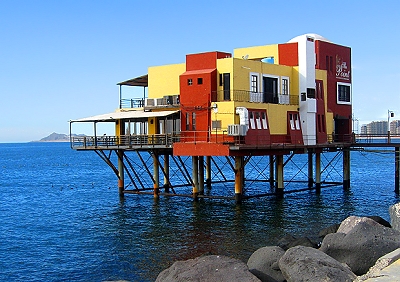 We started our crustacean consumption at the Point, an interesting establishment that is not on the water as much as it's out in the water. At least until low tide.
Stopping in for a late lunch/early dinner, snack 'n cocktail/sunset watching on the deck suspended over the Sea of Cortez to take-a-load-off-our-feet-after-walking-around-town kind of thing didn't suck – add a cold Pacifico and what the menu called a Mexican shrimp cocktail and we certainly felt like we were settling in for some true Mexico cuisine.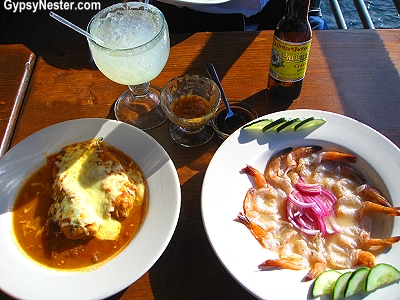 Unlike the dish we're accustomed to, Mexican shrimp cocktail lacks cocktail sauce and the shrimp is not boiled.
Marinated in lime juice, the shrimp "cook" the same way as ceviche — in the acid of the lime.
To properly pull off this dish, the shrimp must be exceedingly fresh, and ours were straight out of the water.
Served fanned out like a flower with onions and cucumbers, it looked almost as good as it tasted… almost.
To round out our "snack," the Point's chili relleno, a pablano pepper stuffed with shrimp and white cheese, was spot-on spicy, ooey-gooey, muy, muy bueno.

The next day, after scouting about town, we returned to the waterfront. Large bodies of water seem to have a magnetic effect on us. As do the delicacies that dwell there.
Click here to see Mexican cuisine in the Yucatan!
For a quick lunch we chose Mary's Sea Food Restaurant. As a rule in tourist towns, locals avoid the places where travelers congregate.
Not so at Mary's. Located right in the thick of the tourist traps, this eatery is just too good and too much of a bargain for full-time denizens to resist.

Mary's lower level has the hustle and bustle of an active fish market and kitchen — all happening right in front of the customers.
Talk about watching what you eat!
The upstairs is an open air picnic-style feeding ground overlooking Cortez's old cruising course. The day was gorgeous and sunny so up the stairs we went.
We ordered the Special Seafood Combo for two, a mix of breaded, grilled and garlic shrimp with breaded, grilled and garlic fish arranged around salad and whomped out on a gigantic platter. Each variation was fantastic.
There's no telling which two people could ever eat this humongous platter — it certainly wasn't us. Mary doesn't send anyone away hungry.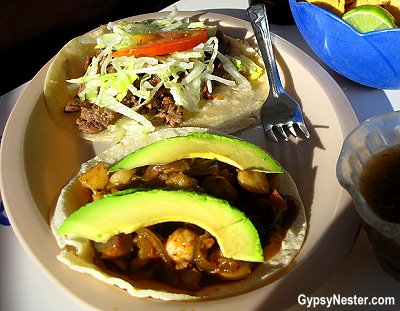 We stopped by Mary's the next day for a couple scallop tacos — at two dollars each — snarfed down quickly on the ground floor.
If we had been wearing any socks they would have been knocked right off.
We could have stuffed ourselves silly trying one of everything that Mary had to offer but we had eatin' plans for later…
Up a rutted, rocky, steep dirt road perched atop Whale Hill stands The Lighthouse. Overlooking the old port, it really is a lighthouse — at least on top. Underneath the signal lantern is a restaurant with a view to rival any found under the sun.
The food may not quite be as spectacular, it would be hard for any grub to be, but wait… the best was yet to come.

We began with a plate of Queso Frito.
Sliced Queso Chihuahua, a mild Monterrey Jack-like cheese, lightly fried and covered with salsa verde.
Delicious… off to a good start.
The entrées were fairly standard fare. Meat and potatoes with a little Mexican flair and of course, shrimp.
An especially intriguing menu item was the "Divorced Fish."
Normally, we would be all over a weird item like this, but somehow we didn't want to spoil it with explanations — the possibilities as to why a dish would be called Divorced Fish were simply funny enough.
But the pièce de résistance was still to come. It's not often that coffee is the highlight of the meal, but it is at The Lighthouse. Famous for the flashy preparation of their Mexican Coffee, patrons are provided with dinner AND a show.
Take tequila, Kahlua and coffee, add a flame and viola… magic!
With skill, flair and daring our waiter / performer extraordinaire cascaded the blazing liquid from one silver salsera to another.
Gravy boats everywhere must be mighty jealous of these two sparkling showboats. After a bit of grandstanding, the fiery fluid was poured into cups with a bold double waterfall technique.
Watch: A Flaming Waterfall of Mexican Coffee

Cinnamon is added for a light show that rivals the 4th of July. Then for a sensational finale, fresh cream — hand whipped at our table no less — was added before a burning cherry was lovingly placed atop the concoction.
Singed eyebrows were a distinct possibility so we made very sure that the beverage was extinguished before going in for a sip. Delicious!
Considering the amount of booze involved, somewhere between a pint and a gallon, it's not very strong, just flavorful. The flames burn off most of the alcohol but leave the deliciousness behind. A pleasing potent potable if there ever was one, maybe we should have a little music to go with it.
Enter the strolling mariachi. Their timing could not have been better. We asked for a lively tune in the hopes of removing "Guantanamera" from our heads.
The song had been beaten into our brains — by those evil El Pollo Loco commercials back in the States — to the point that we were now singing "One Ton of Mayo" on a regular basis. Damn you El Pollo Loco and your obnoxious, catchy jingle!
The mariachi's marvelous mixture of guitar, vihuela, guitarrón, accordion and, lucky for us, harp — a rare special inclusion — was more than enough to remove the dreaded ditty… at least for a while.
Hey!
By the time we were headed back up to the States, a chorus or two of "One Ton of Mayo, I Don't Need One Ton of Mayo" had reinvaded our craniums.
We were hoping the customs agent would take away all of that mayo as undeclared — but were content that he didn't confiscate that
bottle of hooch we brought back as a gift for David's father.
David & Veronica,
GypsyNester.com