In honor of Veteran's Day we take a look back at our visit to this historic site a few years ago.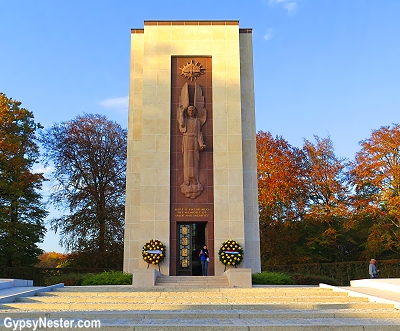 At Hamm, technically we returned to the United States when we visited the hallowed ground of the Luxembourg American Cemetery and Memorial, which is officially American soil.
Luxembourg presented the land to the US in perpetuity in appreciation for helping free the country from Nazi occupation.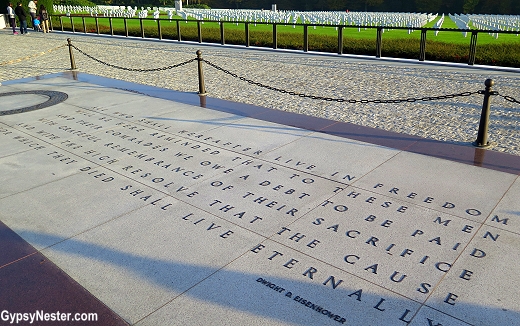 In 1939, Luxembourg declared itself neutral as war broke out. Germany had other ideas, invading on May 10, 1940, then occupying the country and sending the duke and government into exile.
Two years later, the Third Reich formally annexed the duchy and declared Luxembourgers to be German citizens. At that point they began drafting thousands of men to fight in the war.
Strict rules — including a ban on speaking French — were imposed. A resistance movement formed, but opposition to German rule was severely punished.
Passive resistance was most common, with refusing to speak German at the top of the list. Many Luxembourgers returned to the old Luxembourgish, and, in the process, most likely saved the language from disappearing.
U.S. forces liberated Luxembourg in September 1944, but were almost immediately engaged in the Battle of the Bulge and parts of the country fell back into German hands.
The allies ultimately prevailed, which was instrumental in ending World War II, and many of the soldiers who lost their lives in that combat are buried at the Luxembourg American Cemetery.
We somberly walked the grounds where over five thousand soldiers are interred.
One of them is General George S. Patton, who survived the battle only to perish in an automobile accident a few months later.
He was originally buried alongside his troops, but in an effort to keep the surrounding graves from being trampled, he was moved to the forefront of the site.
As we were leaving, we met the cemetery superintendent, Scott DeJardins, who lives at the site.
He explained to us that because of the unique position of this — and the many other United States Military Cemeteries around the world — as American territory, there is always an American caretaker.
Mr. DeJardin is happily serving his fifth assignment in the last nine years, and is headed to Normandy next.
It's a job he clearly loves, in fact he said "I'd tell my boss I'd do it for free, but I'm afraid he might take me seriously."
A welcome bit of levity in our very solemn visit.
David & Veronica, GypsyNester.com