There are several things about the Sunshine Coast of Australia that reminded us of Florida, beautiful beaches, near perfect weather, rousing waterfront resorts, and most surprising of all, everglades.
Yes, Queensland has its very own everglades, and we were lucky enough to spend a day exploring them by kayak.

This was not something that we felt in any way qualified to pursue on our own, so we joined former Australian kayaking champion Vivienne Golding, chief cook and bottle washer at Kanu Kapers, on an adventure into Great Sandy National Park.

We followed her to Elanda Point on Lake Cootharaba, where we put our vessels in the water and paddled off for a day of peaceful drifting along the Noosa River, and the lakes, swamps, and ponds that form its everglades.
In addition to being protected and preserved as a national park, the area was named a UNESCO Biosphere Reserve in 2007 and Kanu Kapers has joined as a partner in the long term sustainability of this pristine area.

Through the partnership, they share experiences and ideas regionally, nationally, and internationally with a worldwide network of biosphere reserves.
The reserves serve as living laboratories for various approaches to sustainable development based on sound science and local community action. They also encourage entrepreneurs to form eco-friendly businesses in public and private sector partnerships.
It felt pretty cool to be a small part of it.

It also meant that we would be using people power to get across the lake, no burning-noxious-fume-producing petrol on this journey.
We are always game for a little exercise, so that was cool with us, and it gave us time to learn how to paddle properly. There's more to propelling a kayak through the water than thrashing the surface with a flat stick. Vivienne demonstrated a simple and efficient technique that eliminated all of our wasted energy.

Even with the wind in our faces we surprised ourselves with our paddling prowess.
Once we crossed the lake and reached the Kinaba Information Centre — built on stilts — we entered the skinny passages that flow between the sandy islands and swamps.

In these narrow bayous, we discovered something even better about our motor-less mode of transport than our lack of polluting; by forgoing an engine we enjoyed the tranquility of silence while drifting along.
There is almost no noticeable current, which is one of the characteristics that makes this basin an everglade, so we could paddle in any direction without fighting the flow.
We were able to approach many of the hundreds of species of waterfowl who make these glades their home without spooking them into taking flight, including a flock of black swans.

After exploring several creeks and tributaries, we put in at Fig Tree Point for a little break and brunch.
While Vivienne laid out a spread of fruits, jams, breads, and cheeses, we headed out for a short hike through the forest.

The Melaleuca trail, named for a medicinal plant of the myrtle family, took us on a loop around the sandy peninsula.
We didn't have a clue how to spot the plant, but along the way we were introduced to one of the larger reptiles on the continent, an Australian monitor lizard known as a goanna.

Even on the boardwalk, we presumed that extra-large lizards have the right of way, so we allowed him to pass before heading back for a bite to eat.
Between the warm sun and the full bellies we were beginning to feel a tad droopy, and have to admit that we were less than excited at the prospect of paddling back across the looming lake, but Vivienne had one more surprise in store for us. As soon as we reached the open water she had us stop at a shallow sandbar and climb out.

Standing knee deep in the middle of the lake, we couldn't help but wonder what she was up to. Were we going to swim for it?
Nope, she asked if we had ever sailed before and accepted our answer of "a little" as a signal to go ahead with her plan. She then produced a couple of sails and masts out of a secret compartment in her kayak and in no time rigged both boats into tiny sailing ships. Suddenly that wind we fought on the way over was our new best friend.

We had a blast riding the breeze, and one thing's for sure, there is no way any human could ever paddle as fast as we got going when a good gust would catch us.
We even managed not to tip over– though it felt incredibly close a few times. With grins plastered on our faces we made the crossing in no time flat.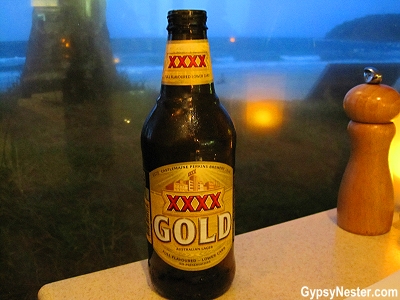 Soaked, sunburned, and sandy-footed after dragging our kayaks back to the trailer, we still had those goofy grins as we drove away.
Why not? No reason to wipe them off to spend the rest of the day in the enchanting little beachside town that shares its name with the river, Noosa Heads.
We might not be ready for the America's Cup, but we most certainly were ready for a cuppa–or maybe even a Four X.
David & Veronica, GypsyNester.com
Delve Deeper:
Go to the Kanu Kapers website
Find out how we got to cuddle a koala!
Bucket list check! We snorkeled the Great Barrier Reef!
Watch us skydive above beautiful Queensland – yikes!
Follow us into the Australian Hinterland
Go for the Gold Coast of Queensland and watch us feed crocs!
Find out how we saw all of the bizarre Australian animals in one place!
Let Us Introdoos-ya to Noosa and Spread a Little Sunshine Coast
Huge thanks to Tourism and Events Queensland and Kanu Kapers for providing this adventure! As always, all opinions are our own.
Click here to see all of our adventures in Queensland!