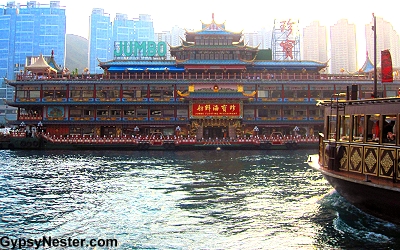 Since 1976 one of Hong Kong's top tourist attractions has been Jumbo Kingdom, a floating restaurant.
Wait, floating? Yes, it is moored in the middle of Aberdeen Harbour. Imagine our excitement when we learned that we could combine two of our favorite things, boats and food.
We did a little investigating and found that from our hotel it was just a short walk, a subway ride, a bus ride, another short walk, and then a free shuttle boat out to the kingdom. Piece of cake.
And it was, right up to the finding the free ferry part. When got off the bus at the Aberdeen Promenade that runs along the harbor we could see the restaurant floating off in the distance.
It looked like a Chinese imperial palace floating in the water, so we headed in that direction. Turns out we took a wrong turn.
After walking a half mile or so, the promenade ended and things got a little dodgy.
First we passed a sidewalk hair cutting session, strange but not enough to deter us.
Then the path became a nothing more than a combination of boards, rocks and mud that ended up going into some fishing shacks. Okay, time to admit we were going the wrong way.
When we made it back to the promenade we asked, as best we could, and were directed to some docks on the other side of the bus stop.
We were finally on the right track and, looking on the GypsyNester bright side, we had a nice walk beside the water.
We arrived at the pier marked Jumbo Kingdom, climbed aboard the little vessel waiting there, and the driver asked for forty Hong Kong Dollars.
Hmmm, thought it was supposed to be a free shuttle. Oh well, we handed over the dough, which came to about five bucks, and waited to set sail.
Just as another couple was about to board, and be relieved of a few dollars, the real, free shuttle appeared and our dude shoved off in a hurry.
As it hit us that we'd been scammed, we couldn't decided if we should be upset, or admire the water taxi guy for his ingenuity at profiting off the tourists.
Since he didn't stick us for too much, we settled for being a little of both.
We chalked it up as our contribution to what we call the "stupid tax" and went on with our day. We've paid much higher fees for being dumb than five dollars.
Pulling up along the front entry way / deck, we got the full impact of the over the top ornamentation.
It's so impressive that a Queen (as in Elizabeth II), a Duke (as in John Wayne), a Maverick (as in Tom Cruise), and over thirty million other people have all felt the need to see it.
By most all accounts that we had read, they didn't come for the food.
Jumbo Kingdom's reputation for fine dining is somewhat less that stellar but, according to a few articles we found, they are working hard to improve it.
No need to improve on the decor though, and the inside is every bit as intense as the outside.
The lack of any five star rating certainly didn't matter too much to us, it was the middle of the afternoon so we just came for tea and dim sum.
Plus we were on a boat, and eating, in perhaps the gaudiest restaurant on the planet, really, it's GypsyNester heaven.
To our somewhat less than expert palets the dim sum seemed fine.
The sticky rice in lotus leaf was both sticky and wrapped, the steamed buns were steamy, and the shrimp dumplings had whole shrimp hiding inside.
None of them were the best we'd ever had, but certainly not bad. And with all the tea we could drink, the bill wasn't bad either, just over twenty bucks.
Had we come for dinner we'd have had a choice between several options because The Jumbo Kingdom actually consists of several venues; The Jumbo Floating Restaurant, The Topdeck which is not surprisingly on the top deck of Jumbo and serves western cuisine, Dragon Court fine Cantonese dining on the first deck, and Tai Pak Floating Restaurant moored alongside.
It might have been nice to see the kingdom in all its glory lit up after dark, but we felt better trying to find our way to and from it in the daylight.
So with the sun sinking low, we made our move toward the boats out on the front deck.
It was much easier to find the free shuttle boat from this side, except it dropped us at a different pier… so finding the bus, that was another story.
David & Veronica, GypsyNester.com
Delve deeper:
See all of our antics in Hong Kong!
Explore the enormity (and beauty) of Big Buddha
View the wares on the Tonic Food & Dried Seafood Streets
Find out more about the whimsical Panda Hotel
Learn our tips on how (and how NOT to) fly to Asia
Continue along with us on our Amazing Asian Cruise though China, South Korea and Japan!