Peaceful sleep is always bliss. Especially after a busy day`s work. A night of quality sleep improves your health and keeps you focused all day. Getting proper sleep helps the body to repair and be fit and ready for another day. Getting proper rest may also prevent complicated heart disease and prevent excess weight gain.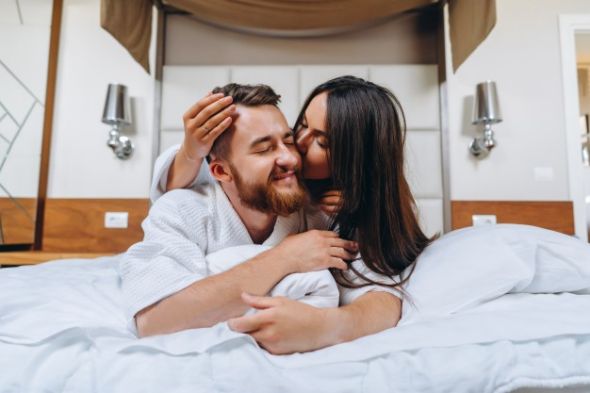 Various factors determine the quality of your sleep but it is especially the bed and mattress that determines the quality of sleep that you would be receiving. But a mattress again must be chosen wisely as it not only must provide comfort to you but also must be comfortable and peaceful for your partner. Usually, couples end up having a similar set of preferences while choosing a mattress but there are times when couples have varied opinions on the choice of their mattresses. However with the right mattress and with some compromises, one can easily settle onto a perfect mattress that will promote perfect sleep for both of you.
The very first step of choosing a mattress is the size of the mattress that one would be settling into. There are various sizes of mattresses that would provide comfort and space as indicated in the table below.
Size
Dimensions (IN)
Dimensions

(FT)

Fits
King
76"x80"x11
6.33×6.67×0.92
1 adult with 2 children, or two adults with 1 child
Cal Kings
72"x84"x11
6x7x0.92
 1 or 2 adults with children
Queens
60"x80"x11
5×6.67×0.92
 1 adult with pet , or two adults
Full
54"x75"x11
4.5×6.25×0.92
 1 adult with pet,or two adults
Twin XL
38"x80"x11
3.25×6.67×0.92
1 person
Twin
38"x75"x11
3.25×6.25×0.92
1 person
 
 
 
 
One of the most agreed sizes is that of a queen, Queen size mattress is perfect for a couple as it is not that small that makes each other un- comfortable nor it is that wide and big that occupies a lot of space in your bedrooms and seems stretched. Though the two other mattresses the king and cal king are longer and wider and would allow extra space for couples to stretch, though it would eat into some of your bed-room space if you have a large bedroom and would like a bigger bed to stretch out you can still go for the other two-bed categories options.
After you have agreed to a particular size there comes some other factors that come into the show while you choose the best mattress for yourself as well as your partner. Comfort, durability, and budget are some other factors that need to be kept in mind while making a purchase. Below are some of the best mattresses that can be considered best for couples.
Best couple mattresses are categorized as follows:
Zoma Mattress
Zoma mattress is considered one of the best mattresses for couples that are designed to improve your sleep cycles and help you wake up feeling refreshed every day. The mattress has a thickness of 12 inches and has a medium feel and it is really good for couples who are side, back or combination sleepers. The bed is covered in three layers of foam and is wrapped in breathable and stretchy Air-cloth cover.
The top layer of the Zoma mattress is two inches of gel memory foam with triangles technology. The Triangulex technology ensures that the legs and shoulder are properly cushioned while the back is properly supported.
The next layer contains a Reactive foam, a latex-like foam designed to add extra bounce and flexibility to the mattress. The base of the mattress is made from support foam which promotes the healthy alignment of your spine by supporting the two above layers and preventing slump.
Also, it is an all-American mattress and does not contain any flame retardants or heavy metal. It also comes with a 100-night sleep trial with 10 years warranty on sags and workmanship.
Hybrid Mattress
Before diving deep into the next category of mattresses one must understand what is a Hybrid mattress. Hybrid mattresses are any mattress that combines multiple forms of support and comfort by mixing memory foam, gel, and innerspring coil technology. It is built with at least two or more support systems.
Generally, Hybrid mattresses feature a foam set of top layers over an innerspring system or individually wrapped pocket coils that gel with the familiar. It combines the best of all worlds with one supporting, pressure-relieving benefit of new memory foam while adding in the newer gels with the familiar feel of an innerspring mattress.
Many brands sell mattresses that combine all the luxuries of a hybrid mattress without being that expensive. They are extremely light and help diffuse sweat and discard off heat. Its gel-infused memory foam promises each person a decadent and extremely plush sleep while the gel is heat diffusing which allows the mattress to stay cooler at night thus giving the sleepers a peaceful sleep. The memory foam of this hybrid mattress supports and deep contours that provides a back foundation while retaining a comfortable experience of soft sleep.
Some other types of mattresses ideal for couples
Memory Foam Mattress:
They are a great option given you have pain issues because of their excellent cradling system. The major issue that is associated with memory foam is that of heat retention. But the manufacturers today have developed a technique that keeps the foam layers cool. When two individuals share a bed, the bed must remain cool because the heat released from their bodies can make the bed hotter.
Latex Mattress:
These mattresses are very similar to memory foam mattresses. These types of mattresses are very durable, supportive and at the same time provide pressure reliefs. They are made from the sap of rubber trees and are great for the environment.
Innerspring Mattress:
Innerspring mattresses are made from springy coils and they become very much squeaky and create disturbing sounds while sleeping. Also, the comfort layers sometimes get flatten and shift out of place. The fluffy and comfortable layer is made of cotton, wool, polyester, etc. These types of mattresses provide great support. But these mattresses, though are very much popular; they are not at all comfortable or longer-lasting. After a certain time, the coil in the innerspring
Conclusion
Though finding the appropriate mattress can prove to be a hell of a difficult task, with this guide, we hope you can easily make your choice. Just get proper research done and list down your priorities before coming to any conclusion. Reads multiple reviews from the customers as well as the blogs and searches for attractive deals. Remember, your relationship shall bloom only if you stay fit and healthy. Find the right mattress that is comfortable for you both.