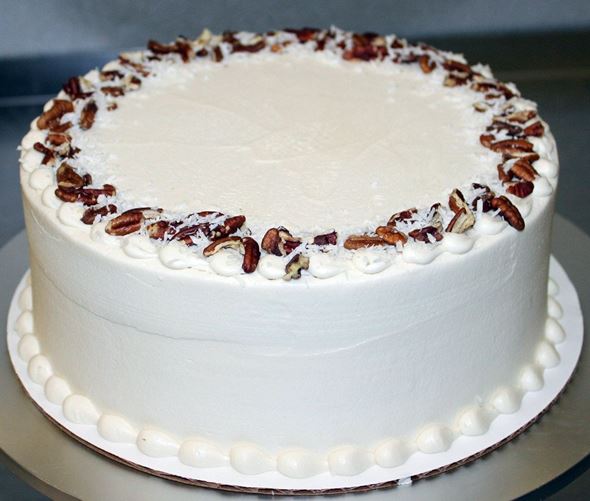 This iced Italian cream cake is rich, moist and just simply irresistible. Easy to make from scratch even for the beginner bakers. Perfect compliment to any occasion like birthdays party, bridal shower or a family holiday, it is incredibly delicious.
But what really takes this cake to the next level is the extraordinary Italian meringue buttercream frosting. Because it contains whipped egg whites it is much fluffier, lighter and silkier compared to a regular buttercream, that only has butter and sugar. I also find it not as sweet. Italian meringue is made by drizzling 240-degree Fahrenheit sugar syrup into whites that have already been whipped to hold firm peaks. Whipping continues until the meringue is fluffy voluminous, silky, stiff, and glossy. And it has to get cool as well. Adding hot sugar syrup actually cooks the egg whites. This locks the protein structures in place and prevents your meringue from breaking. The next step is adding butter to your mixture of whipped sugar and egg whites. In order for buttercream not to separate, the butter and meringue have to be at the same temperature. To achieve this make sure your meringue is fully cooled down and your butter is at room temperature.
Making this phenomenal frosting seems like an ambitious resolution but it is so absolutely worth it. The result is snowy white, gorgeous looking cake that is oh so tasty. Everyone will be raving about it and it is so delicious, it might disappear even before the occasion it is made for. Under the frosting there are 3 layers of moist, divine, pillow-like cake. Infused with shredded coconut for a wonderful aromatic touch and texture. A hint of vanilla adds a beautiful fragrant touch. The sheets of cake are baked to perfection and then layered with Italian meringue buttercream frosting. The frosting also covers the top and the sides for a pretty, white perfection.
You can also use pecans or walnuts or decorate as a finishing touch.
This iced Italian cream cake recipe is always a hit and a real treat.
We are happy to present this collaborative post to offer valuable information to our readers.