Usually a cruise brings to mind tropical ports of call and lounging in the sun by the pool with a tall glass of something cool. The only ice to be found is in that drink.
Well, our trip through Alaska's inside passage put that image on ice… tons and tons and tons of it!
We got to get up close and personal with some of North America's greatest glaciers without ever leaving the comfort of our luxurious ship, the Royal Princess.
Usually the highlights of a cruise take place on shore at one of the ports of call along the way. Interesting stops is almost always the top thing we look for when we pick a cruise, but our favorite days on this trip were on the water.
Our first day out we had a spectacular encounter with the Hubbard Glacier, the largest tidewater glacier in North America. That morning we saw it on the horizon, and even though we hadn't even had a chance to unpack yet, that upcoming rendezvous left us a lot to unpack.
We could hardly wait to see it up close and learn more about it, such as where did it get its name, how big is biggest, and what is a tidewater glacier?
Let's see, the answer to the first one is from Gardiner Greene Hubbard. As a founder and first president of the National Geographic Society he certainly seems to have been a good choice. But wait, there's more. He was also a founder and the first president of the Bell Telephone Company. What a guy!
As far as size mattering, how about 76 miles long and 400 feet thick at the face? To put that into some perspective, that's like a forty story tall river of ice flowing from New York City almost to Philadelphia. Talk about a traffic jam!
Even more remarkable is that it can be up to three times that thick in some places as it moves down the mountain on a 400 year journey to Disenchantment Bay.
Tidewater just means that the ice travels all the way to the sea, which is becoming more and more rare as glaciers all across the world are melting and receding. Even this far north, most no longer make it to the ocean. You can believe whatever you like politically, but there is simply no denying this fact.
Impressive as all of that is, nothing compares to seeing this behemoth from a few hundred yards away. We got near enough to feel the cold air off of the ice.
It is hard to relay just how mesmerizing this sight was.  We stared nonstop at the frozen colossus for over an hour. It's not like it did anything during that time, we just couldn't bring ourselves to look away. Even as the ship pulled off, we watched Hubbard shrink in the distance until it was gone.
The next day we sailed into Glacier Bay National Park.  As we were entering the bay we noticed a small boat approaching our massive vessel.
Pirates?
Nope, rangers.
Nearly 80% of the people who come to Glacier Bay arrive on cruise ships, so the National Park Service offers programs where rangers provide interpretive services aboard the ships.
Not only did they broadcast an ongoing explanation of what we were seeing over the ship's speakers, they also had several rangers roaming the decks to field any questions passengers may have.
You didn't think we knew all of this information off the tops of our heads, did you?
Without a doubt this is one of the most remote National Parks in the system, and that's saying something because most are pretty darn remote.
There are no roads to, from, or through the park, so visitors either walk or take a boat. Glad we chose the seafaring route. Not that hiking wouldn't be very cool (in more ways than one), but we got to see a lot more by ship, especially in one day.
For those who long for more than a day, there is a lodge and a campground in the park that can be accessed by airplane or boat.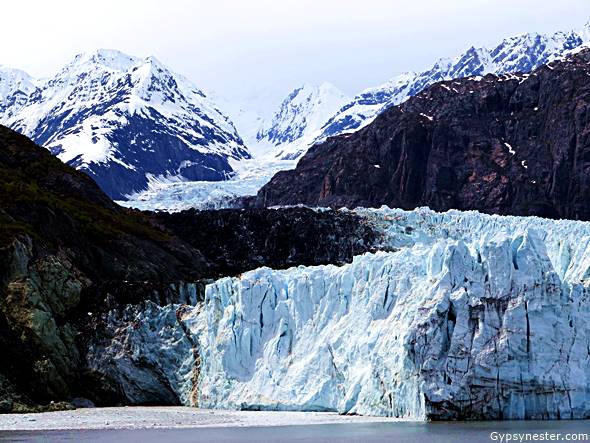 After cruising the length of the bay and passing gorgeous scenery, including a herd of mountain goats clinging to a cliff, we arrived at Margerie Glacier.
Even though the Royal Princess is an enormous ship, over a thousand feet long, we still got incredibly close, much closer than the day before at Hubbard Glacier. This is because the sea is deeper here, which made this encounter with the smaller glacier every bit as exciting as its giant cousin.
Since 1925, when Glacier Bay was declared a National Monument, Margerie has been seen by more visitors than any of the glaciers in the bay. It is also one of the most active due to its steep drop from around ten thousand feet high.
This activity leads to tons of icebergs floating about the bay. Luck was on our side in that none of these were big enough to pose a problem. In fact our ship plowed through them as if they were nothing at all.
Yet some were large enough for seals to use as floatation devices, with one little guy, or at least he looked little from way up on the 16th deck, riding by on his own private berg.
It didn't strike us as nearly as nice as our accommodations, but then he certainly did look completely content.
Guess he knows how to cruise.
David & Veronica, GypsyNester.com