Big thanks to AARP Members Advantage for providing us the opportunity to check out all the ways we can save on travel at the AARP Life@50+ Expo. As always, all opinions are our own.
Not gonna lie, turning 50 was not our favorite thing in the world. Not even close.
The thought of opening another birthday greeting only to find one of those yuk, yuk, yuk, incredibly hilarious look-you're-so-old, you-turned-50 cards inside started to make us feel stabby.
A few years later, we feel safe being around knives again, but we have not fully embraced the idea.
We should have celebrated getting our AARP cards in the mail, but that consolation prize didn't soften the blow much.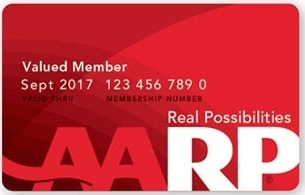 Sure it's an American rite of passage — and we knew it was coming — but whipping out that card and asking for our "senior discount" seemed kind of cringe worthy.
We Boomers tend to shy away from calling attention to our proficiency in surviving numerous trips around the sun by using words like senior, old, geriatric, enfeebled, decripit or elderly. We even shun clever monikers like superannuated or PC terms like mature, skilled and along in years.
Personally, we're quite vain about our labels (but at least we own our denial!).
Luckily, with the magic of the Internet we can instead cyber-whip out the old AARP card, save some serious travelin' green, and never have to hand our card to some snarky young whippersnapper.
Prepare to be amazed by all the ways we found to save on travel at the AARP Life@50+ Expo in Miami!
Get Outta Town!
We always start our trip planning at the AARP Travel Center where we always save a bundle on airfare. Further bundles are saved by bundling flight, hotel and car rental.
There is a best price guarantee, but we usually dig for better airfares anyway – and have never found a lower fare elsewhere.
We've found the interface extremely easy to use, but have also taken advantage of the no-service-fees 800 number with a cheery expert on the other end of the line.
If you prefer the ease of a full-service travel agency (yes, they do still exist!) then Liberty Travel is at your service.
Liberty offers great discounts and perks to AARP members by phone, online, and at their offices all over the United States.
Road trip!
Want to take off on a Great American Roadtrip?
Many well-vetted rental car companies offer discounts to those of us of a certain age.
Seriously, we've had a lot of practice driving — and we're not nearly as prone to road racing (or raging) as we used to be — so it makes tons of sense to give us a break in price, right? Click here for offers from Budget, Avis, Payless – and our new fave, Zipcar.
David the Train Nut is drooooooling!
Are you a train nut too?
Vacations By Rail has put together some amazing train trips in our great big world's most stunning locations – and we rail aficionados benefit greatly by whipping out our discount cards.
Let's cruise!
Want to see the world by water?
There are so many ways to cruise – and whether you like the big bohemoths with all the bell and whistles aboard, luxury ships with all the pampery touches, adventure cruises or rolling down a lazy river – there's savings waiting for you, just because you've had a bunch of birthdays.
Click here for all of your cruise discount choices!
GypsyNester Tip: Cruises make great multi-generational trips!
Finding a place to crash
While discovering discounts at the AARP Expo in Miami, we stayed at The Palms – it was fabulous! Should you want to stay at The Palms as well, use the code DISCAARP for a 7% discount when you book online.
Find discounts on accomodations from Motel 6 to the Waldorf Astoria to a lodge at a National Park!
GypsyNester Tip: Travel in the off-season for even deeper discounts on hotels.
Strapping on the ole feed bag
In Miami, we ate seafood until we couldn't anymore at the Oceanaire Seafood Room. They offer a 10% discount if you whip out your card – so don't be too vain to ask!
The possibilities are endless – from fine dining to the most casual of casual eating experiences (free donuts!)- you're covered with AARP Membership Discounts.
It may be the best thing about turning 50.
David & Veronica, GypsyNester.com
DELVE DEEPER into discounts:
— Veronica's biggest tip on mother-in-law bliss – and how to save 20% to boot!
— Suzanne at Boomeresque fills us in on savings we receive when things go terribly awry while traveling
— Chloe Jeffreys talks about how thinking about retirement scares the heck out of her!
— Sue at FoodTravelist delves deeper into the food side of "certain age" discounts!
— Kim AKA the Travel Gal at TimesUnion.com shares how she enjoys her savings
— Stephen at GoNomad fills us in on how AARP got started – we had no idea!
— See favorite part of Life@50+ – helping out in the community at the Celebration of Service!
Big thanks to AARP Members Advantage for providing us the opportunity to check out all the ways we can save on travel at the AARP Life@50+ Expo. As always, all opinions are our own.
YOUR TURN: Did you learn anything new? Have you any tips for us? Where's the first place you'll cyber-whip your card?