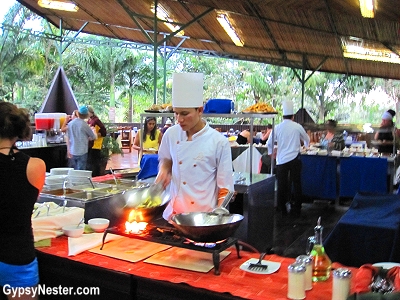 Food poisoning abroad is a topic discussed frequently in the British papers these days, as the government looks to make changes in how much money people can claim back in compensation and holiday tour operators threaten British holiday goers with bans and price hikes for frequent complaints and claims; in the meantime, not a lot of thought is being given to hotels and resorts with unhygienic food practices, causing guests to experience food poisoning in the first place.
People don't often think of themselves as consumers when they purchase a holiday package, not in the same way that they would if they were to purchase an expensive TV or new smartphone. However, the average British family spends £4792 for a two week break – many of whom do this every summer. Getting exactly what you have paid for, including safely prepared and stored food and drink, is paramount.
While you can claim food poisoning compensation if you do happen to fall victim to this when you're on holiday; it is even better to avoid this completely and get the full enjoyment from your stay. Here are our top tips for avoiding holiday sickness.
Food
If you're at the hotel buffet be cautious with cold meats, salad or seafood. These may not have been prepared properly or may have been washed with unclean water. Food should be properly cooked and maintained at an appropriate temperature. Beware foods that are left uncovered too. If you don't realise that something is lukewarm or cold until you have actually picked it up, don't eat it. Just put it in the bin and avoid the food poisoning!
Drink
It only takes a second to wipe down your glass at dinner before using it. Who cares what other people think of the practice, wiping down glasses and cutlery and inspecting them before use can protect you from staff that may not have washed their hands or washed their dinnerware properly.
Pool
A cloudy pool may be a sign of neglect. If the pool is not cleaned or the water is untreated, this can be a big risk germ wise, as many people do not shower before diving in. A dirty pool can also signpost neglect elsewhere when it comes to cleanliness in the hotel, so be on your guard.
What should I do if I do get sick?
Firstly, determine whether or not it is actually food poisoning. A local doctor may be able to test you for common bacteria, or you may be able to do this once you return home. Dehydration or too much booze can be responsible for sickness, with many mistaking their symptoms for food poisoning.
You should lodge a complaint with your hotel if you suspect food poisoning. If you have seen any unhygienic practices that make you suspect that it is the fault of your hotel, then document them before you make your complaint – ideally, document anything like this throughout your stay.
Get yourself treated, take relief tablets, probiotics, rehydrate yourself and possibly use the BRAT diet – bananas, rice, applesauce and toast (along with clean water) which is a temporary diet advised for ill children who cannot take relief tablets.
It is impossible to completely eliminate the risk of food poisoning abroad, but with some tactics and knowledge, it is possible to minimise the danger and avoid ruining your long awaited getaway.
We are happy to present this collaborative post to offer valuable information to our readers.