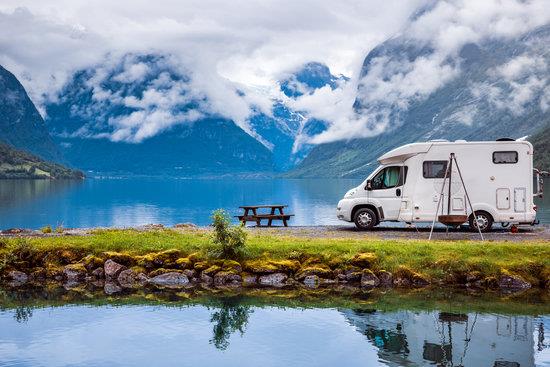 Travelling by a motorhome has a lot of advantages and – especially in the time of COVID-19 pandemic, seems to be a safe and convenient option to go on holiday. You don't have to be bothered with finding appropriate accommodation, you limit direct contact with other people in hotels or public transport, and you choose the exact route and destination of your journey.
However, while travelling in a motorhome, you might also experience some difficulties and challenges. One of them is choosing a parking place for your vehicle. Motorhomes are usually quite big, so they need an appropriate amount of space. That's why it's necessary to plan the parking places on the route in advance.
Below, you'll find a guide on how to choose a perfect parking place when travelling in a motorhome.
Motorhome Travelling – Basic Info
Travelling in a motorhome opens numerous possibilities; for example, you can freely choose the route of your trip and don't need to be bothered with any boundaries connected with accommodation.
What is more, all your luggage can be packed inside a motorhome, which makes the travel even more convenient – you don't have to think about storing numerous suitcases and bags. You have all the equipment just inside your means of transport.  To read more about how to pack your motorhome for the first travel and about motorhomes in general, click here.
Motorhomes also create a possibility to travel for many people. Usually, there are six or even eight beds inside, so vacationing in a group is not a problem anymore. It's good to remember, though, to save up enough space for every passenger and choose the number of them reasonably – no one would like to be squeezed between baggage and other people for the whole time!
If you need more space, it's advisable to consider choosing a larger motor home. Options like that are available, for example, here.
Motorhomes – Where To Park?
Once you plan your journey, the amount of baggage and the number of passengers, it's time to make some more exact arrangements about the route of your journey.  It's obvious that drivers need to rest, even if there are a few of them, so it's essential to choose appropriate parking places for your vehicle.
As you will probably be stopping for the night, you should choose the place carefully – it's not just a five-minute stop on your way.
The first type of place that's ideal for motorhomes is a campsite. Campsites are popular almost all over the world, especially in Europe, so it's no problem to find one in a destination that interests you.
Campsites are usually supervised, so you don't need to worry that some of your belongings will get stolen or someone will damage your vehicle. Moreover, you can have lots of additional facilities like bathrooms, kitchen equipment, shops, recreation areas, laundry services, and dining options.
Booking a place on a campsite costs a little, but it's definitely much cheaper than a hotel or hostel room. Plus, you don't need to share the space with strangers – you just park your motorhome there and decide whether you'd like to integrate.
If you want to read more about campsites and check out the most popular ones in Europe, visit this website.
Parking Your Motorhome – Other Possibilities
Not everyone is keen on campsites and the atmosphere there. That's not a big problem, though, because there are still some other options for motorhome travellers.
If you fancy nature and want to be close to it, you might want to park your motorhome in the forest, or near the sea, for example. Remember to check the area beforehand – if it turns out to be private, the owners might not be enthusiastic about your presence there.
Some people do rent their private space, like a garden or forest, and allow motorhomes to park there. It's a more convenient and private option than a campsite, and it lets you visit more remote and unknown places.
Before you decide to park your motorhome in a private area, sign a contract and set the rules that will be mutually accepted. Some owners might not be happy about giving you access to facilities like laundry or kitchen, while it will be obvious and necessary for you. The same goes for loud parties and gatherings. To read more about motorhome parking options, click here.
Conclusion
Travelling in a motorhome is a comfortable and original way of spending your holidays, but planning such a journey does require a little thought.
Before choosing the route, check out all the possible parking places and available facilities, so that your journey is convenient and nothing can surprise you. You may want to park your vehicle and have some rest on a campsite or choose a parking place that's private and close to nature.
Whichever option you choose, try to combine having fun with paying attention to the needs of others – your co-travellers and all the people around.
We are happy to present this collaborative post to offer valuable information to our readers.