We are proud to be Illinois Mile Markers – thanks to Enjoy Illinois for making this adventure possible! Click here for our full adventure down The Great River Road.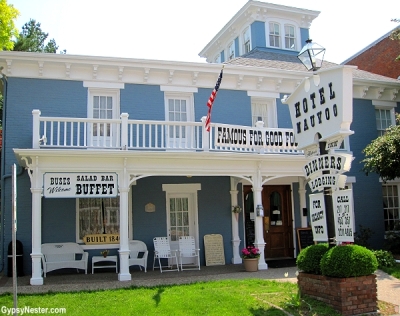 There's plenty to do in Nauvoo, but brunch at Hotel Nauvoo is a destination on its own.
Built as a home in 1840, it became the Hotel Oriental in 1885, and has been under the current name since 1946.
Beautifully maintained and decorated, the building really is a showplace, but that's not why most people come to the hotel.
It's the superb buffet the brings in the crowds.
Hand carved roasted meats, fried catfish and chicken, and everything we could imagine to go along with them, made for an exceptional homestyle meal.
And the wild rice dressing isn't billed as "famous" for nothing.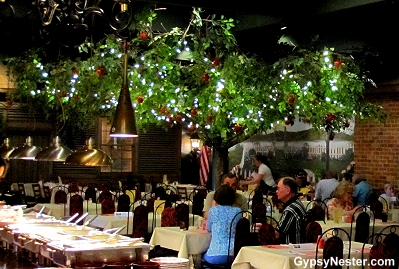 We wandered the five meticulously decorated dining rooms before settling under an indoor apple tree, surrounded some of the best smelling food in the world.
TWENTY feet of buffet.
We ate until we could no more. Trying to make our escape before we needed a wheelbarrow to carry us out, we were stopped by a regular customer who insisted we have a cinnamon roll for dessert.
It wasn't a choice, we were not going to make it past him until we did.
Seriously? A cinnamon roll? Maybe this was our distended bellies talking, but we had seen them at the end of the buffet table and, frankly, they didn't look like much. And aren't cinnamon rolls breakfast food? Come on.
Seeing no other way out, we grabbed yet another plate, plopped a roll on it and went back to our seats. Long story short, Veronica ended up hugging the guy. Euphoria must be in the list of ingredients.
The service couldn't have been any better. Our friendly waitress never let our iced tea get lower than a few sips down. We watched as she flitted from table to table as if every person there was her best friend.
It's no wonder the restaurant has been running for sixty successful years.
Click here to see our full adventure down The Great River Road
David & Veronica, GypsyNester.com
Thanks to Enjoy Illinois for making this adventure possible! Our opinions, as always, are our own.
YOUR TURN: Have we inspired you to take an Illinois Road Trip?