Crossing the muddy Mississippi into southeastern Missouri, we were getting mighty hungry.
When we saw the sign proclaiming "The Only Home of Throwed Rolls," we knew this was the place to strap on the feedbag.
Lambert's Cafe has been serving up home cooked meals to the fine folks of Sikeston since 1942.
Legend has it that on an particularly busy day back in 1976, ole Norman Lambert couldn't get rolls to his customers in his usual fashion, walkin' 'em around the restaurant.
Fed up, an ornery customer yelled out "Just throw the damn thing!" The only home of the Throwed Rolls was born.
At midday on Friday, the joint was jumpin'. Just as we sat down, a guy came 'round with a Jethro bowl full of fried okra and a big ole spoon.
We declined his offer, noting our lack of plates. He simply pointed to a roll of brown paper towels on the table and said, "You've got your paper plate right there."
How could we to argue with that? The hot, sizzling delicious balls of gooey goodness crackled between our teeth.
The okra is just one of the many "pass arounds" carried though the room in massive silver bowls and offered in addition to the already substantial sides included in the meals. Macaroni & tomatoes, black-eyed peas and Ole Norm's fried potatoes are all served up while hot rolls are flying overhead.
When the call "Hot rolls, anyone want a hot roll?" rang out, the slightest signals sent fresh piping chunks of baked dough soaring across the room.
Right behind them was a fella with a bucket of sorghum molasses. Adding to the mood were the piano stylings of Geneva Bolen.
Her stream of consciousness ragtime versions of old standards and modern favorites helped make the whole scene seem rather madcap and silent movie-y.
We asked our waitress if there were special credentials required to become a Roll Thrower. She said that there weren't any — she took a crack at it her ownself a couple times — but was obliged to quit after she beaned an old guy in the forehead.
Soon after our conversation, David was unsuspectingly clipped by a soft, yeasty missile. We figured it happens a lot.
This nonstop show had all taken place before we'd even placed our order. The menu is as down home as the whole feel of the establishment, and being in the Boothill of Missouri, David felt compelled to order the hog jowl.
Veronica opted for the four vegetable plate and was tickled that somewhere between Wisconsin and Sikeston cottage cheese had become a vegetable.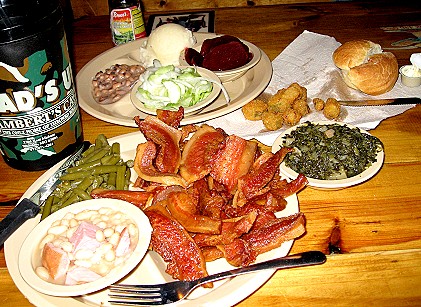 Hog jowl is exactly what it sounds like, sliced jowl of hog. It's a lot like bacon and who doesn't like bacon?
However, it looked like at least four pigs gave up their cheeks to make the pile of cured pork heaped onto this plate.
David did his best but there was still plenty left over for at least two days' breakfast even after he ate over half of it. He noted "if I ate all that, I'd of throwed up."
The vegetables were cooked in the southern tradition — long and hard — but very tasty. Some part of the pig was included in most of the veggies and Veronica was sad that her white beans were more ham than legumes.
This, apparently, was not the place for kosher eating.
Beverages, all non-alcoholic, are served in mugs and glasses that rival the town water tower in their ability to hold liquid.
Refills are included and the bathroom is by the front door.
Be sure to bring your folding green cuz they don't take credit cards at the only home of the Throwed Rolls.
Toward the end of the meal the okra fella came around again, pimping his wares. Taking one look at Veronica's face he proclaimed her "full as a tick on a dog's back."
We reckoned he was right.
David & Veronica, GypsyNester.com