One of the greatest drives in America has to be the trip down U.S. Highway 1 to Key West.
Years ago we made a special trip down here just to make that drive, but toting kids and being pressed for time made it a bit of a whirlwind.
This time we had the luxury of spending our trip on island time.
Before we crossed the first of the forty-two bridges we would encounter, we made a stop at the incredible Coral Castle.
The story of this remarkable place is both mysterious and romantic. According to legend, Edward Leedskalnin was jilted by his bride-to-be the day before his wedding.
Heartbroken, he came to America from his native Latvia in 1923 and spent the next twenty-eight years building this monument to his lost love.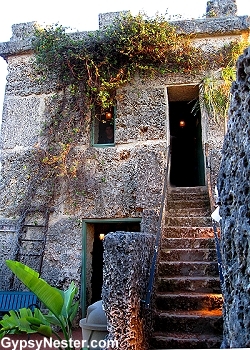 The mystery comes into play with the fact that he made his masterpiece single handed, somehow moving and placing giant stones weighing up to thirty tons.
There was all kinds of speculation that he had harnessed some sort of power, most likely magnetic.
But when he was asked about his feat his reply was that he had "discovered the secrets of the pyramids" and that he "understood the laws of weight and leverage well."
However he did it, we found it quite impressive. Beginning at the nine ton, perfectly balanced front gate, we wandered among the coral creations, towers and rooms, all held in place only by gravity. Leedskalnin managed this by precise cutting, without the use of any mortar.
He also made furniture, including a heart-shaped table and one in the shape of Florida, twenty-five rocking chairs, beds and a even a throne to preside over his castle, all carved in solid stone.
The more we examined his handiwork, the more amazed we became. Even more amazing, after thirteen years of secret construction at his home in Florida City, he decided to move the entire structure ten miles north to its present location in Homestead.
It took him three years to move it, and then he continued to add on to it until his death in 1951.
Click here to enlarge and see many more pics of the fabulous Coral Castle!
As enthralled with the castle as we were, we came to see islands, so we proceeded south until we crossed onto Key Largo and The Overseas Highway.
This stretch of road was originally built as the Florida East Coast Railroad's Miami to Key West line, known as The Overseas Railroad, but a hurricane in 1935 trashed it so badly that it was sold to the state and refurbished as a highway.
Much of that roadbed has been replaced, but much of the original is being saved as The Florida Keys Overseas Heritage Trail.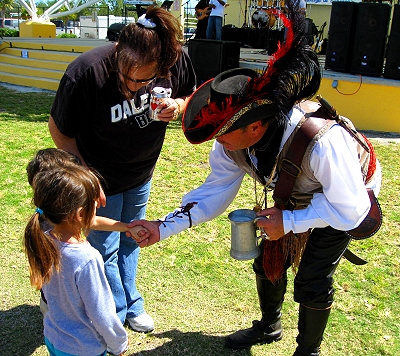 We noticed a change in style, attitude and personality from the rest of Florida almost immediately upon hopping onto the island.
A more relaxed, less hectic, take life as it comes kind of feel… call it "island-time."
About halfway down the archipelago we hit Marathon, and as luck would have it The Marathon Seafood Festival was coming right up. We found a reasonably priced campground to park BAMF (a difficult task in the Keys) and proceeded to hang out for a while.
The festival is the second largest in The Keys, and as the name states features amazing, fresh local seafood including lobster tails, stone crab, shrimp, and various fish.
All of this deliciousness is slung out of booths on paper plates for dirt cheap.
We joined thousands of folks in chowing down, checking out the arts and crafts, jammin' to some tunes, and watching kids crash into each other in giant bubbles.
Wait, what? Yup, big, giant clear plastic bubbles floating in a pool of water with kids stuffed inside. How they got in there remains a mystery to us.
By running, jumping, or slamming into the walls they tried desperately to attack each other. Bumper bubbles. Looked like fun, but perhaps more fun to watch than to be trapped inside. We'd feel like strange, large aquatic hamsters.
Southbound out of Marathon we immediately crossed Seven Mile Bridge. It was one of the world's longest back when first built in 1912.
The current version of the bridge is actually only 6.79 miles long, shortened by bypassing Pigeon Key. Some of the original span can still be used by pedestrians and bicycles to reach that little island.
When we ran out of road, we knew we must be in Key West, southernmost point of the fifty states, biggest city in The Keys, county seat of Monroe County, and unofficial capital of the Conch Republic.
Back in 1982 Key West declared itself the independent Conch Republic to protest a United States Border Patrol blockade. A seventeen mile traffic jam backed up when the Border Patrol stopped every car leaving the Keys for the mainland, supposedly searching for illegal immigrants.
The hit to tourism was so huge that the people staged a nonviolent, one day revolt.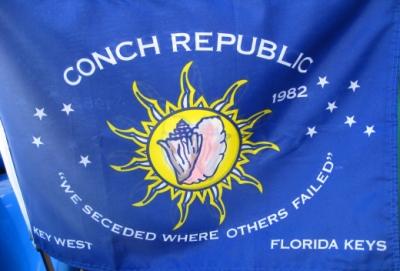 Ever since, they have celebrated their own Independence Day every April 23rd.
But the blue Conch Republic flags can be seen all over Key West any day of the year, with its clever slogan, "We Seceded Where Others Failed."
In the hope of establishing international relations we decided to drop by The Conch Republic Office of the Secretary General, but no one was around. The diplomats must have been observing island-time. Conchs, as Keys citizens are known, are generally pretty laid back .
The town is easy to walk, so we continued along on foot.
First stop, Willy T's for a quick conch chowder. Conch is sort of the national food of The Keys, ever since colonial times when the shellfish was the only food that the king didn't tax.
The chowder is tasty and Willy T's is a hoot, with hundreds, if not thousands, of dollar bills scrawled on by previous patrons stapled to every available surface. An establishment really needs to be quirky to stand out in Key West.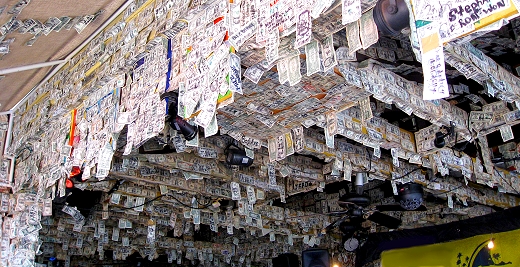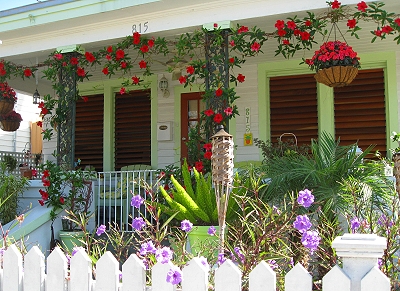 After lunch we strolled through the neighborhoods of classic island bungalows with tropical gardens packed into their tiny yards.
No sprawling lawns here, land is at too much of a premium. When we found a quintessential example of a house that just happened to be for sale, we decided to call and see what a one goes for.
WOW! $795,000.00 for a little place, but the realtor said he had some cheaper ones around half a million. Looks like being an eccentric, laid-back Conch can be expensive.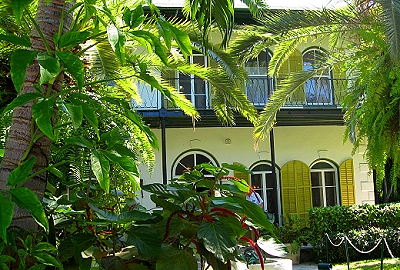 We moseyed on, passing the official ending point of US highway 1, the "Little White House" where President Harry S. Truman spent eleven vacations during his terms, and the former home of Key West's most famous resident Ernest Hemingway.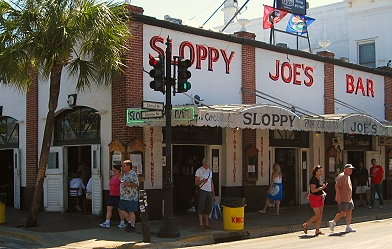 From his house we figured we should hit Sloppy Joe's, Hemingway's favorite watering hole. At least that's what they tell the tourists.
Our feet were telling us to take a break so we sat down and hoisted a cold one to Papa.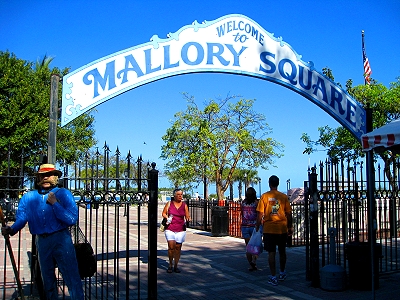 There's only one place to end the day on Key West, Mallory Square. It's the site of the famous Sunset Celebration every evening, which is definitely the highlight of any day on the island.
Trained house cats, circus acts, jugglers, clowns, psychics, musicians, artists, street performers and pretty much every kind of dog and pony show gather to entertain, ply their wares, and hopefully make a little money every single day as the sun sinks slowly into the sea.
Click here to enlarge and see many more pics of Key West!
It's all spontaneous and free, just toss a little dough into the hat as it gets passed. Later, many of the acts can be found spending some of their tip takings in the gin mills on Duval Street.
Not that we would ever frequent those establishments.
Who? Us?
David & Veronica, GypsyNester.com