Mention New Orleans and most folks conjure up visions of Mardi Gras, jazz bands, and Bourbon Street but we think of food. Crazy good food.
An incredibly diverse, yet unique style cooking has developed through the combination of several cultures down here at the bottom of The Mississippi River.
Elements of French, Spanish, Caribbean, Cajun, German and Italian cuisine are all represented in what has come to be known as Creole.
Several of Creole's signature dishes are very similar to typical Cajun recipes and can share the same names and ingredients. Most start with "the holy trinity" of Louisiana cooking, bell pepper, onion, and celery.
The names jambalaya, gumbo and étouffée are found in both styles, but there are subtle differences between the refined urban Creole versions and the more rustic Cajun.
Some folks say that Creole cooking is more tomato-based. We have found that to be generally, but not always, true. Another difference can be the intensity of the seasoning or the darkness of the roux — Cajun food tends to be spicier and darker than the Creole counterpart.
However, through the years the two have blended and overlapped and they can be hard to differentiate.
We've found identifying them to be a little like Supreme Court Justice Potter Stewart said about pornography — it's hard to describe but he knows it when he sees it.
Perhaps the best rule of thumb is if you're eating in New Orleans it's probably Creole, if you're out in the bayou country, it's Cajun.
We most certainly have many favorite eateries when visiting The Big Easy, but if we only had one day to eat our way through The French Quarter it would go something like this: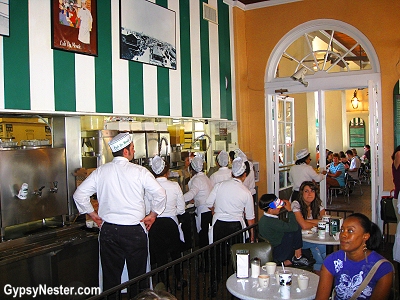 Neither Cajun or Creole, world famous Café du Monde's beignets are our favorite way to start — or end — the day since it's open 24/7.
Almost every culture has a version of sweetened deep fried dough — donuts, sopaipillas, elephant ears, johnny cakes, spritzkuchen, zeppole, youtiao, oliebollen, chrusciki fat balls, and beaver tails to name a few — beignets belong to the French. Café du Monde utilizes heaping piles of powdered sugar as their sweetener of choice.
We love them, but have learned to shake a good bit of the pulverized crystals off before biting.
It is of utmost importance not to inhale right as the beignets pass under the old schnozola on their trip to the pie hole.
Otherwise massive, sticky, sugary sneezing fits are sure to result.
We washed down our delectable dough balls with cups of café au lait. The coffee, in typical New Orleans style, is blended with chicory and mixed with warmed milk. Très magnifique!
For us, lunch in New Orleans can only mean one thing, muffulettas.
The mere thought of a muffuletta, generally pronounced "muff-uh-let-uh," will get us doing a Fats Domino impression, we'll be "Walking to New Orleans" from wherever we might be.
Legend has it that the sandwich was invented by Signor Lupo Salvadore to feed the local Sicilian dock workers when he opened Central Grocery on Decatur Street back in 1906.
We're not exaggerating — this truly is the best sandwich ever in the entire history of the known universe, and the unknown as well.
Two secrets make the original Central Grocery version almost impossible to duplicate.
The bread, a round loaf of Italian, that somehow seems impossible to bake outside the city limits of New Orleans, and the olive salad spread which no one has ever managed to match.
Without these a muffuletta is merely a salami, Italian ham and provolone cheese sandwich.
We took our spot in the ever-present line at the back of the store to await the delivery of our round mound of deliciousness.
Muffulettas are cut into quarters (a French Quarter Pounder!) and sold by the whole or half loaf.
That's it, no menu, no substitutions (what are you crazy?), just paper wrapped, ready-to-chow heaven. A handful of chairs line a counter, but most of the muffs leave the store to be consumed elsewhere.
When God wants a sandwich, Central Grocery is where he gets it. Yes, there are copycat muffulettas all over town — some of them pretty good — but we have yet to find one that measures up to the original.
When suppertime rolls around, there are any number of extraordinary restaurants to choose from.
But for old-style New Orleans ambiance to go along with some outstanding food, we had to hit the Court of Two Sisters in the heart of The French Quarter.
The outdoor seating is a phenomenal setting for fine dining.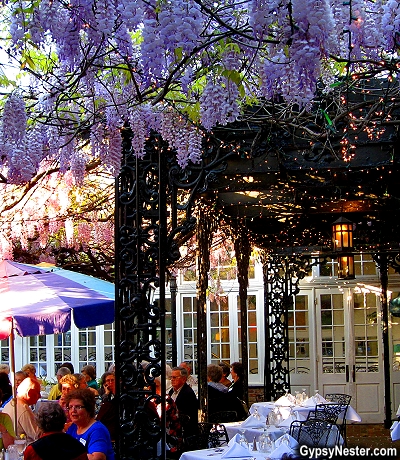 On a lovely spring evening, the in-full-bloom wisteria formed a fragrant, flowery canopy overhead.
Add to that the original gas lights and fountains decorating the largest courtyard in The Quarter and, though it might sound trite, magical is the only adjective to describe the surroundings.
The restaurant is named for Creole sisters Emma and Bertha Camors, who opened a notions shop at this location back in the late 1800s.
The Camors girls provided many of the city's finest ladies with formal gowns, lace and perfumes imported from Paris.
Today, brothers Joseph and Jerry Fein carry on that tradition of only the finest for their customers.
The Table d'Hote offers plenty of choices from hors d'oeuvres, salads, entrees and desserts, but there are à la carte selections available as well.
We started with the turtle soup au sherry. It may sound a bit daunting to be consuming turtle, but rest assured, with a dollop of sherry added tableside just before our spoons dug in, it's a chance well worth taking.
Next, the Caesar salad, prepared tableside, is not to be missed. Not only is it a good show, but the end result is quite tasty.
Another highlight was the shrimp and grits. Shrimp poached with andouille sausage in a Creole meunière reduction over a mound of melt-in-your-mouth grits really captures the diversity of New Orleans.
Creole meunière is a delectable sauce made with fish stock, butter, Worcestershire sauce, lemon, chopped parsley and a dash of cayenne pepper that blends perfectly with the main ingredients of the dish.
Though we hardly had room to stuff in another bite, we had to end our meal with a New Orleans favorite, bananas foster.
The waiter brought a cart up to the table and began setting things aflame, always one of our favorite pastimes. Butter, brown sugar, cinnamon and bananas blazing in brandy, what's not to like?
Once the flaming booze had done its thing, vanilla ice cream got involved and we nearly hurt ourselves.
A stomach can only hold so much.
So there it is, our idea of a perfect day of eating across New Orleans.
Though all three of these places can be a tad touristy, many locals frequent them too — a sign of a good place to strap on the old feed bag.
David & Veronica, GypsyNester.com